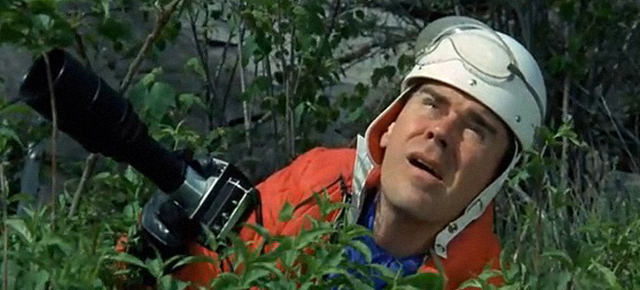 The Quiet Racket: Getting in Touch with Nature
Are you fed up with living in the city? Is the noise getting to you? Wish you could escape to the country for the weekend? Pack up and go camping, or leave it all behind and just go for a ride? Be careful what you wish for, because it might come true.
This is the premise for the hilarious The Quiet Racket, a short film in which a young man desperately wants to leave the city's noise pollution behind. Incessant traffic! Ear-splitting construction noise! He just wants to get to the mountains. What he discovers there, however, is more noise pollution… of a different kind.
The very witty short was made by Gerald Potterton (The Railrodder, Heavy Metal) in 1966 and stars Ted Zeigler, whom Canadian TV audiences might remember as Johnny Jellybean.
The film is shot like a live cartoon, complete with many deft comic touches. Zeigler is perfect as the poor harried city dweller who makes the best out of a bad situation. Watching him, I kept being reminded of Daffy Duck. Like Daffy, our hero refuses to give up. He might be down, but he is never out.
The film is filled with many moments of pure silliness, from jungle noises emanating from the woods in the Laurentian Mountains to a garbage truck picking up a mannequin in the streets of Montreal. The soundtrack is pure 1960s, replete with twangy guitars and nonsensical lyrics.
Screenplay writer Alan Hackney and Potterton conceived the film as a one-reeler (10 minutes) for the nation's cinema screens. It was very successful playing in theatres across this country and in a dozen others. Since there was no dialogue, it was easy to sell in foreign markets.
So before you pack the tent and sleeping bag, ask yourself, do I really want to be in tune with nature?
Enjoy the film.
The Quiet Racket, Gerald Potterton, provided by the National Film Board of Canada