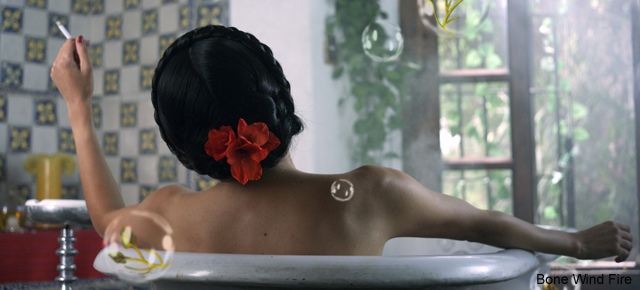 Download Jill Sharpe's Doc on the Inner Lives of Painters Kahlo, O'Keefe and Carr
After having recently screened at the prestigious Lincoln Center for the Performing Arts, in New York City, Jill Sharpe's documentary about the inner lives of 3 important modern painters, Frida Kahlo, Georgia O'Keefe, and Emily Carr, is now available for download on NFB.ca.
Bone Wind Fire, a 30-minute documentary that came out last year, is a rich visual journey into the hearts, minds and eyes of these 3 influential female artists. Using the women's own words, taken from their letters and diaries, the film reveals the 3 painters' individual creative processes.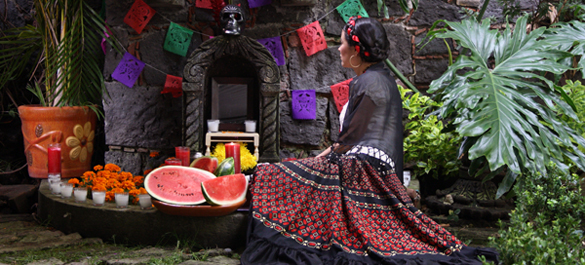 Though the 3 shared talent and a real passion for the craft, each woman had her own response to her immediate environment and much of the film focuses on how each went about wringing beauty and truth from her particular time and place. Georgia O'Keeffe in the sun-baked clarity of the American Southwest; Emily Carr in the green lushness of the BC rainforests; and Frida Kahlo in the hot and dusty clamour of Mexico City.
Bone Wind Fire is not a traditional documentary. Using image, sound and tone to create a portrait of its 3 subjects, it is more akin to "creative non-fiction" – fact filmed as fiction. Director Jill Sharpe calls the genre "hybrid", and a "cinematic cocktail."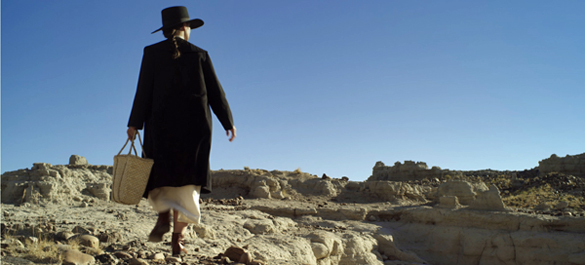 Sharpe, a Canadian documentary filmmaker who's filmography includes Culture Jam: Highjacking Commercial Culture, Girl's Don't Fight and Corporations in the Classroom, happened upon this topic almost by chance. While in Oaxaca, Mexico, where she was developing her skills as a painter, Sharpe came across a book by Sharyn Udall called Carr, O'Keeffe, Kahlo: Places of Their Own, which managed to yoke the 3 early 20th century artists together in a way that struck her as both unforced and irresistible. She'd long been on the lookout for a project that could synthesize filmmaking with her love of painting. This was it.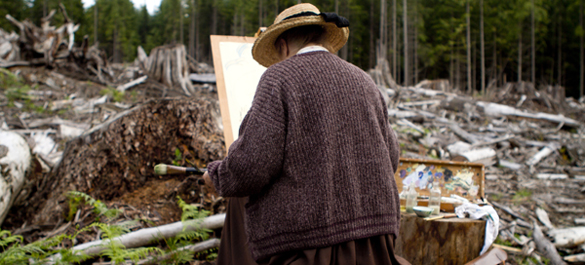 Says Sharpe, "From the very beginning [I had] this idea of colour palettes for each of the women. And those colour palettes were inspired by the world in which they painted, and from their paintings and their character."
"The primary colours that symbolize each artist are white, red and green," she explains. "White is inspired by Georgia's desert, the light that she loved, the bones and shells that she painted. Emily lived in and was inspired by the deep green rain forest of British Columbia and Alaska, and way up the coast. Her colour palette was this deep green. And Frida, her landscape was mostly her inner landscape. But she was very influenced by Mexico and the rich, saturated colours of that country. Her scenes are punctuated by red, for the pain and the passion she so delicately held in balance."
Download Bone Wind Fire here ($4.95 or $7.95 HD) and enjoy these 2 excerpts, below.