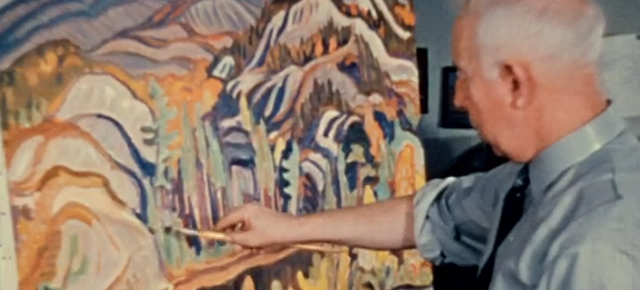 A voyage to the Canadian countryside with the Group of Seven
We've dug into our archives to add another gem to our online screening site this week, and it happens to be a beautiful 1947 short documentary about the life and work of iconic Canadian landscape painter Tom Thomson. West Wind briefly describes Thomson's early life and education, as well as his career in commercial design, before launching into a tour of the rural landscapes in which Thomson lived and whose splendour he attempted to capture in his paintings. This film goes well with a number of other NFB films about the famous Group of Seven artists, so let's explore, shall we?
Tom Thomson: Group of Seven precursor; gone too soon
Thomson's tragic death at the age of 40 in 1917 was the result of a canoeing accident in which he accidentally drowned. His vibrant and instantly-recognizable paintings were produced before the Group of Seven officially decided to name themselves as such, but Thomson's influence, and his close relationships with the other Group members, were already established.
West Wind features compelling commentary from Thomson's contemporary and friend, A.Y Jackson, who claims that the four short years of painting Thomson completed before his death "contributed more to Canadian painting than any other artist has done in a lifetime of study and hard work." More than a biography, West Wind is also a scenic voyage into the very landscapes that Thomson so adored; we see rushing rapids, rolling hills, bright orange sunsets, and crumbling autumn leaves in the film, and we cannot help but recall Thomson's vividly-evoked representations.
Below, a still from West Wind is paired with two of Thomson's most iconic works. More than simply showing a physical similarity, the world and its' referents demonstrate the same atmosphere: nature as a sharp, vibrant living being, constantly in motion, even in the stillness of a canvas.

L to R: Detail from Tom Thomson, The Pool (1915-1916, oil on canvas, 74.6 x 81.7 cm); Film still from West Wind (dir. Graham McInnes, 1944, 21:22); Detail from Tom Thomson, The Jack Pine (1916-1917, oil on canvas, 127.9 x 139.8 cm)
West Wind, Graham McInnes, provided by the National Film Board of Canada
Frederick Varley, Allan Wargon, and the NFB documentary that almost never was
In 2008, filmmaker Allan Wargon set out to describe the particular circumstances in which his short 1953 documentary Varley was produced. As a young painter himself at the time, and a recent graduate of the Ontario College or Art, Wargon left his job as Chief Designer of Eaton's in order to learn the craft of filmmaking at the NFB. A great admirer of Frederick Varley's (when the latter was in his 70s while Wargon was in his early 20s) Wargon wanted badly to make a film about the legendary painter who "has never been fashionable", as he says in his film. But the NFB, rather, wanted a film about Arthur Lismer, another Group of Seven member who was much more well-known and much more firmly ensconced in the art industry than Varley was at that time (the latter seemed "resigned to obscurity", as Wargon remembers it).
After many treatment rewrites, Wargon finally settled on pursuing "a film not about his [Varley's] work but rather a psychological study of the artist as seen through his work, with hints of his interest in women and his drinking." In fact, while Varley's interest in landscapes was consistent with the Group of Seven's themes, his work also focused on the human figure and potraiture. His oeuvre includes a number of self-portraits, as well as detailed sketches and brightly-hued paintings of several female figures.

L to R: Detail from Frederick Varley, Stormy Weather, Georgian Bay (1921, oil on canvas, 132.6 x 162.8 cm); Film still from Varley (dir. Allan Wargon, 1953, 16:23); Detail from Frederick Varley, Girl in Red (1920-1922, oil on canvas, 53.2 x 51.6)
Wargon eventually convinced the NFB to give him the go-ahead for Varley, and "because colour was critical in Varley's paintings," relates Wargon, "I determined that the film about him had to be shot on this new 35mm stock." (Wargon used the then-new Kodak 35mm Ektachrome stock, which was known for producing brighter and better colours than Kodachrome).
The film is utterly charming and yet oddly haunting as well. A powerful classical score (by prolific Canadian composer Louis Applebaum) accompanies the narration of ups and down in Varley's life and work: the expression of bitter irony in his paintings, the mourning for a ruined nature, his "overwhelming sense of the desolation and futility of life", then the eventual discovery of "pleasure and beauty in life" and Varely's insistent "need to create beauty". (The film's narration was written by Wargon and read by CBC regular Lister Sinclair).
The Frederick Varley that emerges from this cinematic portrait is a complex artist, full of wonder, talent, and a pensive power of observation that comes through in his works, but the man is also visibly dogged by a kind of existential dread that is perhaps not as apparent in the other Group of Seven artists' works. For this dark atmosphere alone, the film is a must-watch.
Varley, Allan Wargon, provided by the National Film Board of Canada
Lismer and Jackson: artists, teachers, adventurers
Two other prominent members of the Group of Seven, A.Y. Jackson and Arthur Lismer, both went on to establish careers in art education concurrent with their painting practice. Jackson taught at the Banff School of Arts in the 1940s, and Lismer in particular carved a place for himself as an advocate for children's art education. Lismer a became supervisor of education at the Art Gallery of Toronto (now the Art Gallery of Ontario). He also taught at the Art Association of Montreal (now the Montreal Museum of Fine Arts) from 1940 until 1967.
Both artists were known for their particularly modernist landscape styles. While modernism took a hit of bleakness after the first world war, and post-Impressionist artists engaged in "agitated brushwork and jangling colours" to reflect the "alienation, despair, and meaninglessness" of a postwar industrialized wasteland [1], Lismer and Jackson harnessed these same new trends in brushwork to express not desolation but excitement about the wildness of nature.
An NFB film from 1941, aptly titled Canadian Landscape, follows Jackson on a sketching canoe trip to the autumn countryside. Our narrator comments on the Group of Seven's "deep affection for Canada's frontier country; it's loneliness and beauty," and languidly informs us, as Jackson trudges through the hills, that the artist "may wander for hours before finding exactly what he wants."
Canadian Landscape, Radford Crawley, provided by the National Film Board of Canada
Lismer, too, was the subject of an NFB documentary in 1951. In fact, Lismer is the film that Allan Wargon was assigned to make before he was given permission to eventually shoot his passion project Varley. Already at a late stage in his career and life, Lismer was dedicated to advancing education in art, especially for children, and the film contains some funny and light-hearted looks at the very serious art star's interactions with adorable toddlers attempting to hold a paint brush (fast-forward to the 4:47 mark for a look).
The Lismer documentary stands in stark opposition to the one about Varley: in the former, we see a poised, serene, and successful artist speaking publicly about his work and his passion for art education (he had trained teachers in art education for over two decades by the time this film was made, emphasizing personal development and experience over technical skill). In the latter film, Varley's solitude in his dark and messy studio seems to reflect the shadows swirling in his mind, shadows which eventually appear on his canvases. Perhaps these are the stark contrasts and oppositions that made the Group of Seven such a cohesive unit of artists.
Lismer, Allan Wargon, provided by the National Film Board of Canada
We've hardly begun to cover the diversity of the Group of Seven's artworks and membership here. Other members of the Group included Lawren Harris, Franklin Carmichael, and Franz (Frank) Johnston, as well as a cursory association with the Group's only female connection, Emily Carr. Carr was never the subject of an NFB documentary, but the 2011 film Bone Wind Fire features writing from the diaries of Carr, Georgia O'Keefe, and Frida Kahlo to create an evocative journey through these legendary artists' hearts and minds. Carr's famous quote about the relationship between the artist and nature, in which she asserts that "pictures should be inspired by nature, but made in the soul of the artist", couldn't be a better synopsis of the Group of Seven, in both their art and in the lives they lived among the rural landscapes they immortalized.
Bone Wind Fire, Jill Sharpe, provided by the National Film Board of Canada
Notes:
[1] Ross King. Defiant Spirits: The Modernist Revolution of the Group of Seven (Douglas & McIntyre, 2010), p. 349.