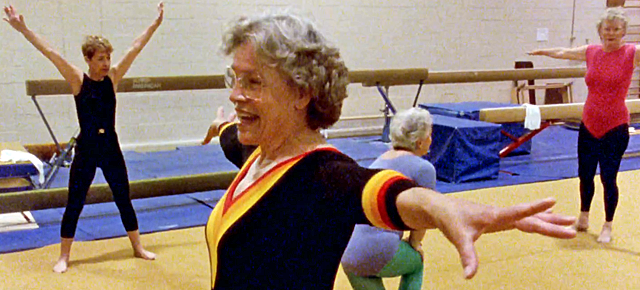 Fit Seniors Alert: Age is No Barrier
It's paradoxical that the idea of living a long life appeals to everyone, but the idea of getting old doesn't appeal to anyone. – Andy Rooney
I'm kind of comfortable with getting older because it's better than the other option, which is being dead. So I'll take getting older. – George Clooney
You can't help getting older, but you don't have to get old. – George Burns
*
The internet is aflutter with videos of insanely fit elders these days. Here, a 97 year-old fitness instructor (with crazy personal story and bewitching accent) gives online lessons; there a 101-year-old yogi in a coral loincloth displays his astounding skills. They are not alone.
Since last week, NFB.ca is also streaming a short doc about seniors maintaining active lifestyles. The film, appropriately titled Age is No Barrier, focuses on the "U of Agers," a group of peppy senior citizens who meet twice a week at the University of Alberta to do gymnastics and other fitness programs.
The film opens with a bang. A 76- year-old woman, later introduced as Lily, is doing a headstand in her living room. Her t-shirt, depicting a rocking chair encircled and crossed out in red reads: I'M OFF MY ROCKER.
By all accounts, people like Lily staying "off their rocker" is an excellent idea. According to the U of Agers' coach and motivator, Sandy, it is not only healthy for them to be more active, it is also fun for them to break the rules of what it means to be an older person. By doing cartwheels and uneven bars, for example.
The idea that exercise is good for you far from groundbreaking. Yet, the film does a really fun job at reminding everyone, irrespective of age, that fitness is the root of happiness and confidence (someone in the film goes as far as calling the gym floor "the fountain of youth") and that as a society, we have probably underestimated what older people can do. (Also, the 1989 production year means awesome fashions and some truly delightful leotards and tracksuits.)
Like the back of another U of Agers' t-shirt reads: Heaven Can Wait.
Age Is No Barrier, Francis Damberger, provided by the National Film Board of Canada