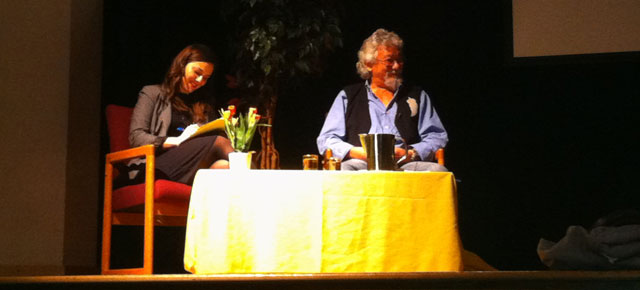 Environmental Sustainability Education through NFB Films and Events
Written by Ashley Catania, NFB Education Specialist, and Claudia Sicondolfo, NFB Education Team Leader
Though the winter snows may soon blanket everything in white, we know that educators will still be looking for ways to teach inspired "green" lessons. Read on for a few brief descriptions of NFB teaching resources related to the environment as well as a recap of our exciting, Canada-wide Virtual Classroom event featuring Dr. David Suzuki.
This bilingual NFB program is designed to integrate documentary films on the environment into secondary classes. The template features an interdisciplinary NFB playlist committed to promoting environmental stewardship among educators and their students. A comprehensive Teacher's Guide accompanies the playlist. It aims to help students develop media literacy and environmental skills, and to create an opportunity for students to implement environmental action projects in the classroom. The Films for Change Teacher's Guide has quick links to curricula in provinces and territories across Canada and provides teachers with options for assessment strategies.
While visiting the Films for Change Playlist, we encourage you to watch some of our compelling content. If you teach a secondary or post-secondary group, you might want to start with Being Caribou. In this feature-length documentary, husband and wife team Karsten Heuer (wildlife biologist) and Leanne Allison (environmentalist) follow a herd of 120,000 caribou on foot across 1,500 km of Arctic tundra. In following the herd's migration, the couple hopes to raise awareness of the threats to the caribou's survival. The film is also accompanied by a comprehensive Teacher's Guide.
Are you a primary educator, interested in giving your students hands-on experience in an environmental sustainability project? We recommend using Hope Builders. We guarantee you and your students will be inspired to get outside the classroom after watching the elementary school teacher in the film implement an experimental teaching method (called Action Research) aimed at encouraging children to take up environmental challenges, head on. Seeing these young students take charge of their environmental education is moving and motivating. Hope Builders is also accompanied by a Teacher's Guide, designed to help you become familiar with the Action Research learning model through various student activities.
For very young learners, we recommend the charming A Sea Turtle Story, available for purchase as a Digital Download and accompanied by a comprehensive Teacher's Guide. Beautifully shot, using mixed object stop-motion animation, this short film chronicles the life cycle of a critically endangered species. Capturing the beauty of the ecosystems that sea turtles inhabit, the film is ideal for all audiences, and for teaching young and old alike about these fascinating creatures of the sea.
Virtual Classrooms, the environment and David Suzuki
If you're looking for ways to get your students even more directly engaged with NFB environmental content, don't worry, we're on it! Recently, NFB Education, in partnership with the David Suzuki Foundation, went coast to coast with a successful two-day Virtual Classroom event, at which we were honoured to welcome back our very own legendary Canadian environmentalist, Dr. David Suzuki.
Our Virtual Classrooms unite students across Canada, allowing them to view and participate in critical discussions with renowned speakers. After watching Force of Nature: The David Suzuki Movie, students from British Columbia to Newfoundland were encouraged to submit questions for Dr. Suzuki to NFB Education. The students whose questions were selected were given the opportunity to speak directly to Dr. Suzuki, live and in front of thousands of other students across Canada. Day one of the event was webcast from a school in Vancouver, BC, with CBC journalist Gloria Macarenko taking the stage as host to over 300 students in attendance, and with more than 30 schools tuning in virtually. Day two went live from Toronto, where our own Michele Tredger hosted the event for over 350 students.
We'd like to send a big thank you to every student who took the time to come up with questions and send us their ideas. NFB Education received an overwhelming number of thoughtful submissions. Dr. Suzuki thoroughly enjoyed answering all of these well-developed, intelligent questions; he gave candid responses and encouraged everyone—both the young and not-so-young—to become more aware and active in their natural environments. His thought-provoking answers and unique perspective on our environmental responsibilities were appreciated by all who were in attendance—whether in person or through the webcast.
This two-day virtual classroom hosted over 60 schools in total across Canada. We would all like to send a very special thank you to Dr. David Suzuki, for inspiring us to think, learn and laugh together. David signed off by saying "Let's do this again!" and we look forward to making it happen next year.
For more information about our next Virtual Classroom event, stay tuned to our Blog, or subscribe to our Education Newsletter.
Now, let's get outside before the first snowstorm hits!