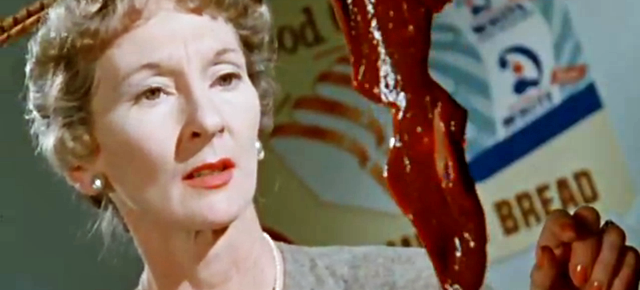 Watch 3 Deliciously Quirky Films About Food
If we are what we eat and the NFB's mission is to capture who we are, it only makes sense that the Film Board has produced, over the course of its history, so many films about the daily ritual of breaking bread.
While some are rather normal (see for example my 5 Films for Foodies), others display more uncharacteristic flavours. Discover and watch 3 of these odd delicacies below.
Mystery in the Kitchen
Mystery in the Kitchen, Don Haldane, provided by the National Film Board of Canada
This one's a curious cookie. Right off the bat, opening credits inform us the film is presented by the Department of National Health and Welfare Nutrition Division, and it doesn't take long to understand why. Humourously disguised as a mystery drama, Mystery in the Kitchen really is what you could call a vitamin propaganda film.
Produced in 1958, the film is the slow and progressive indictment of a well-meaning housewife, Mrs. Jones. The "investigator," a man in a bowler hat who stands in the middle of Mrs. Jones' kitchen but that Mrs. Jones cannot see, is intent on demonstrating that his hapless mother of 2 "is not what she seems." Her crime? Undermining her family's health by feeding them a nutrient-poor diet. Shame!
We follow Mrs. Jones, superb in her feathered cap, to the supermarket and tag along as she fills her basket with all the wrong foods, the investigator tsk-tsking and shaking his head all the while. Not enough vegetables! No milk! Only steaks! All this shopping is interlaced with footage of her husband at work, her son at baseball and her daughter in class. All 3 look lethargic and grey in the face.
The film is somewhat long (23 minutes) and we soon get the point, but the vibe is deliciously retro (special mention for that lady lighting up a cigarette in the supermarket and Mrs. Jones' seafoam-coloured kitchen appliance set), and the watch, ultimately entertaining.
The Sunny Munchy Crunchy Health Food Shop
The Sunny Munchy Crunchy Natural Food Shop, Richard Todd, provided by the National Film Board of Canada
In the decades since this short doc was made, in 1973, its topic – health food – has in many ways penetrated the mainstream. From soymilk to tofu, and couscous to kale, all kinds of people are now eating foods once only enjoyed by total hippies.
To fully enjoy this doc, then, one must turn the clock back and channel the Montreal of the early 1970s – a place where many people didn't eat vegetables that bore names other than carrot, cabbage, turnip, celery or potato, and whose idea of cheese was a orange brick that came in a yellow box with "Velveeta" printed on it.
For 10 minutes, the film beckons you inside a Westmount health food store (now closed) that catered to those interested in eating something else, something… healthier. There, we meet the owner, a gentleman in half-moon glasses and a silk scarf who trails behind every customer, engaging them in such topics as the intersection of astrology and diet, the advantages of barnyard romance for egg production and the digestive exploits of  macrobiotic yogis. The film feels a bit short (it runs for a scant 10 minutes) but it's a trip, and you gotta admit the film's title, fashioned after the shop's name, is pretty killer.
Hunger
Hunger, Peter Foldès, provided by the National Film Board of Canada
Hunger is a 13-minute long animation that won a bunch of awards in 1974, including a Special Jury Prize in Cannes and a BAFTA Award for Best Animation Film. It was also nominated for an Oscar.
One of the first computer animation films ever, Hunger has aged surprisingly well. Rather simple in terms of narrative (a man goes from the office, to the deli, to the restaurant, to the supermart and finally to bed – inhaling vast amounts of food at every stop), the film is fascinating for its krautrock/space-jam-freakout soundtrack, retro aesthetic and surrealistic animation.
Objects and characters shape-shift and transmogrify at every turn, to dizzying effect. Here, a waitress becomes an ice cream cone; there our avid eater spawns additional mouths and arms to grab and gobble everything in sight. But beware, all that eating, as you might guess, doesn't make for a particularly happy ending. Not for children.