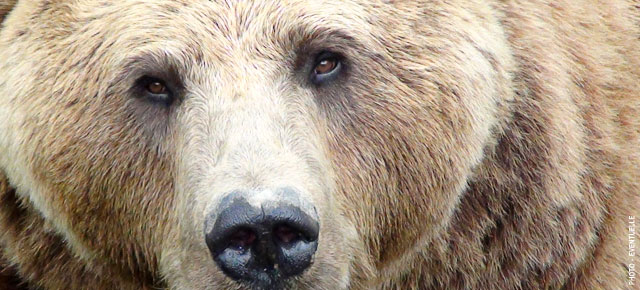 Bears, Bears, Bears | 5 NFB Films About Bears
It was the spring equinox the other day and this means that just like the rest of us, bears will soon be coming out of hibernation to frolic and bask in the sweet sunshine.
What better time, then, to enjoy 5 great NFB films about these furry and fascinating beasts? A mix of both animation and documentary, with some talking bears thrown in for good measure, here are 5 films about one of Canada's most revered and feared land mammals. Whether you like your bears white, black, brown or, why not, of the grizzly persuasion, here's a little bear for everyone.
Project Grizzly
Project Grizzly , Peter Lynch, provided by the National Film Board of Canada
This is easily one of the most entertaining docs the NFB has ever produced. Project Grizzly is based on a rather surreal premise: a North Bay resident, who once miraculously escaped alive from an impromptu Albertan rendez-vous with a grizzly bear, devotes his life to designing – and field testing – a suit that would be 100% grizzly proof. Once you get over the fact it seems absurd to spend the rest of one's new lease on life actively and repeatedly getting in harm's way, it soon becomes obvious the dude, a certain Troy Hurtubise, is an adrenalin junkie of the first order and that his "close quarter bear research" is indeed what keeps him kicking. The film's magic rests as much on Troy's eccentric single-mindedness and high charisma (he is one hell of a story teller) as on his eccentric bear suit pursuit. Rumors say Project Grizzly is a favourite of Quentin Tarantino's. I have no trouble believing that.
The Bear and the Mouse
The Bear and the Mouse, F.W. Remmler & Ingmar Remmler, provided by the National Film Board of Canada
Do you like talking animals? And fables with happy endings, and dance parties at the end? If so, this 7-minute 1966 gem is for you. A variation on "The Lion and the Mouse", the fable by Aesop, the film casts real animals, including a burly brown bear in the role of the lion. The delight resides in watching the animals "acting" out the story (Mouse's family is particularly stunning) but also in the animal's voice, all courtesy of filmmaker Michael Rubbo. (Eager for more? Watch That Mouse, which, incidentally, also features a big old bear.)
The Sniffing Bear
The Sniffing Bear, Co Hoedeman, provided by the National Film Board of Canada
This short animation is a complex animal. The story, at least, is straight-forward enough. Based in the Arctic, it tells, with the help of fine paper cutouts, the tale of a bear who comes across a red fuel canister, abandoned by the side of a caved-in igloo. He sticks his snout in and whoa! Before he knows it, he's addicted to huffing gas. He's high as a bat! And totally being mean to Mr. Seal, who is trying to help him by taking the canister away. Therein lies the complexity: the film, on one level, is rather amusing (the idea of a stoned polar bear can elicit a smile); on the other, sniffing gas was and remains a serious issue in Canada's remote Northern communities. In fact the film, directed by Academy award-winning animator Co Hoedeman, was the initiative of a group of Native and Inuit inmates at La Macaza Penitentiary, in Northern Quebec.
Meltdown
Meltdown, Carrie Mombourquette, provided by the National Film Board of Canada
This animation is as amazing as it is short. Produced as part of the 8th (and latest) edition of Hothouse, our animation apprenticeship, it tells the story of a polar bear who bids his ice floe adieu in search of work. His various attempts at holding down jobs are dismal, but the film – in glorious claymation – is a sweet success.
Mr. Bear's Song
Mr. Bear's Song, Elizabeth Walker, provided by the National Film Board of Canada
This doc is many things at once, all of them good. At once a bedtime story (Mr. Bear's Song), and an invitation into the wonderful word of bookmaking, the film introduces us to Fionna Garrick, a woman who writes children's books and runs a small publishing house. Swaths of Mr. Bear's story (it involves a flute and disobeying little bears) are interlaced with various aspects of the bookmaking process: engraving, mixing colours, print-making or binding, all done lovingly and by hand. If someone knows how to get a copy of this book, I am all ears.