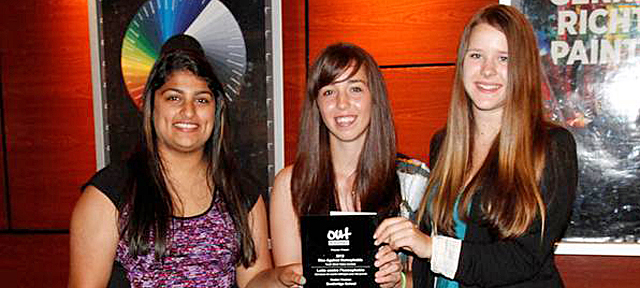 Announcing the 2013 Rise Against Homophobia Youth Short Video Contest
This is a guest post by Ross Johnstone, Director of Programs for Out in Schools & Out On Screen.
Out in Schools is a BC-based high school outreach initiative that brings LGBTQ films into the classroom to facilitate dialogue on homophobia and bullying.To date, Out in Schools has reached more than 35,000 students through interactive, media-based workshops.
Announcing the 2013 Rise Against Homophobia Youth Short Video Contest
Presented by the BC-based Out in Schools program, in partnership with the NFB and with support from Heritage Canada, the 2013 Rise Against Homophobia Youth Short Video Contest invites students to create videos that challenge bullying and homophobia in their schools and communities. This opportunity is open to all youth from across Canada between the ages of 12 and 19. Participants are asked to create a 30- to 60-second video in support of LGBTQ equality.
As more provinces and school districts enact LGBTQ-supportive policies, educators are feeling more confident in outreaching to their queer students. However, making the effort to address homophobic behaviour in our schools can sometimes seem like venturing into new territory. With many social stigmas still attached to notions of sexual orientation, it can be difficult to reach every student and foster a safe space for learning.
The Rise Against Homophobia video contest offers a creative approach to teaching and learning about social justice, and it provides an engaging opportunity for young people to become active participants in the process of supporting their LGBTQ peers. The driving forces behind this initiative are the power of the peer-driven message, combined with the importance of being an ally. Participants will also learn valuable filmmaking and critical media skills that can lead to positive change within their peer community.
Last year's winning video was created by Linnea Ritland, a 15-year-old student at Lord Byng Secondary School in Vancouver. In just under a minute, Linnea's superbly animated video Reach Out vividly depicts the isolating effects of homophobic bullying, while showing the importance of establishing safe and supportive spaces in schools and the positive difference that these spaces can make. The Out in Schools National Youth Jury selected the winning video; Linnea received $2,500 for placing first and accepted her award in person at the Vancouver Queer Film Festival's Youth Gala Premiere. Reach Out has since gone on to win more awards, including the United Way's Care to Change Video Contest.
You can view a selection of videos by past winners at OutinSchools.com.
Part of the success of the Rise Against Homophobia contest is that it meets young people where they're at—it is accessible, has online appeal and makes a powerful viral impact. Participants are encouraged to create videos using their cameras, smartphones or tablets; they can also take advantage of free online filmmaking tools, such as the NFB's StopMo online studio and its PixStop animation app. Rise Against Homophobia is well suited to group activities, and it supports experiential learning styles and meets Prescribed Learning Outcomes (PLOs) for a cross-section of curriculum topics, including healthy relationships and healthy decision making.
The deadline for video submissions is June 3, 2013. Youth from all regions, backgrounds and languages are strongly encouraged to participate. $2,500 will be awarded to the winning video, and $1,000 to each runner-up.
Visit OutinSchools.com to enter and to learn more.