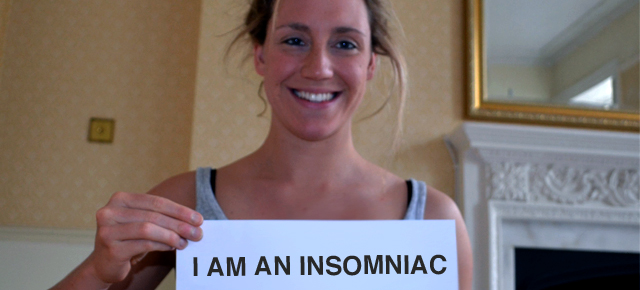 Olympic Swimmer Elizabeth Simmonds Comes Out: She Is an Insomniac
In April 2013, hundreds of confessions collected over several months via the webcam, keyboard and mouse from insomniacs all over the world were assembled into the interactive documentary A Journal of Insomnia.
This summer, discover the stories of celebrities who agreed to come out and provide you with their nocturnal confessions. Just like the insomniacs from A Journal of Insomnia, they answer questions from the Confessional.
***
Elizabeth Simmonds was born and raised in North East England. She is an Olympic backstroke swimmer, and she represented Great Britain at the 2008 Summer Olympics in Beijing, then in London in 2012. She won her first gold medal for the 200 m backstroke at the European Aquatics Championships in 2010. Today, Elizabeth has agreed to come out as an insomniac.
What is your first memory of insomnia?
When I was 13 I started doing "early morning" training sessions—getting up at 4 am to spend two hours in the pool before school. My first real memories of insomnia are from around that age—I quite regularly turned up at the pool having had no sleep at all. Training after no sleep wasn't a huge problem for me, as I usually caught up with a nap during the day, but I always remember the comments from the other swimmers and coaches who couldn't understand how I could keep my eyes open for a 7 km swimming session!
What keeps you from sleeping?
I think my insomnia stems from having an overactive mind. Although incredibly physically demanding, being a professional athlete doesn't necessarily require a huge amount of mental stimulation. I go to bed at night physically exhausted, but my mind is usually wide awake. I'll be planning, creating, imagining, replaying, singing—anything other than relaxing! For me, being able to switch my brain off is the hardest part each night.
In industrialized countries, one out of three people can't sleep. What keeps us awake?
I don't know exactly how much it contributes to nationwide insomnia but I would guess that technology doesn't help. We spend inordinate amounts of time watching TV, playing on games consoles, and listening to music. I know I'm guilty of having my iPhone practically glued to my right hand! Every day our brains are bombarded with an overload of sensory information, the vast majority of it being from some form of computer interface. I try and keep my phone face-down and on silent when I go to bed, but it's still hard not to constantly check my Facebook, Twitter or Instagram!
Only 10% of people suffering from chronic insomnia consult a doctor, and they wait an average of 10 years before doing it. What holds them back?
I think a number of things stops people seeking help for insomnia. I believe that one of the main issues is general unawareness of the medical and behavioural options available to people. I certainly have always just considered insomnia to be a genetic disorder, and one that cannot necessarily be treated long-term by a trip to the pharmacy. Insomnia is difficult to diagnose, and each individual will have different root causes, and therefore will require a different treatment plan—not as simple as going to your doctor with a cough! I also think a lot of people know some of the reasons that their sleeping is suffering, but are reluctant to give up that after-dinner cup of coffee, or the playstation games before bed!
What do you like about being awake at night?
Although it can be incredibly frustrating, there's also something strangely satisfying about being wide awake outside social hours, when it's dark outside and the rest of the house is quietly sleeping. As far as my swimming is concerned I don't think my insomnia is necessarily a negative affliction. When the rest of the field are stressing about being unable to sleep the night before they compete at the Olympic Games, I'm happy in the knowledge that for me that is nothing out of the ordinary! Also, as many insomniacs will attest to, I find that during the hours of the night I am most creative, finding it infinitely easier to work, write and read—all my emails get answered in the middle of the night!
Insomniacs, you are not alone; you too can come out!
Confess your insomnia and join Elizabeth Simmonds and hundreds of other insomniacs around the world. You can do this in 3 ways:
1. Using your webcam or the Instagram app, take your photo like Elizabeth Simmonds and post it on Twitter with your statement and the hashtag #insomniaNFB. All photos are collected and added to a panorama that brings together insomniacs from around the world.
2. Simply tweet "I am an insomniac" with the hashtag #insomniaNFB.
3. Add your stories to A Journal of Insomnia by making an appointment and answering questions from the Confessional.
Follow the discussion on Facebook and Twitter!