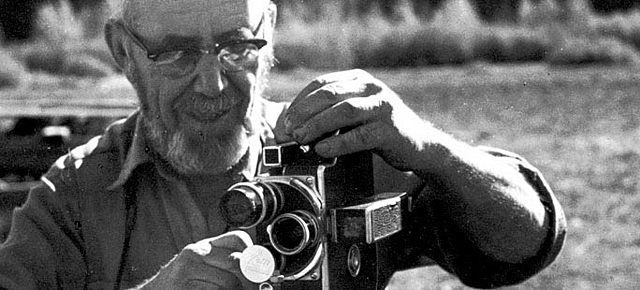 Flash William: A One-Man Movie Industry
One of the greatest aspects of my job is that I get to see pretty much every NFB film ever made. There is no better feeling than discovering a long-lost film in our vaults and making it available to the general public. Years ago, I ran across a little jewel about a one-man film industry living and working in Northern Alberta. This wonderful 1978 documentary, Flash William, is the subject of my blog post today.
Today, anyone with a cellphone can shoot a film and instantly see the results. Whether these are worth watching is another matter, but the means of making a film now exist for all of us. This was not always the case. Video technology really came into its own in the 1990s, giving people access to portable filming equipment. Now, everyone knows that making a film is easy… but making a good film is very, very difficult.
Flash William Shewchuk spent many years of his life working in oil fields, and anywhere else he could find a job. When he ended up in the mining town of Cadomin, Alberta, he bought a used 16mm camera, and over the next 25 years proceeded to make 3 feature films, essentially by himself. Neighbours and friends acted in the films with him, and he even picked up special lights to give his productions a professional gloss—but he was mostly on his own. His perseverance and ingenuity allowed him to make films even though he was sometimes the camera man, director and only actor on set.
In the documentary, Flash shoots extra sequences for his western, Dawson City Joe, with Irene, a young lady who is interested in learning more about the craft. She works as a river boat captain in the Yukon by day and is helping Flash complete a film that he always felt was not as good as it could have been.
Flash's life, as described by legendary NFB narrator Stanley Jackson, is fascinating. After some difficult experiences growing up and looking for work, Flash decided to put his energy into making films, which he shows throughout Western Canada for a small fee. He entertains audiences with the harmonica, sells tickets and runs the projector—a true one-man show. It was during one of these screenings that he met Irene, who immediately jumped at the chance to appear in Flash's movie.
Dawson City Joe is a typical western, replete with good guys, con men and pretty saloon girls. It is also shot in widescreen and 100% cheesy. Narrator Jackson never explicitly says so, but it is clear that it could have used a little more polish. This isn't the point of the documentary. Flash's incredible ingenuity as a director is what is important. Whether it's filming split-screen so that he can appear as two different characters or using playback to add dialogue, his imagination knows no bounds. I'll let you watch the film to see what he has done about dubbing the original saloon girl after she left town and was no longer available. It might not be pretty, but it's certainly original.
This short documentary is pure magic. It shows that to make a film one does not need great amounts of money, just creativity and determination. Sadly, Flash William did not have much of a distribution run. It was broadcast on the CBC in 1979 and on educational TV in Alberta and Ontario, so few people have seen it. I am very pleased to present it to you on NFB.ca. Please take the time to watch this little pearl, even if you are not interested in filmmaking. It remains a film about one man's story that is as fascinating as anything Hollywood could have come up with. If nothing else, you will see what true determination is all about.
Enjoy the film.
Flash William, John Laing & Thom Burstyn, provided by the National Film Board of Canada