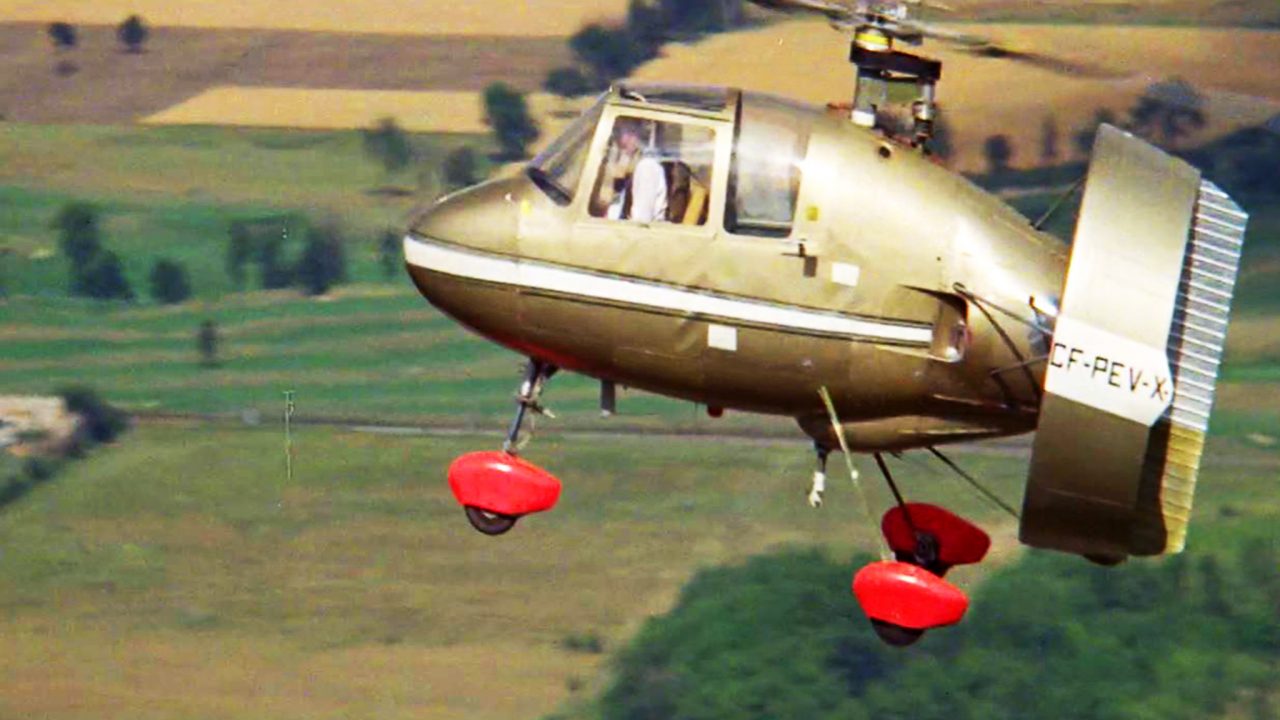 Canada in All Its Glory, Circa 1966 | Curator's Perspective 
A few years back, a reporter from 
T
he 
Globe
 and Mail
 stumbled upon the NFB film 
Helicopter Canada
 while 
browsing
on 
Netflix. She was quite intrigued and, after watching it, contacted us to see if we could give her some more information on the making of this unusual Oscar-nominated 
doc
so that she could write an article about it. I had about 
two
 hours before 
my
interview 
with her 
to 
learn
as much as I could 
about
 the film. The interview went 
well
,
 and since that day I
'
ve thought about doing 
more in
-depth
 research on the film and writ
ing
 something myself.
As Canada Day is just around the corner, I thought I would finally write a blog post on Helicopter Canada. If you've never seen it, this is a perfect opportunity to discover this documentary produced for Canada's centennial.
First, I should point out that the entire film was shot from a helicopter (a Sud-Aviation Alouette II, to be exact) and offers panoramic views of Canada from coast to coast. It was a collaboration between the NFB and the Centennial Commission. The goal was to make a film that would highlight all that Canada had to offer and encourage people to come visit the country during the centennial year.
The helicopter was shipped disassembled from France and reassembled in Canada. It took several months for the NFB to build a special camera harness that would allow someone to shoot from the helicopter. This turned out to be veteran NFB cameraman Eugene Boyko, C.S.C. (who also doubled as director of the film). Boyko would shoot more than 100 NFB films during his career, including Fields of Sacrifice and Norman Jewison, Filmmaker.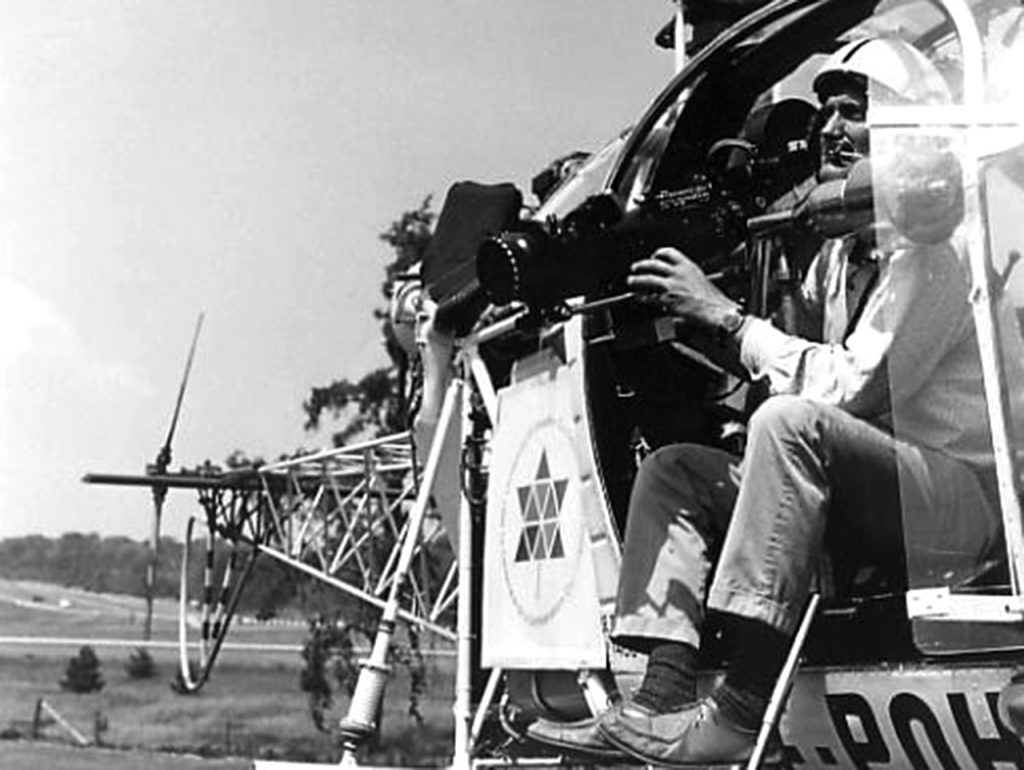 Using a 35mm Panavision camera, Boyko set out by helicopter with pilot Claude Forcade to film the country. They travelled for 18 months, shooting in every corner of Canada, covering 24,000 kilometres in the process. In that time, they spent 540 hours in the air and nearly crashed twice! At one point they were following an eagle over the Rockies when the pilot lost track of where they were. He managed to pull out at the last minute before they went straight into a mountain. The other near–crash happened over Cap Diamant in Quebec City; thankfully, disaster was averted. The door of the helicopter had been removed to be able to accommodate the camera and harness, which meant that filming in minus 35 degrees in some places was quite the challenge.
When they finally returned to Montreal, Boyko had shot 133,000 feet of 35mm film. That is the equivalent of 24 full hours of material. Editor Rex Tasker had the herculean task of editing that down to a 50-minute documentary. Donald Brittain and Derek May were brought in to write the commentary, which was narrated by NFB veteran Stanley Jackson. As the film had been shot silent, sound effects and people's voices had to be recorded as well.
Columbia Pictures agreed to distribute the doc across Canada. It premiered on December 23, 1966, in several cities, including Toronto, Hamilton and Winnipeg, to ecstatic reviews. The Toronto Telegram proclaimed that "Canadians of all ages are likely to acclaim it with pride and pleasure." Time Magazine called it "a delightfully droll travelogue." Over the next few months, it was released across the country, with a French version also going out.
Here is beautiful artwork from Helicopter Canada poster: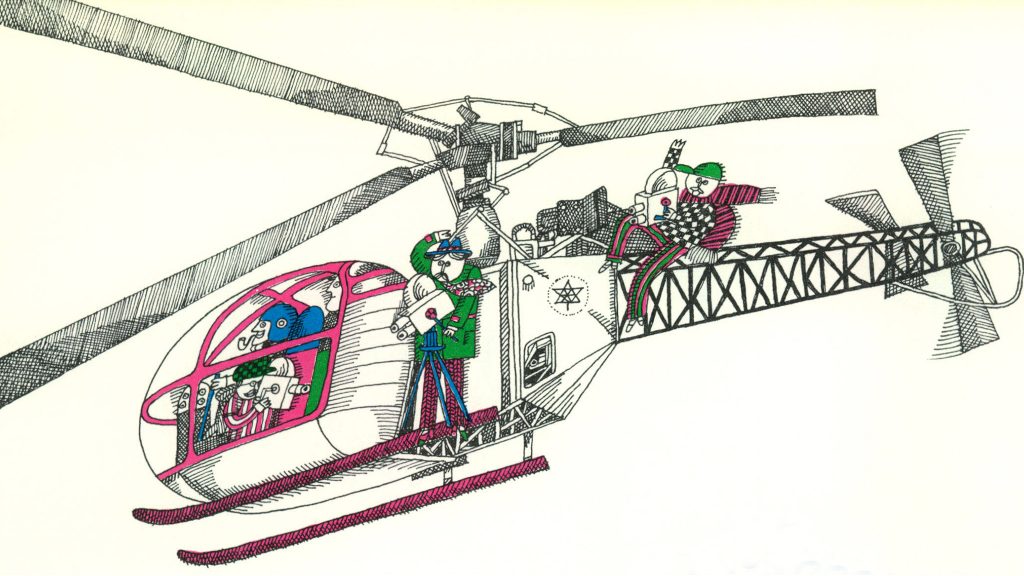 Sales around the world were staggering. The film was versioned into 12 other languages in total. A 20-minute shorter version was also produced, entitled Take It from the Top, and it was just as popular. This short version was bought by Sovexport Film for theatrical release in the Soviet Union. The (complete) film would go on to receive an Oscar nomination in the Best Feature Documentary category and win two Canadian Film Awards, among other honours.
Helicopter Canada is exactly what you would expect from a documentary filmed from a helicopter: lots of panoramic shots of Canada's natural wonders, from the Bay of Fundy to the Rockies, with stops just about everywhere in between. A lot of emphasis is put on Canada's industries, from coal mining to hydroelectric power to wheat farming.
The commentary is quite humorous. My favourite bit is when narrator Jackson talks about a fort built to protect Canada from an American invasion. The Americans never came, but the soldiers stationed there now practise hard and Americans pay to watch. Other highlights include a Greek island (!) in British Columbia, the Bluenose II, and a cameo by four lads from Liverpool.
Helicopter Canada, Eugene Boyko, provided by the National Film Board of Canada
Watching Helicopter Canada today is still a treat. Obviously, Canada has changed a great deal in the 54 years since it was made, but the film offers a wonderful portrait of the country on the cusp of celebrating its centennial.
 Enjoy the film, and happy Canada Day!