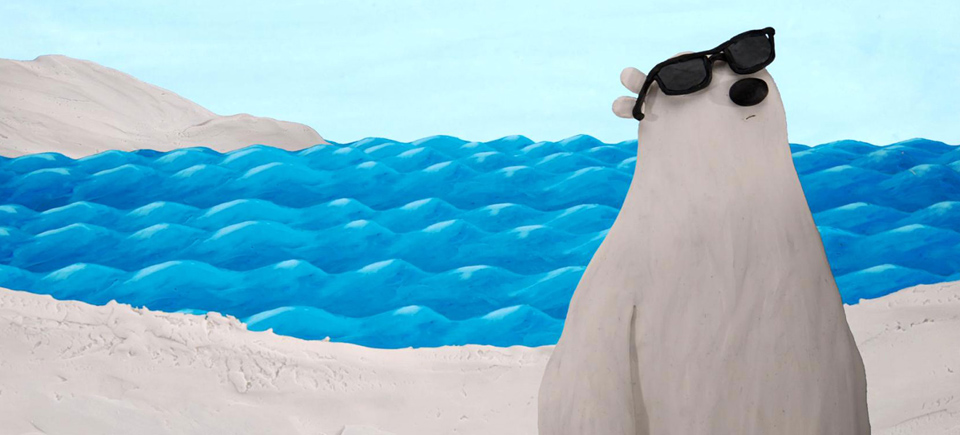 Endless leisure time: films for kids on March Break
Hey parents and kids across Canada: looks like you've got yourselves some free time this week, last, and next (March Break dates vary across the provinces and territories). The kids are out of school, and it seems like the days are suddenly full of endless leisure time (for the kids, at least).
We've got tons of cinematic goodies to keep the kids occupied this week. You may want to check out our playlist of Kids' Cartoons, or the Spring Break collection of films on NFB.ca, both of which are packed full of days' worth of fun, musical, colourful, hilarious and sometimes even educational films for kids. (Shh! Don't tell they kids, but they might actually learn something while out of school).
But if you're overwhelmed by the selection in our playlists, here are a few recommendations. These are some of our most popular, fun-filled short films, and we guarantee they won't disappoint.
Fun with furry friends

Do you or your kids have a soft spot for our beastly fellow earth-dwellers? More specifically, are you one of the seemingly gazillions of folks who count themselves as "cat people"? You may want to spend some time with the delightfully mischievous felines in The Dingles or the infamous The Cat Came Back (one of our most-watched titles of all time). In the former, our furry friends are busy causing all kind of fun when a dark thunderstorm forces them indoors for the day. In the latter, our feline protagonist is absolutely, positively the most unstoppable and annoying little rascal there is.
The Dingles by Les Drew, National Film Board of Canada
The Cat Came Back by Cordell Barker, National Film Board of Canada
Not a cat person? Me neither. Instead, check out The Tender Tale of Cinderella Penguin, a 1981 Oscar® nominee that's exactly what it sounds like (something about the wicked stepsisters as squealing evil penguins makes it even more hilarious). Or take a trip with the poor polar bear in Meltdown as his home in the Arctic slowly melts away and he must voyage to the city to look for a job.
Belt out a tune with these musical movies

Looking for a lively sing-a-long? Cactus Swing is a bizarrely fun song-and-dance starring a jazz band full of musical cacti. You and your kids will be humming this catchy tune for days, and the Wild West setting provides for some lively midnight surprises for our confused protagonist.
Cactus Swing by Susan Crandall & by Beth Portman, National Film Board of Canada
We've got quite a few more sing-a-longs, such as the iconic animated shorts Log Driver's Waltz and Blackfly, in which the legendary McGarrigle sisters belt out some well-known folk tunes.
Moon Man is another lively folk ditty, inspired by the song "Moon Man Newfie," composed and sung by Canadian music icon Stompin' Tom Connors and set to the colourful animation of Paul Morstad. And the legendary Norman McLaren, along with his partner René Jodoin, created one of his signature black-and-white line drawing animations to accompany the eponymous Alouette—the results are classic, charming, and undeniably catchy.
How'd they do that?

Appease your inner nerd with a few science-y films, none of which are short on humour and entertainment. In The Underground Movie, our kooky protagonist wants to drill a hole through the earth all the way to the other side. Will he succeed? Find out!

The Underground Movie by Les Drew, National Film Board of Canada
If you're into this madman of an inventor, you'll love The Balgonie Birdman, a strange yet inspiring stop-motion animated tale about a guy who's cooking something secret up in his prairie shed. And let's not forget about the quick-as-lightning vignettes in the Science Please! series. These one-minute shorts will explain everything and anything under the sun (combustion, atoms, magnets, gravity) in fun-filled, musical animations cut with archival stills. Check out Part 1 and Part 2 for the answers to all your burning questions about the world around us.
Old home, new home, and everything in between
I was an immigrant kid myself, so I know what it's like to experience culture shock at a young age. Learning a new language, new values, and new traditions (including new folks songs—ahem, Stompin' Tom) can be an overwhelming experience for a kid. Thankfully, we've got the likes of Christopher to take us through the questions, doubts, and joys of interrogating one's identity. In Christopher Changes His Name, our protagonist wants to be called "Tiger" after hearing a striking folk legend from his sprightly Trinidadian aunt. But will this new name fly when he wants to cash his birthday cheque?
Christopher Changes His Name by Cilia Sawadogo, National Film Board of Canada
Other kids' films about multiculturalism, immigration, and the experience of a new home include The Chinese Violin, in which a simple yet comforting stringed instrument accompanies a Chinese family across the ocean in search of a new life, and Lights for Gita, in which 8-year-old Gita is disappointed that the Divali celebration isn't what it used to be in her native New Delhi. But eventually, Gita will find a place for her old traditions somewhere in her new adopted land.
Lights for Gita by Michel Vo, National Film Board of Canada
Start watching now, either here or through our Spring Break collection of films. The NFB is wishing everyone a happy, safe, and very cinematic March Break!