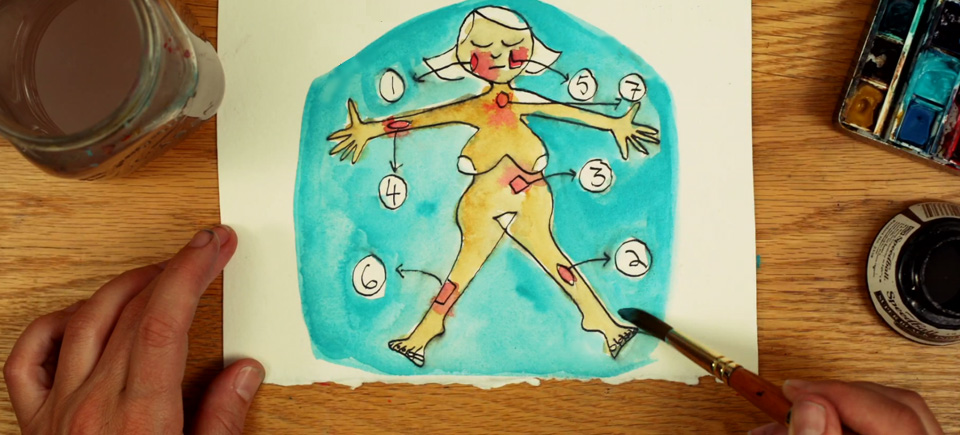 Real vs. ideal: watch 5 illuminating films about beauty standards
From skin colour to body type to noses, eyes, and ears, it's common to feel that there's always something about the way one looks that might be just not good enough. This week on NFB.ca, we're delving deep into society's normative beauty standards and the ways in which people of all different walks of life struggle to fit into them.
This selection of compelling documentaries (and one absolutely heart-warming short animation) will hopefully make you look in the mirror in a different way.
Fashion, consumers, and race in a globalized world
Renee Thompson is a runway model who speaks frankly about the racial dynamics of the elite world of fashion. In the short documentary The Colour of Beauty, we follow Renee around New York as she visits agents, casting directors, and designers in an effort to make it in the highly competitive world of runway modeling. But the prevailing opinion is that black models should ideally look "like white girls dipped in chocolate", as the film reveals.
Flare editor Lisa Tant comments on the fact that consumption of luxury goods is rapidly rising in Brazil, China, India, and other valuable markets in which non-white consumers make up the demographic. A fashion industry that doesn't market to these consumers on their own terms may be headed for irrelevance.
Watch Renee as she steps out and speaks out with fierceness, courage, and humour.
The Colour of Beauty by Elizabeth St. Philip, National Film Board of Canada
Fat-shaming, fat pride
Funny, kind, and talented Rick Zakowich is a child therapist by day and a blues singer by night. But the first thing people notice about him is that he weighs almost 400 pounds. Fat Chance is an intimate portrait of Rick's lifelong struggle with his weight and body image. The film presents an alternative to the insanity of the failing diet cycle: Rick begins to meets like-minded individuals who have begun to reject the unreasonable beauty standards of a weight-obsessed society. Enough with the public humiliation, critical looks, and insensitive comments—proponents of fat pride exclaim: "You can't mess with me anymore!"
Instead of losing weight, Rick finds solace in new friendships and a profound sense of self-confidence. A must-watch on the topic of appearance-based oppression, Fat Chance delves deep into the psyche: Rick discusses insecurity, isolation, sexuality, and hope with inspiring candour and an infectious sense of humour.
Fat Chance by Jeff McKay, National Film Board of Canada
Self-image, life, and love
Filmmaker, artist, and animator Andrea Dorfman's work is always highly personal, poetic, and thought-provoking. With the entrancing short animation Flawed, Dorfman takes on her feelings about her own imperfections when she meets and falls in love with a plastic surgeon. Reminiscing with refreshing honesty about her childhood sense of self, Dorfman narrates: "I decided that no matter how big my nose got, I couldn't change it. It was part of me. But I  also decided something else: I was flawed. I pretended it didn't bother me. But it did."
Take a colourful and hypnotic animated trip through nascent self-confidence with one of Canada's most creative and thoughtful young artists. (If the film in the player below is not publicly available, you can head over here to watch the interactive project).
Flawed by Andrea Dorfman, National Film Board of Canada
Toned teens and their unrealistic dreams
Join a group of gym-obsessed teenage boys in Shredded, a frank documentary about their desire to get big and strong like their action-movie heroes. But at what cost do these youngsters pursue their goals? "It's an addiction now," says one fervent gym-goer. "Lots of the days, I won't know why I do it. I would put it in the class of anorexia or bulimia, except the reverse. I want more, I want more, it starts to feel good when you get bigger… but you don't really know what drives you."
Eventually, these young men, whose minds and bodies are still forming, must grapple with the consequences of their actions: "There's gonna come a time in my life," says one insightful teen struggling to understand the risks of his chosen pursuits, "that you get to a point where you say: is the risk of taking steroids worse than the results of what you hope to get out of it?"
The answer is apparent in this fascinating and ultimately troubling documentary about the unrealistic expectations society places on young men.
Shredded by Richard Gaudio & by Douglas C. Taplin, National Film Board of Canada
The windows to the soul
In Western Eyes, we follow two Asian-Canadian women as they contemplate undergoing eyelid surgery so that their eyes will more closely correspond to a Western ideal of beauty. While it may seem at first as though this is a film about plastic surgery, what eventually emerges is a portrait of these young womens' childhoods, families, and friends, one which makes apparent the very real and deep pain caused by racial stereotypes and discrimination.
Western Eyes by Ann Shin, National Film Board of Canada