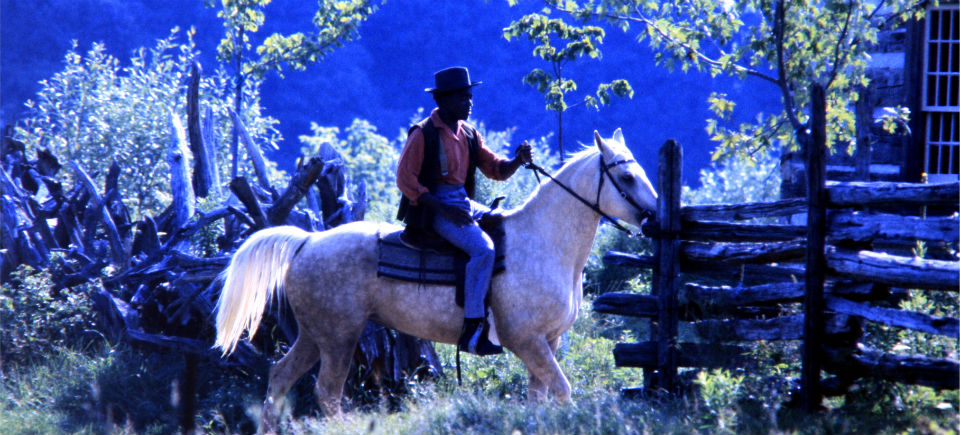 The power of stories: explore the new fiction channel on NFB.ca
Did you know that there is a fantastic selection of themed channels on NFB.ca? It's a perfect tool for those days when you feel like watching something, but don't know how to choose. From history to biography to environmental issues, these channels pull together some of our best and brightest films from all kinds of categories.
The power of imaginative storytelling
And now, we're delighted to introduce a brand new channel that compiles some of our best fiction films! Sure, you may think the NFB is known for our innovative work in documentary, animation, and interactive projects, but we've got some live-action fiction films up our sleeve, too. You may be familiar with classics like Le chat dans le sac  and Nobody Waved Good-bye, but there's plenty more to discover. Start exploring now!

Have a laugh
Not everything has to be so serious… why not have a chuckle with a few delightful funnies? Check out The Railrodder, in which the legendary Buster Keaton rides atop a railway speeder from coast to Canadian coast. What else does he get up to on his journey? Why, drinking tea and knitting, of course!
The Railrodder, Gerald Potterton, provided by the National Film Board of Canada
Have you ever had the pleasure of meeting little Ti-Jean? The series of films in which the 10-year-old demonstrates unheard-of feats of strength was not necessarily created with comedy in mind, but you can't help but laugh when watching this earnest youngster demonstrate his prowess. In Ti-Jean Goes Lumbering, our adorable protagonist polishes off a lunch of meat and potatoes in seconds after a hard day of working in the forest.
Ti-Jean Goes Lumbering, Jean Palardy, provided by the National Film Board of Canada
Other Ti-Jean films include Ti-Jean in the Land of Iron and Ti-Jean Goes West. You can't help but tip your hat to this remarkable little guy!
And let's not forget Gone Curling. This icy slapstick comedy will have you chuckling, and you may even enjoy the wintery setting while you struggle through the summer heat. In this short film, a foreigner visits the prairies, only to learn about the inexplicable obsession with curling. But once he gives it a try, he'll never leave the ice!
Gone Curling, John Howe, provided by the National Film Board of Canada
History comes to life
Confederation, the Rennaissance, the underground railroad… wish you could travel back in time to witness history's greatest events? A cinematic re-enactment is as close as you'll get to time travel.
If you've got an affinity for all things medieval, you'll be fascinated by John Cabot: A Man of the Rennaissance. This short film profiles 15th-century Europeans' attempts to find a passage to Asia, while revealing the day's curious views on science and technology (apparently, a famous "alchemist" has invented a potion that can help you live forever!) This film was directed by recently-deceased NFB stalwart Morten Parker; to learn more about this remarkable creator's life and work, head over here.
John Cabot: A Man of the Renaissance, Morten Parker, provided by the National Film Board of Canada
In much more recent—and very Canadian—history, Voice of the Fugitive explores the lives of American slaves who ran away to freedom along Canada's underground railroad. The film is a powerful portrait of a dark time in human history.
Voice of the Fugitive by René Bonnière, National Film Board of Canada
Other films of interest for history buffs include John A Macdonald: The Impossible Idea, a profile of our first Prime Minister, and Mistress Madeleine, a riveting drama set against the foundation of the Hudson's Bay Company and its conflict with the Métis people who protested the Company's stronghold over the fur trade.
Classics that never get old
Drylanders was the very first English-language feature fiction film the NFB ever produced. In this portrait of life on the prairies, a family leaves eastern Canada to stake its future in the middle of the flat, dry lands of this vast country of ours. A dust-swept rural atmosphere is beautifully rendered in classic black-and-white.
Drylanders, Don Haldane, provided by the National Film Board of Canada
Youthful existential angst isn't only the stuff of  Le chat dans le sac  and Nobody Waved Good-bye. There's also a rebellious youth at the heart of You're No Good, a coming-of-age drama about a youth who steals a motorcycle and spirals into a series of conflicts with the law, his parents, and society. Actor Michael Sarrazin's chiseled visage complicates the tale, as we find ourselves sympathizing with the young man of few words.
You're No Good, George Kaczender, provided by the National Film Board of Canada
If you're in the mood for a few more stylized '60s gems in black and white, check out the Truffaut-esque YUL 871, a romantic urban drama about a Frenchman's first visit to Montreal, or the charming Crossroads, in which a young white woman and her black boyfriend must fight the social prejudice against their inter-racial relationship.
While I've recommended a few of my personal faves here, there are many more cinematic treats to explore in our fiction channel. There will definitely be something for everyone, so start exploring now!