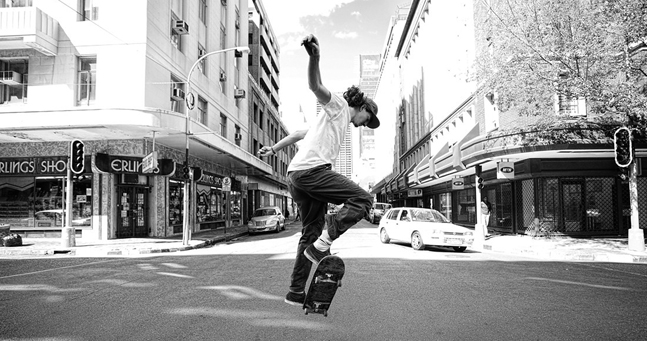 Skateboarding, Torn Shoes, and Other Taboos
The Devil's Toy Redux is a series of interactive web docs in which 14 directors from around the world reimagine one of the very first skateboard films, Claude Jutra's The Devil's Toy.
This blog post was written by Dan Thornhill, NFB Education.  After viewing The Devil's Toy Redux, Dan was inspired to write his own reinterpretation of the films in the same vein.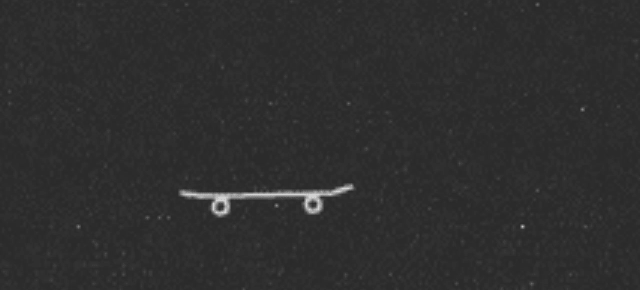 CITIES
I didn't grow up downtown. Before moving to Toronto I lived about an hour north of the city, but it seemed like it was worlds away. In the 1980s and early '90s, before the Internet was accessible, I really only knew our town and surrounding area. The shops all catered to the population's needs, and I didn't notice that there was much more out there… until I discovered skateboarding (cue: howling kids).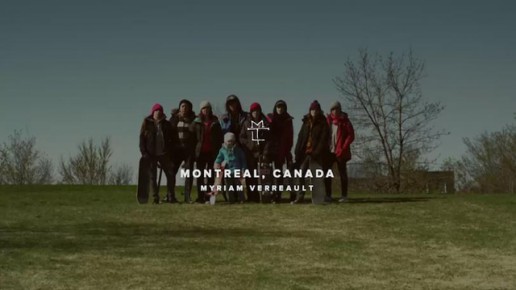 SKATERS
I was hooked right away. For me it was the freedom and creativity I liked the most. It was the best way to clear your head, hang out with friends, forget about your teenage problems and maybe stay out of trouble. It wasn't like other organized sports I played, where your friends (who might be better than you) play in different leagues or against you. Skateboarding was inclusive—everyone hung out together no matter how talented they were. We were able to feed off each other's enthusiasm and unique bag of tricks, and that was the only way to really learn new tricks; if there was a "how-to" for skateboarding, my board didn't come with one.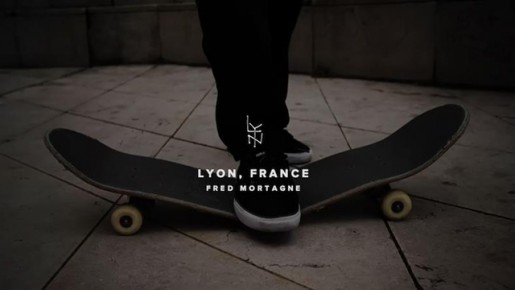 BOARDS
For us, skateboarding was an introduction to a subculture (cue: original song remix). I identified not only with the rebellious side, but also with the artistic: skateboard graphics allowed me to connect with working artists. From the graphics on the boards to the ads selling the decks, the work of these artists was playful, wacky and cool—it was refreshing. We would devour the raw, intense skate videos. We'd bootleg VHS copies and pass them along from skater to skater.
The gritty scenes of city life and its characters were magnetizing —they made you want to skate and go downtown and be a part of it. One of my favourite things was the soundtracks to these videos: they gave us access to so much underground music that would never get played on the radio. Like in the Los Angeles remake video of The Devil's Toy Redux, skating introduced a lot of people to bands such as Fugazi and unconventional hip hop and punk that was not part of the mainstream.
For the thousands of kids like me that didn't grow up in the city, this was like having a cool older sibling who lived in L.A. or New York and would introduce you to new music and art and let you in on their style. The clothes we wore always kept us ahead of what was in style. Suddenly we were setting the trends: Who has ever had a pair of skateboard shoes, and didn't get them for doing heelflips?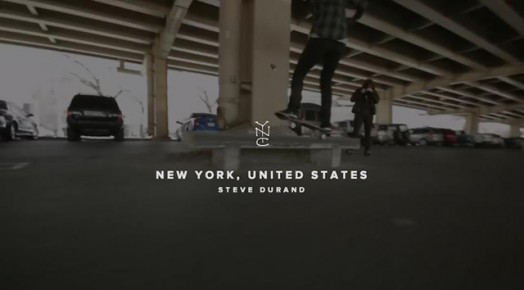 PLACES
To this day, some of my closest friends are people I met skateboarding, and it's still something we do together. Not unlike the kids in Claude Jutra's original film, we were all friends who hung out at the same spots. This is captured in some of the Redux shorts as well: the Bad Dürkheim (Germany) video, which has an all-female cast of skaters, and the Johannesburg version do a nice job of depicting this camaraderie. The protagonists set up their boards before heading out to claim the city, finding creative uses for different spots and meeting up with other skaters to just hang out and have fun. As a teen I moved to Toronto, and skateboarding is what I enjoyed doing and how I met others.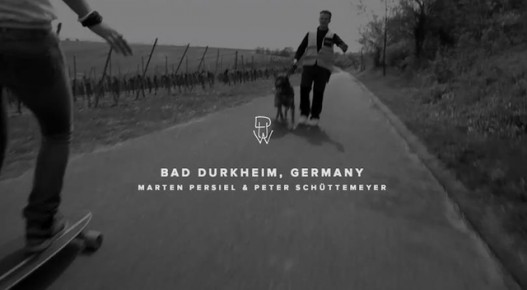 CONFRONTATION
This sentiment in Fred Mortagne's remake (Lyon, France) says it best: "The ultimate let-down is the huge contests—they're the opposite of a cool session with your friends. It's a stressful session, filmed on HD, with the goal being to score the most points to get the most cash. Kind of like ice skating, but not so classy. Personally, I prefer a cool session with my friends."
Professional skateboarding today is so technical—to the average person it's practically impossible to comprehend what tricks are being done. With pressure from the sponsors and directors to go bigger and collect insane footage, skaters put a lot on the line, and with the stylized HD directing, dolly shots and quadcopters, it must be extremely stressful. I'm okay with pros getting paid to wear Monster Energy hats and Mountain Dew shirts, but it feels a little bittersweet taking skateboarding so far from its origins. Could they at least bring the rad graphics back and not just have giant logos?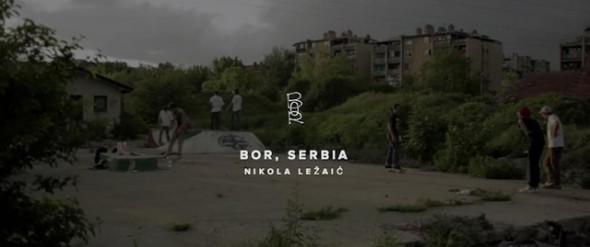 RESOLVE
So many people I know have fond memories of skateboarding (cue: Geneviève Bujold song), spending their summers at one little ledge near their house, watching videos at the skate shop or hanging out at the skate park. Yet skateboarding often has a negative association. There's a fair bit of aggressive angst in these videos, and that's not what skateboarding is about to most people. Some kids get angry when they're confronted and pushed to the limits. This isn't exclusive to skateboarding. Skateboarding can inspire creativity, problem solving and persistence, and it can also provide a lot of opportunities… just look at all the directors in this compilation.
"Beware, the youth of the world is on the move, and their aim is to take over."
Here is the original 1966 film:
The Devil's Toy, Claude Jutra, provided by the National Film Board of Canada
EPILOGUE
Fifty years later, 11 skateboarders have each made a short film in celebration of Jutra's classic. Whether in video, photography and creative writing, or even in discussion, skateboarding can be used as a theme to engage young people. This connection can really motivate them, and it can also be applied to any passion. Encourage students to find a film or interactive project related to their passion and have them write a blog post about what it means to them.
P.S.: The Devil's Toy was released almost a year after the first skateboard video, Skaterdater. However, Skaterdater was a fictional love story and not primarily about skateboarding.
Be sure to follow @thedevilstoy on Instagram and join up with The Devil's Toy Redux on Facebook for updates on the project and conversations on skate culture.