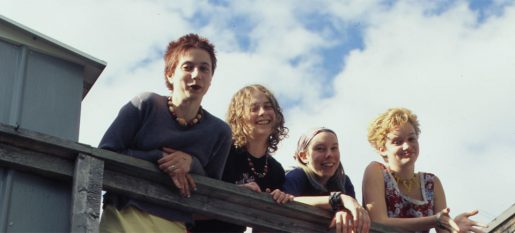 Watch 4 Films That'll Help You Through Adolescence
Adolescence is hard. Arguably one of the hardest stages of life. Just when you're getting an idea of who you are, everything changes. Puberty hits, hormones surge, and acne rears its ugly head. Then the romantic feelings start, and childhood friendships turn into high-stakes drama.
If you're lucky, you're in a good home with a loving family – however that's composed – but sometimes, you don't have a place to call home, or any of the advantages that some of the more privileged kids have. In either case, school takes a back seat, life gets really intense, and then… then you become an adult.
And while that doesn't seem any easier, at least you've put adolescence behind you forever.
But guess what?
If you become a parent, you get to go through it all over again.
But chin up! We've put together 4 films designed to get you through the difficult years:
XS Stress: Teens Take Control 
This short film follows 3 very different teenagers, each of whom struggle with their own demons. There's Sarah, who's been in and out of group homes for most of her young life and self-mutilates; there's Kira, a young woman whose missed diagnosis of dyslexia early on caused her to follow a path that wasn't necessarily hers; and there's Jarrel, an overachieving youth who tries to manage his insane schedule through a highly organized system of agendas. Tying their stories together is Kyra Shaugnessy, who brilliantly conveys the angst associated with growing up through her spoken-word poetry.
XS Stress: Teens Take Control, Patricia Kearns, provided by the National Film Board of Canada
Salt
This feature is composed of 4 shorts created by 4 different teens who chose to deal with the issues that preoccupy them through filmmaking. The four girls involved in the project are Beverly, Morgan, Amber and Karen – students from MIND, an alternative high school in Montreal. They did the film for credit, but also to learn a little more about the subjects they were portraying, which ranged from self-mutilation (an uncomfortably popular topic amongst this age group) to the education system. It was an interesting experiment, and offers some valuable insight for teens and adults alike.
Salt, Amber Goodwyn, Morgan Gage, Karen Shamy-Smith, Beverly Brown & Louise Leroux, provided by the National Film Board of Canada
Becoming 13

This film is amazing. It's a straightforward documentary that follows 3 girls – Jane, Avi, and Jazmine – over the course of one year, until they turn 13. If you are the mother of a young girl, which I'm sure many of you are, you will relate so easily to both the mothers and the young girls. Listening to the girls reminds you that you once thought the same way, and then listening to the mothers you realize how far you've strayed from that thinking. It's a smart film that takes on a big subject – moving from childhood to maturity – and portrays it with a lot of heart.
Becoming 13, Victoria King, provided by the National Film Board of Canada
Sexy Inc. Our Children Under Influence

This film takes on an issue that's becoming increasingly worrisome as time goes by – the effects of our hypersexualized environment on young people. It's not comforting to realize this film was made 10 years ago, and the problem hasn't gotten any better… it's only gotten worse. As the mother of a 9-year-old, I can tell you it's near impossible to find summer shorts of a respectable length or a t-shirt that's not fitted. This film tackles the issue from all sides, and offers up some possible solutions, too.
Sexy Inc. Our Children Under Influence , Sophie Bissonnette, provided by the National Film Board of Canada