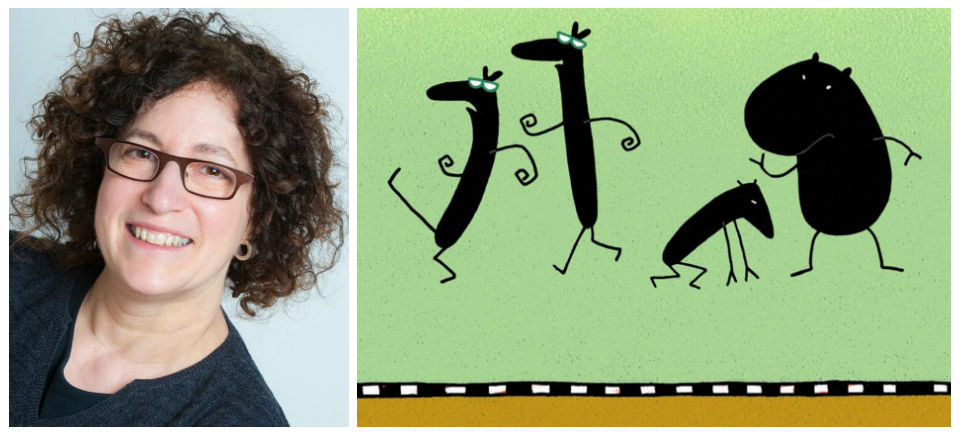 A Q&A with Oscar®-nominated animator and artist-in-residence Janet Perlman
As you may have heard, there's a fantastic exhibition called Frame x Frame: Animated Film at the NFB currently running at Les Musées de la civilisation à Québec in Quebec City. You can explore how animators at the NFB have pushed the boundaries of their art form in more than 250 films—then take your turn in the animation lab and produce a short film of your own.
One of the most exciting things about this exhibition, which runs until August 2015, is that a number of prominent artists currently working in animation will complete residencies at the museum. They'll be working on an original new project in the public space of the museum for all visitors to see!
Here on the blog, we'll be profiling these imaginative creators one by one as their residency period begins. A few weeks ago, we brought you a profile of the very first animator to complete a residency, the young and talented Francis Desharnais. Today marks the beginning of the next residency, featuring acclaimed Oscar®-nominated artist Janet Perlman. Read on for an enlightening Q&A with Janet, during which we discover what drives her creativity, her techniques, and her love for animation.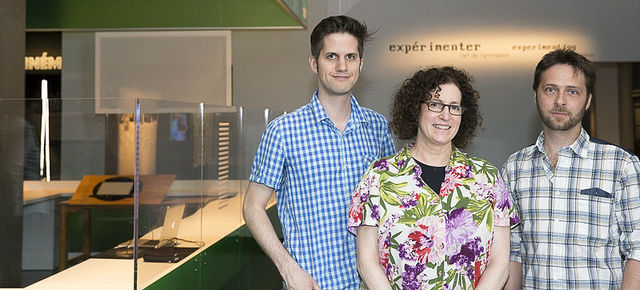 L to R: animators Francis Desharnais, Janet Perlman, and Patrick Bouchard at the opening of the Frame x Frame: Animated Film at the NFB exhibition in June 2014. 
A little bit about Janet
Born in Montreal, Janet Perlman has carved out an impressive career in animation and the creation of theatrical shorts, television commercials and educational films.  Alongside her independent work, her NFB films have earned international acclaim, including an Oscar® nomination for The Tender Tale of Cinderella Penguin.
The Tender Tale of Cinderella Penguin by Janet Perlman, National Film Board of Canada
Janet is also the author and illustrator of four children's books: Cinderella Penguin, The Emperor Penguin's New Clothes, The Penguin and the Pea and The Delicious Bug. At the NFB, she developed the ShowPeace series of animated films on conflict resolution. Her films Dinner for Two and Bully Dance won major awards in Chicago, Montreal and Berlin. She has recently completed Monsieur Pug, a short for the NFB's French Animation Studio. Janet has taught animation at Harvard, the Rhode Island School of Design and Concordia University.
Bully Dance, Janet Perlman, provided by the National Film Board of Canada
A Q&A on improvisation, sound inspiration, digital technology, and everything in between…
NFB blogger Jovana Jankovic (JJ): Janet, your proposed project at the museum will incorporate animations of the buildings, objects, and textures found throughout the museum. Is there something in particular that inspires you about the museum? 
Janet Perlman (JP): When I first proposed the project, I had not yet visited the museum, but I wanted to make a film where the process would allow for a lot of spontaneity and improvisation. I decided to let the museum be my muse, and so the film will be a collage of whatever I find there, not only objects and images in the exhibitions, but also textures of the floors and walls, leaves from exterior plantings, and even napkins and muffins from the café. I recently did visit the museum, and I am looking forward to incorporating some historic Québec images and documents and some Roman antiquities. It will be a lot of fun to see how this eclectic mixture will come together in one film.
JJ: You'll be creating an animation that is rhythmically set to a pre-existing soundtrack, right? You've done previous experiments with this (Sorry Film Not Ready, I want to go home). What do you enjoy about working from sound to image? What's the biggest challenge? What soundtrack will you use for your residency animation?
JP: I have often worked with pre-existing soundtracks. It helps to have it as a guide for the movement and pacing of the animation, and is especially useful when making an unscripted experimental film such as this. Having a soundtrack will also allow me to show museum visitors how I synchronize the animation with sound. I have asked composer Judith Gruber-Stitzer, whom I work with a lot, to give me a one-minute soundtrack. I have given her carte blanche, with just an idea of the feeling I would like convey.
JJ:  The media arts are being transformed by digital technology. What elements of new media and new technologies do you find useful in your work? What aspects of new media, if any, will you incorporate into your residency?  
JP: I find all elements of digital technology liberating. It has eliminated a lot of the drudgery which tended to plague animation production in the past.  Anything seems possible. I have used computers for a very long time, and almost all of my work now is paperless. I draw directly into the computer using a Cintiq, which is a combination screen and graphics tablet. I will be bringing one of these Cintiqs to the museum in order to do the animation. I work with various software programs and for this project I expect to be using ToonBoom Harmony, After Effects, and Photoshop.
JJ: Many of the films you've done with the NFB are hilarious and yet contain an important message (Invasion of the Space Lobsters is absurd and delightful, but also teaches an important lesson about communication). Is there a way to find the right balance between humour and learning? Will your museum residency play with these themes too?
Invasion of the Space Lobsters , Janet Perlman, provided by the National Film Board of Canada
JP: I like doing films that are educational or have a message. Sometimes I am given a message that someone wants to convey, as in Invasion of the Space Lobsters, sometimes I myself want to address a social issue, as in Dinner For Two or Bully Dance, and sometimes a message organically develops in a film, as in Monsieur Pug. I stay far away from any kind of instructional approach. I always use humour, which I am very comfortable with, and try to make sure the entertainment value is not compromised by the message, though both may be equally important.
The film I will be making at the museum is not story-based, and there is no message I am trying to convey. It is more of an experimental stream-of-consciousness film, and I have no idea how it will turn out. I have done quick spontaneous films before, and it is a way that I enjoy working, which is quite different from my story-driven films.
JJ: Have you ever done a residency like this one before, in which visitors to the museum will be able to watch you work? What do you think it will be like? Will visitors influence your final product at all?  
JP: I have never done this kind of residency before. I have no idea what to expect. Will it be too distracting? Will I have to explain what I am doing all the time? Will no one bother me and I'll start explaining my film to a security guard? 
JJ: What is it that you love about being an animator? What is it about animated motion pictures that speaks to you as an artist? How did you get the animation bug?
JP: I got bitten by the animation bug quite by accident, when I was assigned a compulsory animation course in art school. I did not want to do it, but I had no choice. When I got my first film idea for the class, I felt that I wanted to make that film, and I was hooked. Animation is able to encompass so many of my interests. Drawing, story-telling and humour, dance and movement, music, animation. There is always something new to try and it's always an adventure.
 ***
Frame x Frame: Animated Film at the NFB runs until August, 2015 at Les Musées de la civilisation à Québec in Quebec City. In addition to Francis Desharnais and Janet Perlman, resident animators expected to participate include Claude Cloutier, Patrick Bouchard, Theodor Ushev, and Dale Hayward and Sylvie Trouvé. Visit this blog post for all the info on the exhibition, including a photo tour of displays.
Update (Oct. 28, 2014): Janet Perlman has completed her residency at the museum, and you can check out the lively and musical little film she created: