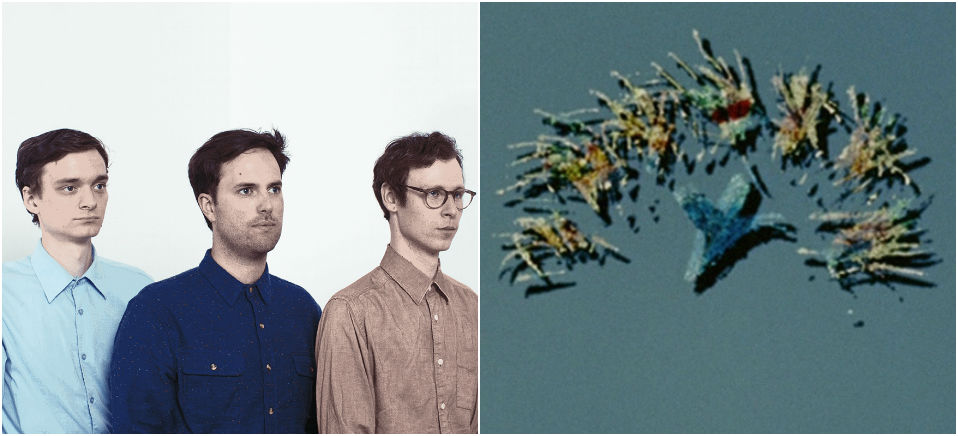 TIFF '14: free outdoor screenings of Norman McLaren classics with live music
Heading to the Toronto International Film Festival this year? Are you a Torontonian or perhaps one of the thousands of out-of-town cinephiles who descend upon this lively metropolis every September? Well, there's a very special and quite fantastic event happening out on Festival Street on Sunday, Sept. 7th and we'd be delighted if you'd drop by! Here are the details:
What: Re-Sounding The Films of Norman McLaren with original music composed and played live by Absolutely Free + Special Guests.
When: Sunday, Sept. 7th at 7:45 pm.
Where: TIFF's Festival Street (the temporarily closed, pedestrian-only section of King St. in Toronto between University and Spadina) on The Steve & Rashmi Gupta Family Stage.
Why: Why not? It's acclaimed animator Norman McLaren's centenary this year, and we're pulling out all the stops to put on innovative and engaging celebrations of this groundbreaking artist's life and work. It's also your chance to experience the mesmerizing and lively tunes and beats of Toronto-based pop/psychedelic/experimental group Absolutely Free. Check out their music here for a taste of what's to come—and read on for an illuminating Q&A about their McLaren-prepping artistic process.
Old meets new
Fans who are already aware of McLaren's eye-popping work will be delighted to see his legendary films set to new sound, and newcomers will be introduced to McLaren's impressive archive of experimental animations on the big screen (you can explore much of McLaren's work here).
The 7 McLaren films to be shown are: Opening Speech, Love On A Wing, Short And Suite, Synchromy, Mosaic, Spheres, and Pas De Deux.
Here's one of my personal faves for you to feast your eyes on; wonder what Absolutely Free will come up with for this one?
Synchromy, Norman McLaren, offert par l'Office national du film du Canada
Absolutely Free
Let's take a minute to get to know the guys who will be putting together a unique contemporary soundtrack for McLaren's films…
NFB: Were you familiar with Norman McLaren's work before your participation in this event? If yes, what were your thoughts on him and his work and how have your perceptions changed as you've worked on this project?
Absolutely Free: We had all known of his influence, but Matt had studied McLaren's films when he was a student at OCAD. Matt would regularly go to the NFB Mediatheque in Toronto to watch McLaren's films and the Paul Anka documentary Lonely Boy.
Watching the animations as a band, we noted how collaborative the process was at times, and how the music was integrating with the animation. There were some pieces, like Pen Point Percussion, that we just couldn't mess with because McLaren's markings made up both the sound and vision. On the other hand, a work like Spheres felt like a conversation we could get in on: McLaren, Bach, Gould—and Absolutely Free!
Spheres, Norman McLaren et René Jodoin, offert par l'Office national du film du Canada
NFB: How did your participation in this project come about, and what interested you about working on this?
Absolutely Free: Lately, we're taking on more and more art-house film scores and one-off performance pieces in places like movie theatres. As such, we've developed a reputation for accompanying unconventional/artful material. When TIFF approached us, it sounded like a tall order (sound for 7 films with a month's prep), but McLaren's work is immediately gravitational and we are so honoured to be a part of the dialogue of his work and expose a new audience to his oeuvre. It has been a pleasure.
NFB: What was your creative process like as you composed original music to be performed along McLaren's films? What did you find inspiring, challenging, or difficult? What was the most rewarding part of the project?
Absolutely Free: Our approach to scoring film is always rooted in intuition; the visuals beg a question, to which we do our absolute best to provide the most genuine answer. For Pas De Deux, the original score is inspiring and remarkably fitting, so we decided to maintain the key signature and cultivate the presence of its flute and harp, swapping pan-flute for the the psych-operatic singer Alexandra Mackenzie (a.k.a. Petra Glynt), and harp for a digital autoharp & children's toy from the '80s called the Omnichord. Beyond that, certain visuals brought about strong, significant feelings which then inspired twists and turns into the overall progression.
Pas de deux, Norman McLaren, offert par l'Office national du film du Canada
On the opposite end, we have a piece like Short and Suite. The animation is based on a mid-tempo jazz piece by Eldon Rathburn; its overall feeling creates a grounded balance alongside the abstract, airy visual component.
Short and Suite, Norman McLaren, provided by the National Film Board of Canada
But to better serve our intuition and parallel the stream-of-conciousness imagery [in the film], we abandoned the original entirely and based our music purely on the visuals. Although it's come together quite naturally, placing visual language as the highest priority has resulted in more of a sound collage than conventionally structured work, which can be a challenge for a band that is often very calculated in our approach.
The most rewarding aspect is the opportunity to take part in a conversation about the rich history of the [kind of] Canadian experimental art that has been made possible by institutions like the NFB and TIFF.
***
Thanks to Absolutely Free for chatting with us, and we look forward to seeing you on Festival Street this coming Sunday night for an outdoor evening of animation and music you won't soon forget.