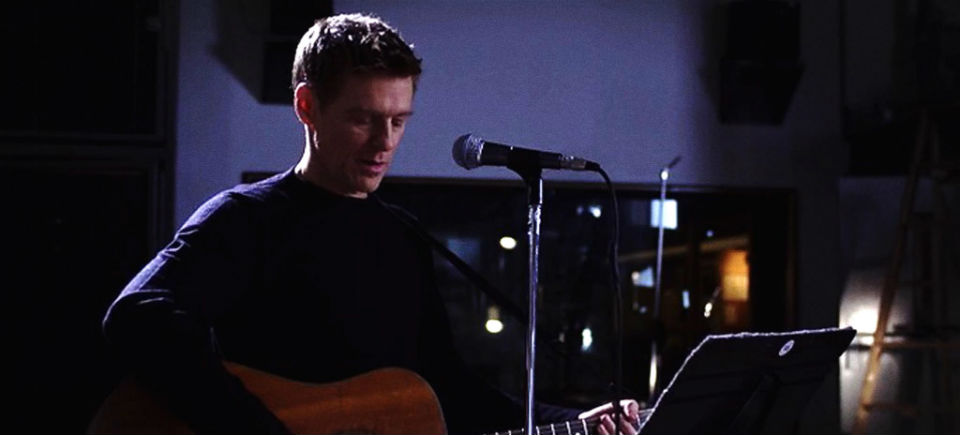 Rush, The Hip, Bryan Adams, and more! Watch 5 films on your favourite Canadian musicians
Friends, Canadians, country(wo)men: lend me your ears! Are you a music-lover or do you know one? This week, we're featuring some of our favourite Canadian popular music documentaries, both features and shorts, on NFB.ca.
Sure, we've got classics like Lonely Boy, a 1962 doc about the hearthrob teen crooner Paul Anka, in our music-rich cinema collection. But with this week's programming, we're focusing on some more contemporary stuff. We invite you to get to know a little more about your favourite Canadian music stars below.
Bryan Adams: Bare Bones
Full disclosure: I've got a special place in my heart for this charming Canadian crooner. His Waking up the Neighbours was the first cassette tape I ever bought; I saved up weeks of allowance for that little treat back in 1991. In this short documentary, we are given an inside look at the life and mind of this globally-acclaimed rocker.
Bryan Adams: Bare Bones, David Battistella, provided by the National Film Board of Canada
Casual and comfortable in his Vancouver studio, Adams discusses his philosophy of performing music ("I want it to be fun, I want it to be real") and shows off his precious collection of vintage microphones and guitars. This charming short doc is the closest you'll come to hanging with the hometown boy who made it big.
Inner Rush
Ah, the larger-than-life music and career of Rush… encompassing everything from blues-inspired heavy metal to "prog" (progressive) rock and even the intermittent use of synthesizers, Rush is no stranger to experimentation.
But despite their straddling of many techniques, genres, and styles, they haven't failed to produce a glut of catchy and beloved radio-friendly hits like Closer to the Heart and Fly by Night. Get to know the guys in the band in this short documentary from 2012.
Inner Rush, Christopher Romeike, provided by the National Film Board of Canada
In this thoughtful film, Rush's technical virtuosity is admired by a group of teens playing in their own Rush-inspired rock band, Inner Volition, and Geddy Lee himself muses on the virtue of mimicking as a form of learning. Rush have certainly done their part to influence an entire generation of musicians worldwide.
If you're into Rush, I'm willing to bet you like Bruce Cockburn, too. Did you know that Cockburn wrote, performed, and recorded the score for our stunning Bill Mason doc on the beauty and wonder of canoeing? Check out Waterwalker here, and read a blog post about it if you want to learn more about this mesmerizing film. 

Kate and Anna McGarrigle
This short documentary about the sprightly singing sisters (whose own progeny—Rufus Wainwright and Martha Wainwright among them—are no shrinking violets) is a treasured portrait of Canadiana. The sisters discuss their songwriting methods while touring the lush, verdant countryside of their Quebec upbringing.
The film culminates in a spectacular performance at the iconic Carnegie Hall in New York City, proving once and for all that Canadians can always make a splash on the world stage.
Kate and Anna McGarrigle, Caroline Leaf, provided by the National Film Board of Canada
Incidentally, you may be interested to know that the filmmaker behind this short doc, Caroline Leaf, habitually works as an animator. Kate and Anna McGarrigle was one of her first live-action films. You can check out a few other films by Leaf here, including her Oscar®-nominated film The Street, based on a short story by award-winning Montreal writer Mordecai Richler.
And if you love the easy-going vocal harmonies and folk style of the McGarrigles, why not check out My Prairie Home, our delightful and thought-provoking feature doc about transgender prairie musician Rae Spoon? This film is available for download, rental, and on DVD, and you can watch the trailer here.
Family Band
I dare you to name me something more quintessentially Canadian than The Tragically Hip (OK, I suppose poutine and hockey are also in the running, but it's a close race). Get to know The Hip in this heartwarming short doc in which they discuss the deep friendships that have kept them together across decades of touring and recording.
Family Band, David Battistella, provided by the National Film Board of Canada
The Hip, however (as they're colloquially known), are more than just a symbol of Canadianness: I'd venture to say they're some of the most intuitive and creative songwriters in contemporary pop music. You can't tell me Day for Night  isn't an incredible album… and if you can, go ahead and do so in the comments below this post!
And if you're into The Hip, I guarantee you'll love our short doc about Blue Rodeo, too.
Spirits of Havana
There may be a bit of a change of pace here, but life isn't all rock and roll, is it? Celebrated Canadian flautist Jane Bunnett and her husband, trumpeter Larry Cramer, take us on a lively musical tour of contemporary Cuba. You'll hear some of the city's finest musicians performing in this riveting travel film, including Los Muñequitos de Matanzas, a celebrated Afro-Cuban rumba group, and Desandann, a 10-member a cappella choir that sings in Haitian Creole.
Spirits of Havana, Bay Weyman & Luis Osvaldo Garcia, provided by the National Film Board of Canada
Want to see more films about jazz? Check out this blog post, which features some of our catchiest and grooviest films about jazz, including a healthy dose of the legendary Oscar Peterson.
That's it for our tour of some of this country's best and most delightful musical stars. We hope you enjoy the films. Leave your feedback in the comments below!