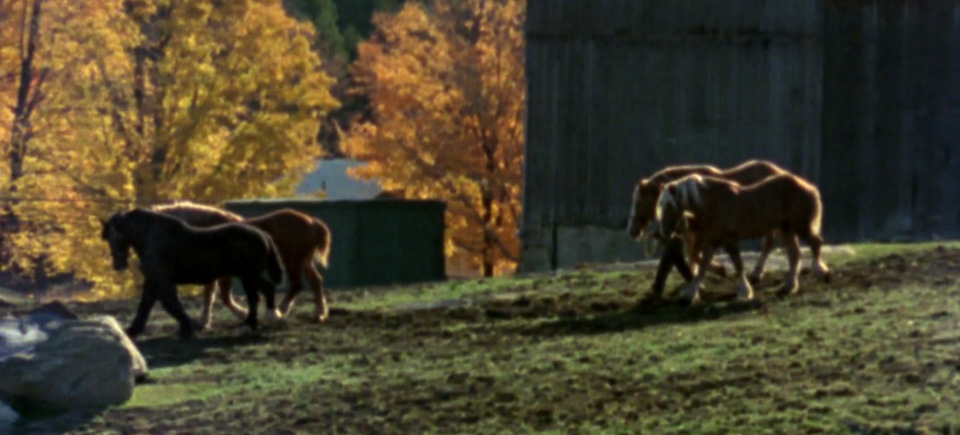 Watch 5 autumn films and celebrate the harvest season in style
Our friends in Calgary received an unexpected snowfall a couple of weeks ago, but most of the rest of Canada is launching into the fall season and its familiar mainstays: sweaters, hot beverages, whipping winds, and falling leaves.
There's something a bit romantic about fall, no? Cuddling up in front of a fire with a good book, feeling the crisp autumn air on your rosy cheeks… Well, this week on NFB.ca, we're bringing you our most rustic and coziest fall films. From the golden prairie harvest to the hypnotic magic of quilting, we've got you covered.
Check out these 5 fall films!
This is one of my absolute faves. Did you know that acclaimed Canadian poet Archibald Lampman is often referred to as "the Canadian Keats"? His focus on nature and the Canadian landscape brought the vivid colours and textures of Canadian geography to life through the magic of words. In Morning on the Lièvre, we are taken on a languid journey down Quebec's Lièvre River in autumn. Muted orange tones reflect off the placid waters for a supremely mesmerizing experience.
Morning on the Lièvre, David Bairstow, provided by the National Film Board of Canada
It's interesting that Lampman is often described as an "impressionist" poet (meaning that his words attempt to evoke the sensations attached to the personal experience of the things he describes). How is his impressionism heightened and/or compromised by being put on film? What do you think the advantages and disadvantages of a poetic documentary are? Let us know in the comments!
A funny thing happened when we digitized this film back in early February 2011 and put it up on NFB.ca for public viewing: this hypnotic little short went positively viral. The film got over fifty thousand views in the first twenty days it was online! It turns out the quilting community is very active online, and they shared and embedded this film widely in their networks.
The film is a delightful computer-animated demonstration of the quilting techniques that make up some complex and visually-stunning quilt patterns. Check out what all the fuss is about:
Quilt, Gayle Thomas, provided by the National Film Board of Canada
Want to know more about this coziest of crafts? Read this interview with filmmaker Gayle Thomas about how this fun little film came to be. And don't stop the viral train now… keep sharing this film in celebration of autumn, the ultimate quilt season!
This little film is undeniably heartwarming; it brings together some adventurous, outdoorsy youth from Quebec and the stunning, verdant British Columbia countryside. These Quebecers venture out to BC to harvest fruit in the late summer and early fall, but the film is more than just a nature doc. The collision of French and English Canadian cultures, and the central-east and westernmost parts of this country make for an interesting mix of folks. In the end, everybody learns something new.
Okanagan Dreams, Annie O'Donoghue, provided by the National Film Board of Canada
I think I recall reading Sinclair Ross in the very same undergraduate Canadian literature class in which I discovered the poetry of Archibald Lampman! Cornet at Night is a pensive meditation on the soundscape of the rural prairie, and is based on a Sinclair Ross short story of the same name.
A mysterious visitor to a farm brings his beloved musical instrument with him; it turns out he may not be much of a farm worker, but the friendship he offers to a young boy, and the music he plays on the quiet prairie at night, are enough to keep him in the memories of the family who hosted him for a short time.
Cornet at Night , Stanley Jackson, provided by the National Film Board of Canada
Ross' novel As For Me and My House is recognized as a classic of Canadian prairie fiction along with such greats as Frederick Philip Grove's Fruits of the Earth. In Cornet at Night, we see that very same minimalist prairie aesthetic: the calm of the prairie is coupled with the hardworking, simple ethos of the people who harvest it. This film is classic Canadiana at its best.
Whoa there, horsey! This light-hearted look at horse-pulling contests at a small-town Ontario county fair certainly isn't short on laughs. We travel from the farm to the contest, where excitement runs high and the quips do not lack in local colour. Which of these magnificent creatures will be able to pull the heaviest load and win the prize? Find out!
Heavy Horse Pull, Roberta King & Ronald Squire, provided by the National Film Board of Canada
We hope you've enjoyed this colourful and picturesque romp through the sensations of the autumn season. Which of these films was your favourite? We're greeting this (slightly chillier) new season with open (sweater-clad) arms, so join us on NFB.ca!