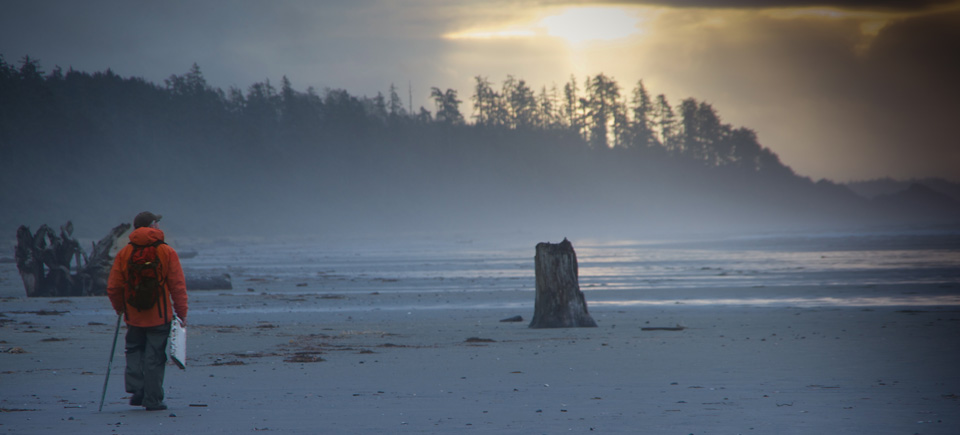 We're the Pacific and Yukon Studio—get to know us and our projects!

Greetings from the Pacific & Yukon Studio! We are coming to you live from the land of mountains, ocean, and wildlife, including the caribou you see pictured above. Standing with the caribou are (from L – R): Back row: Jennifer Roworth, Studio Administrator; Kathryn Lynch, Production Supervisor; Teri Snelgrove, Associate Producer; Selwyn Jacob, Producer and Shirley Vercruysse, Executive Producer. In the front row, we've got Kat Jayme, Production Coordinator; and Wes Machnikowski, Technical Coordinator.
My name is Teri Snelgrove (that's me with the jaunty head tilt in the photo above), and I'll be your resident pontificator writer. I've worked full time with the NFB for 8 years, and before that, I could be found lurking in the shadows as I worked on one NFB project or another. It's been a fabulous ride,  I am completely jazzed about writing this blog – excited to share images and behind-the-scenes scoop with you. For this seminal post, I'm going to give you an overview of who we are and what we've been up to!
We've had an office in Vancouver since 1967, so by my calculation, that makes us the oldest NFB regional production office.  But since 2010, we've been happily ensconced in the newest NFB office located in the historic Gastown neighbourhood of Vancouver where we work in a very groovy space located in the "W" Building.  We love our neighbourhood because there are amenities aplenty on our doorstep, plus a host of really interesting neighbours.
We work primarily with creators from the expansive territory of BC and the Yukon and over the years we've made too many projects to count on our collective fingers and toes.
Some of our most recent completed projects include:
 We've also got a number of projects currently in production:
The Ninth Floor, written and directed by Mina Shum. This feature doc tells the story of a Black-led student occupation of the computer lab at Sir George Williams University (now Concordia) in 1969 to protest the university's mishandling of racism allegations against a professor. A cinematic blend of interviews, re-creations, photographs, graphics and archival footage, it will offer a rare look at race relations in 1960s Canada, and will serve as a cautionary tale for the future. Here's a photo from last winter's shoot.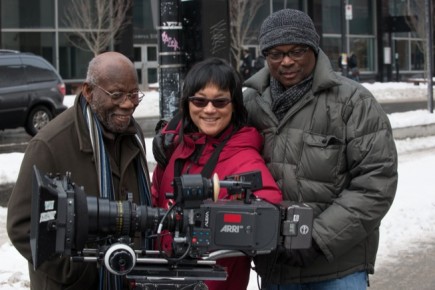 Debris, written and directed by John Bolton. Intertidal artist Pete Clarkson is creating a memorial to the 2011 Japanese earthquake and tsunami, crafted entirely out of marine debris from that disaster. Pete and his family live on the peninsula in British Columbia most vulnerable to a massive earthquake or tsunami, so losing everything is a reality that Pete considers every day.
Rock the Box, written and directed by Katherine Monk. DJ Rhiannon is a woman who uses her own moral compass to navigate the male dominated DJ world. This film challenges how women are valued and who determines that value.
Coming soon:
Hadwin's Judgement, written and directed by Sasha Snow (a co-production with True West Films and Passion Planet)  This film is a docu-drama that follows the dramatic narrative of Grant Hadwin's transformation from expert logger to environmental crusader, when he felled North America's most sacred tree before disappearing in a mysterious kayaking accident en route to his own trial.
Finally, we've got a bunch of fantastic stuff in development.  I'll share details about these projects in the coming weeks:
Invisible (the secret world of chronic pain), written by Lois Brown and directed by Bruce Alcock (a co-production with the Atlantic/Quebec Centre). A comedic look at chronic pain, this film delves into Lois' personal story of her encounter with an SUV in a Vancouver crosswalk, how that encounter changed her life, and the invisible world of pain she is now forced to inhabit.
The Road Forward, written and directed by Marie Clements. Inspired by the stories and the newsmakers behind the 80-year-old newspaper "The Native Voice", director Marie Clements is crafting an offering for her people, reflecting a legacy that embraces creating change

—

from time immemorial to Idle No More, to the present and beyond.
Tangles (an interactive project in co-production with the Digital Studio), created by Sarah Leavitt and Leah Nelson. Based on the critically-acclaimed graphic memoir of the same name, Tangles explores Alzheimer's disease from the point of view of an adult daughter whose mother developed early onset Alzheimer's at the age of 52.
The Mountain of Qwawk, written by Chris Auchter and Annie Reid, directed by Chris Auchter. This film is an animated Haida tale of a great sea hunter who is forced to travel far below the ocean's surface to save his wife.
My Voice, My Right, written by Jeeti Pooni and directed by Baljit Sangra. This doc is inspired by the life story of Jeeti Pooni and how she overcame an abusive past to find her voice.
We look forward to sharing more about all of these (and more) projects in development in the coming weeks and months! I will leave you today with an image from our most recent Debris shoot, which took place in Tofino, BC. This is our subject Pete Clarkson (L) and director John Bolton (R), on the shores of Long Beach at dawn.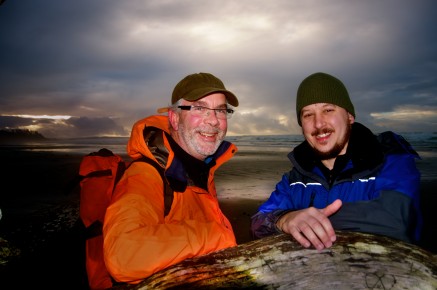 Stay tuned. We're glad you're on board.