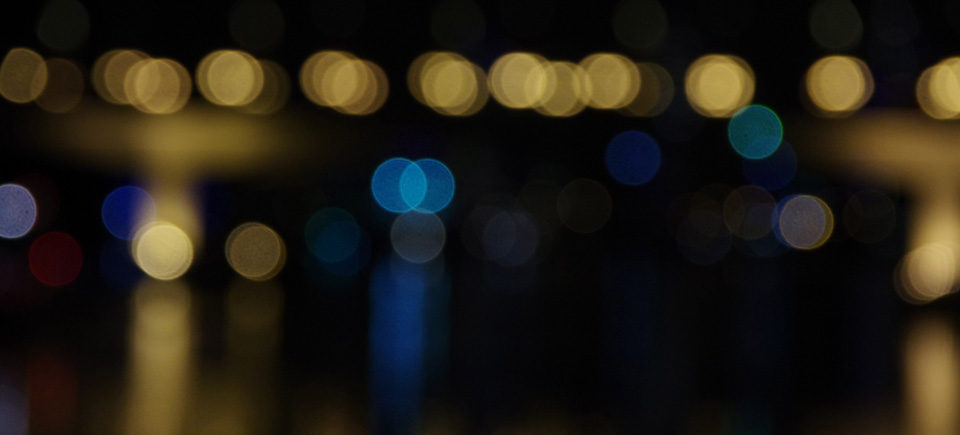 Then and Now at the Pacific and Yukon Studio
Hi Friends and Colleagues,
In this post, I'll share some tales from the road from filmmaker Dennis Allen who recently took Crazywater on tour to the Northwest Territories. We'll also take a stroll down memory lane with Production Supervisor Kathryn Lynch who has some pretty great stories from days gone by (having worked with the NFB since 1980).
The profound impact of Crazywater
First up, we were absolutely blown away by the heartfelt response from communities in the NWT to Dennis Allen's Crazywater.  The film had a profound impact on people in a number of communities, and we were reminded again and again of the power of POV documentary. The daily reports that rolled in underlined the reason we make films, and we were all incredibly proud of the heavy lifting this film has been doing in terms of community outreach.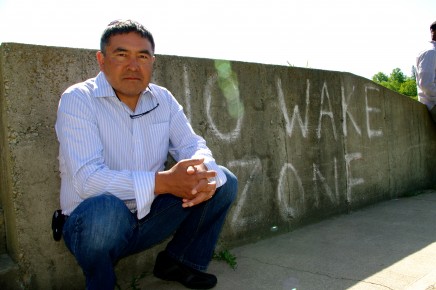 Dennis Allen, director of Crazywater, shares some of his own thoughts from the road
"Just finished another powerful screening in Fort Providence NWT. So much hope. So much willingness to look in the mirror. Your work is doing miracles.  Mussi Cho Sitjah. Thank you for the opportunity to make this film."  – Dennis Allen
The Regional Coordinator of Prevention & Health Promotion at the Sahtu Health & Social Services Authority wrote:
"In Norman Wells, at our Community Centre, we served caribou stew and bannock followed by the feature documentary Crazywater. This was an AMAZING documentary – people in our community are still talking about it this morning. The tour is headed to Fort Good Hope today – I called my co-workers and let them know how good this feature documentary is… A BIG thank you to all who were involving in seeing this tour come to our region in the Sahtu." – Caren Burke
Once word of the film got out, more screening requests came in, including one from the Chaplain of the Hay River Correction Facility and a correctional facility in Yellowknife.
But perhaps the most powerful words came from audience members themselves who posted on a Facebook page:
"Holy.. very hard to watch without having flashbacks of everything I remember growing up and the crazy things I done to myself as well. It's something we need to learn from, so we can grow from it."   – Geraldine
"The movie is powerful and depicts the hurt and pain of one's recovery in life. The film hits home and I will share this with family and friends. Thank you for making this remarkable piece of humanity."  – Judith
Hats off to you Dennis Allen. You continue to do us proud with your work on this film.
Introducing the Pacific and Yukon Studio staff
And now, the first in a series of staff portraits: the team at the Pacific Yukon Studio is top notch, and between the 7 of us, we've amassed almost 100 years of experience with the NFB, so we thought it would be fun to introduce you to everyone, one by one.
Our first portrait features Production Supervisor Kathryn Lynch. Here's her radiant self now. Kathryn has worked for this studio for a mind boggling 34 years. (Clearly, she must have started when she was in high school….!)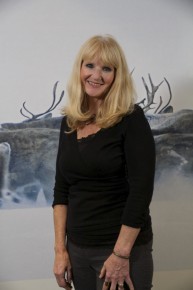 During her 3-plus decades here, she's worked with 8 Executive Producers and under 7 Film Commissioners. She's seen our office take root at 4 different addresses (and coordinated 3 of our moves). Originally, Kathryn signed up with the Film Board thinking it might be a really interesting job for a year and then she'd head back to University when she was finished. But once she became immersed in the gifted creative community that was flourishing in the editing suites, offices and animation rooms in our original office on 736 Granville Street, she was hooked for life.
Says Kathryn, "When I started there were no computers and I didn't even have a correcting typewriter. I typed on an electric typewriter and we had forms for everything that had to be typed in triplicate, with flimsy carbon paper sandwiched in between the paper." But the thing that really drove her to distraction was the Telex machine. I did a Google search to have a look-see at this monster she described, and here is what I found: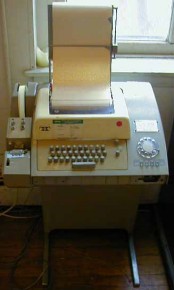 "It was like typing in shorthand – I guess it would be like sending a fax today," says Kathryn. "But when you're sending the feed, you're typing in real time and charged for real time, so you had to be quick and accurate and get it done as quickly as possible. It was very stressful. You could also type it up on a skinny piece of paper with punch holes in it. The paper was really long, 6 feet or more. And you'd cut it off, dial in the phone number, feed in that piece of paper and hope that it didn't break. Because if the paper broke, you couldn't tape it back together. So you'd have to start all over again. I once ran over it with my chair! So I started doing it after hours when no one was around."
My favourite story of Kathryn's time here, however, took place in the Granville Street location. The office was on the 8th floor and overlooked the Eaton's Building. In the evenings, Kathryn told me that the staff would position a 16mm projector just behind one of the eighth floor windows, and they'd project documentaries onto the expansive white wall of the Eaton's Building. What a spectacular site that must have been for anyone strolling through downtown Vancouver.
At the end of our chat, Kathryn echoed the sentiments shared by most of us in the office: "We are unbelievably privileged to make this work – it's a privilege." And that's where I'll leave you this week: with so much exciting stuff simmering on the back burner that I can hardly wait to post again. Here's a photo from an NFB office party that took place in the late 1980s. It seemed a fitting way to end this pre-VIFF blog post. From the Pacific and Yukon Studio (then and now), we wish you and yours all the best for a wonderful holiday season.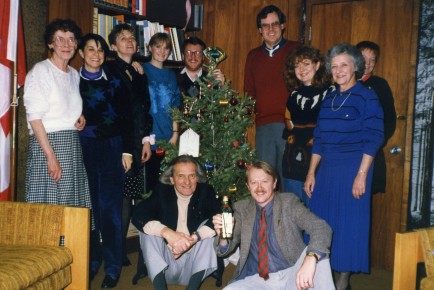 L-R the NFB Pacific Yukon staff circa 1989-ish: Marg Hardon, Barbara Janes, Haida Paul, Kathryn Lynch, Bruce Hagerman, George Johnson, Jennifer Torrance, Morag MacDonald, Moira Simpson. And in the front: Jeep Boyko, Svend-Erik Eriksen.