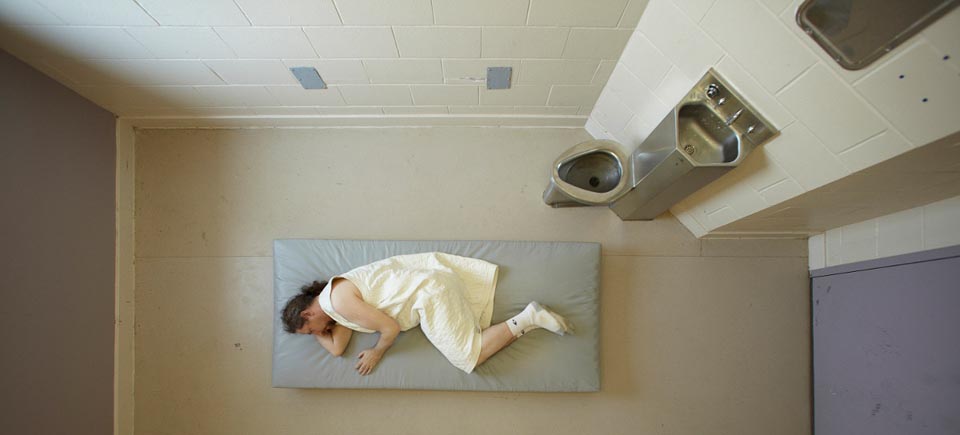 Rent 3 Hard-Hitting Docs on Mental Illness and Violent Crime
There are films that simply don't leave you unscathed. Films that upset you, trouble you, shock you, challenge your firmest beliefs or make you ask yourself what you would have done in the same situation. The films by Canadian filmmaker John Kastner, a 4-time Emmy Award winner, fit the description.
With the release this week on NFB.ca of Out of Mind, Out of Sight (2014), the latest opus from Kastner, I'd like to discuss his 3 films co-produced by the NFB. Three films that make up what could be seen as a 'reconciliation trilogy'. Reconciliation between a mother and father in terms of their willingness to support their son who is accused of murder and knowing that it was this son who killed their own daughter (Life With Murder, 2010). Reconciliation of a schizophrenic man found not criminally responsible for a stabbing with his illness, then with his victim and her parents (NCR: Not Criminally Responsible, 2013.) Reconciliation of patients in a psychiatric ward who committed violent crimes, who are trying to regain control of their lives and re-join their community, with a society that tends to demonize them and ostracize them (Out of Mind, Out of Sight, 2014.) Let us look at these 3 films one by one.
Life With Murder
The Jenkins family leads a simple life in Chatham, a small town in Ontario. One night in January, Jennifer, the eldest, is found dead in the basement of their family home, killed by 5 gunshots. Suspicion quickly turns towards her brother Mason. He is arrested, formally charged with the murder of his sister and then convicted. But Mason maintains his innocence. Who killed Jennifer? Why? The parents quickly have to face their wish to support their son and the horribly reality, which becomes more and more likely as the film goes on, that Mason is the killer. A film that sends chills up the spine, crafted like a thriller, which will keep you breathless from start to finish, until you discover the true intentions of the killer. A conclusion that will leave you speechless!
Life with Murder, John Kastner, provided by the National Film Board of Canada
"Casting the main characters in a documentary is for me almost like casting actors in a dramatic film. I was an actor and my background is drama; my films are narrative-style documentaries which often resemble dramatic films. And just Iike in a movie, you realize that the camera "likes" some people better than others, as they say in Hollywood!" — John Kastner
NCR: Not Criminally Responsible
Whereas Life With Murder focuses on the identity of the guilty party and his true motives, NCR: Not Criminally Responsible looks at the rehabilitation of a man with schizophrenia who, during a psychotic episode, stabs a stranger in a mall. Found not criminally responsible, Sean Clifton is admitted to the Brockville Mental Health Centre in Ontario. The film takes us into the wanderings of schizophrenia and the day-to-day life of a man who gradually learns to live with his illness and fights to regain a normal life. For Sean, the road to a new life starts with him writing an apology letter to his victim. A touching, troubling film that might cause you to question your prejudices about people with mental illness who have committed violent crimes.
NCR: Not Criminally Responsible, John Kastner, provided by the National Film Board of Canada
Out of Mind, Out of Sight
Unprecedented access to patients and staff at the Brockville Mental Health Centre allowed John Kastner to tell Sean Clifton's story. He made another documentary out of this experience, Out of Mind, Out of Sight, offered exclusively on NFB.ca. The film covers 18 months in the Brockville centre, telling the story of 4 patients: Carole, Justine, Sal and Michael, all charged with violent crimes. Through interviews with psychiatrists, mental health workers and the patients themselves, who confide in the filmmaker with surprising ease, the film reveals the day-to-day life of those whose lives first make headlines and then we never hear about again. A rude awakening, a shock treatment that questions our willingness and ability to reintegrate these people into society.
Out of Mind, Out of Sight, John Kastner, provided by the National Film Board of Canada
"How do I get so close to people and why do they reveal their secrets to me? Well I am unconventional. I got this from my late mother Rose who served as my Associate Producer on the television program the fifth estate. We won two Emmys together. She loved people and they would often reveal their private pain to her. From her I learned to approach a film with the attitude that it is important to be a caring human being first and a filmmaker or journalist second. I love my film but it's only a film." — John Kastner