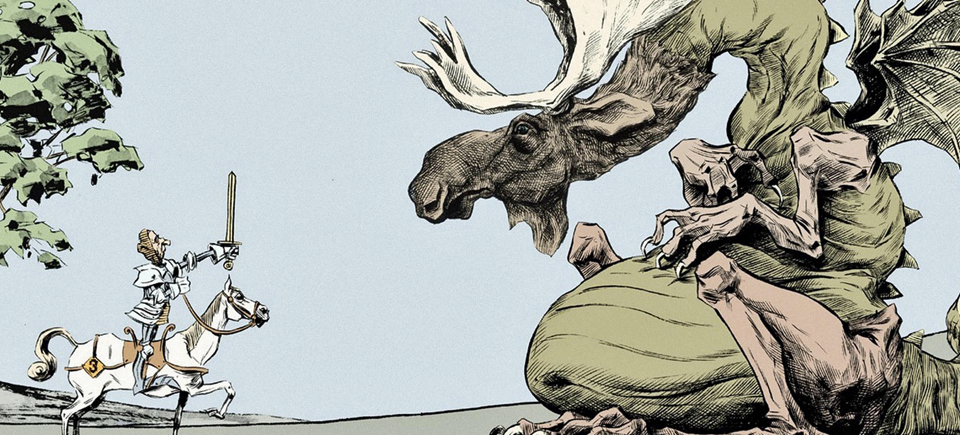 Once Upon A Time | Watch 4 NFB-ified Fairy Tales
Fairy tales are so hot right now. They've been a staple of childhood bedtime stories for centuries, a gateway to fantastic realms filled with mythical beasts and magical creatures, valiant knights and clever princesses, wicked witches and their poisoned apples.
Fairy tales have a way of inspiring all manner of creativity, and they've been enjoying a cinematic reimagining ever since Walt Disney put the finishing touches on Snow White and the Seven Dwarfs in 1937. The Disney treatment, or "Disneyfication," has often transformed the source material, turning dark and gory cautionary tales into whimsical stories of romance and adventure, all set to some of the most enduring songs in cinema history.
Of course, the NFB has its own tradition of reimagining and retelling fairy tales, and has been doing a pretty bang-up job of it, I might add.
Enjoy four NFB-ified versions of some of your favourite fairy tales.
Sleeping Betty
Sleeping Betty, Claude Cloutier, provided by the National Film Board of Canada
Fairy tale: "Dornröschen" by the Brothers Grimm
As far as fairy tale tropes go, "Sleeping Beauty" is the benchmark. When a spited fairy (check) curses a young princess (check) to die after pricking her finger on a spindle, a good fairy (check) declares that the princess won't die, but instead sleep for 100 years before being woken by a kiss from a prince (check check check).
Claude Cloutier's zany version of the fairy tale involves an alien, Pan, and a Prince Charles (yes, that Prince Charles) lookalike knight who all try their best to wake the princess when she falls under a strange sleeping spell. Will a kiss be enough to wake her?
The Tender Tale of Cinderella Penguin
The Tender Tale of Cinderella Penguin, Janet Perlman, provided by the National Film Board of Canada
Fairy tale: "Cenerentola" by Giambattista Basile
Basile's tale is one of the most enduring and beloved fairy tales of all time. Adapted countless times, reimagined, reinvented and retold, the Cinderella story recounts how a mistreated young woman's kindness and hard work  overcome the evils of jealousy and greed (with a little help from a fairy godmother).
Janet Perlman earned her first Oscar® nomination for her allegorical Cinderella Penguin, in which a glass slipper is replaced by a magic flipper, but the Prince is still just as charming and the ending is still just as magical.
Little Red Riding Hood
Little Red Riding Hood, Rhoda Leyer, provided by the National Film Board of Canada
Fairy tale: "Le petit chaperon rouge" by Charles Perrault
"Little Red Riding Hood" is a cautionary tale about the dangers of speaking to strangers, as well as a classic example of why talking wolves in fairy tales  should be avoided at all costs (see: "Three Little Pigs"). In this fairy tale's bleak and horrifying ending, Little Red Cap unintentionally cannibalizes her grandmother before being eaten by the Big Bad Wolf.
Ironically, it was the Grimm Brothers who concocted the Huntsman and the happy ending of "Little Red Riding Hood" that we all know today. Fear not! Rhoda Leyer's animated ode to a trusting traveller follows the path of the Grimm Brothers, not the original source material.
Spinnolio
Spinnolio, John Weldon, provided by the National Film Board of Canada
Fairy tale: Le avventure di Pinocchio by Carlo Collodi
The Pinocchio story is not technically a fairy tale, as it was based on an Italian children's novel, but it falls under the Golden Age of Disney, so I'll allow it. Pinocchio (the book) is a yarn about a wood carver who makes a wooden puppet that's brought to life by a fairy and begins a journey to become a real boy.
In Spinnolio, John Weldon takes a slightly different spin on the tale, where a delusional wood carver believes his wooden puppet has been brought to life and sets him down a career path where his meditative and unruffled personality lead to great success, then personal ruin.