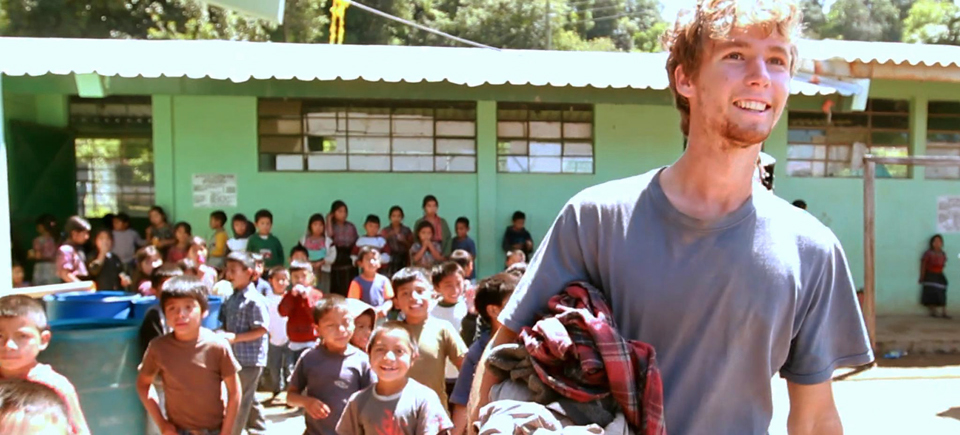 The Kindness of Strangers | Discover 3 New Films on Extraordinary People
Most of us go through life with our day-to-day routines being the better part of who we are. But every once in a while, a seemingly ordinary person is faced with an extraordinary set of circumstances to tackle. These next films, all recent acquisitions available to rent on NFB.ca, feature individuals who were living ordinary lives until they found a greater self-purpose elsewhere. The subjects of the docs all have immense hearts, a boundless generosity, and a serious faith in the kindness of strangers.
Enjoy three documentaries about inspiring examples of going beyond what is expected of us.
Blood Brother
Blood Brother, Steve Hoover, provided by the National Film Board of Canada
Like so many before him, Rocky Braat temporarily left his job to travel to India in search of a certain authenticity. What he returned with were memories of a month spent in an orphanage for children with HIV/AIDS that he wouldn't be able to forget. As soon as Braat came home, he found himself back on a plane to India, this time for good. Director Steve Hoover, Rocky's best friend, makes the journey to the orphanage and discovers how much the children have started to depend on their new 'brother'. In one of the most heartbreaking scenes I've ever watched, where Braat cares for a young boy who is very ill, I was left to ponder what the world would be like if there were more altruistic, kind and big-hearted people like him.
Living on One Dollar
Living on One Dollar, Zach Ingrasci, Sean Leonard & Chris Temple, provided by the National Film Board of Canada
As an experiment, four friends set off to rural Guatemala to live, for a month, on one dollar a day. What they discover in the process is that life certainly isn't easy in the third world, and that relying on the kindness and generosity of the locals may be their only way to survive. Witness a true test in humbleness as the four friends face hunger and minor illness that force them to reach out for help. In the process, they develop strong friendships that will last them a lifetime, and that will inspire them to give back in return.
Craigslist Joe
Craigslist Joe, Joseph Garner, provided by the National Film Board of Canada
Joseph Garner had the peculiar idea of traveling through the United States for a month relying solely on Craigslist when he needed transport, shelter, food and other practical necessities, all from people he had never met before. Garner wanted to partake in this experiment to see if technology was harmful to our social interactions his month as Craigslist Joe proved the opposite, in more ways you'd ever think of.
The Overnighters
The Overnighters, Jesse Moss, provided by the National Film Board of Canada
In a small town in North Dakota, Pastor Jay Reinke opens his church doors to provide shelter to the oil workers who have come in massive numbers in the hopes of finding work. For Reinke, charity and serving his community was common sense, but not everyone in town agrees. While the church gets filled up and Reinke lets one of the workers, an ex-con, sleep at his house, the community's growing distrust turns against him and his honorable intentions. As his commitment to the cause starts to look more like a crusade and the pastor is divided between his community's concerns and his own principles.
Powerful and melancholic, The Overnighters is a fascinating tale of an admirable man who only wants to help those in need, and accept them as they are, even if it means grave consequences.