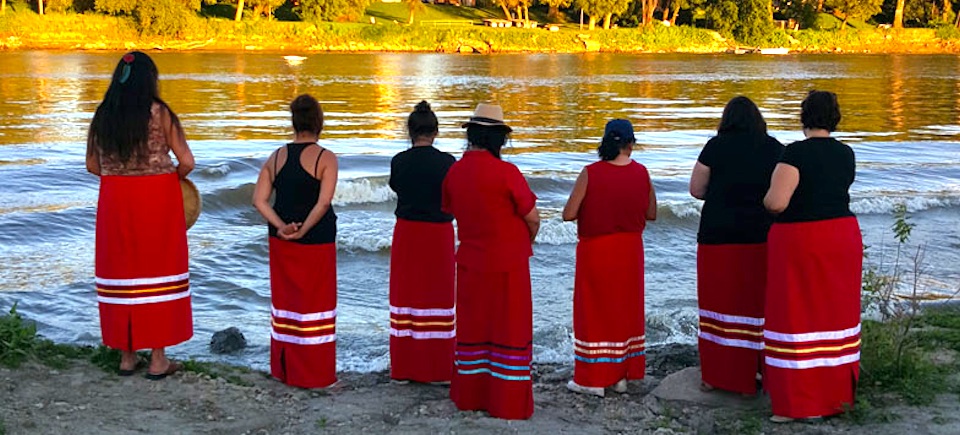 Redemption on the Red: this river
Updated August 7, 2016
Tina Fontaine was last seen alive in Winnipeg on August 9, 2014. Eight days later her body was pulled from the muddy waters of the Red River, her life cut short at the age of 15.
Her death has raised new levels of awareness about the growing numbers of missing and murdered Indigenous women in Canada – over 1000 unsolved cases since 1980 – and has sparked an unusual citizen-driven initiative called Drag the Red.
Frustrated by what they perceive as official indifference to the plight of missing family members, some Indigenous residents of Winnipeg have started their own search. Active since the fall of 2014, the volunteer group has been dredging the waters and combing the riverbanks, looking for clues to the city's many outstanding missing person cases.
Their efforts have inspired a film called this river — a short documentary currently in production at the NFB's NorthWest Studio that is being co-written and co-directed by Métis poet and writer Katherena Vermette, who has her own complex relationship to the river, and Winnipeg-based filmmaker Erika MacPherson.
"I grew up in the North End and spent my childhood playing along the mucky riverbanks of the Red," says Vermette. "But in November 1991 the river became a different place for me." That was when her soft-spoken older brother went missing. His body was found several months later, in Lake Winnipeg, over 50 kilometres north of the city. His family believes he may have fallen through thin river ice, but nobody can know for sure.
"So many people have lost their lives in the Red River — either by violence, chance, or choice — and only a few have ever been found," says Vermette. "Yet somehow I still see the river as home. I think of the Red River as a woman – a complicated, misunderstood, and mistreated woman. She is our foundation, and she needs our care and attention."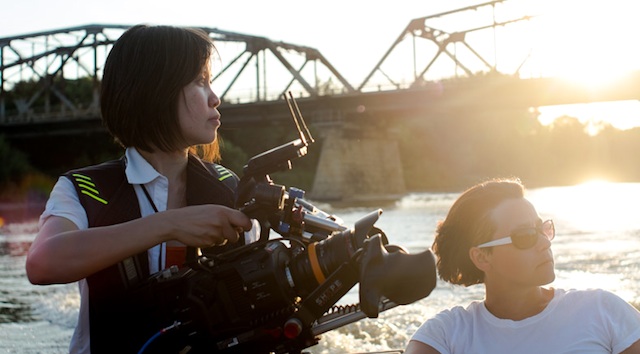 Principal photography for this river took place from August 8 to 16, with the all-woman crew spending much of that time in a small fleet of donated boats, documenting the work of Bernadette Smith and Kyle Kematch, DTR volunteers who have both lost family members to the river. Cinematographer Iris Ng, whose credits include Stories We Tell, was DOP and Anita Lubosh was recording sound. Pictured above: Iris Ng and Katherena Vermette.
"The entire shoot was incredibly intense and moving." says producer Alicia Smith. "We were on a boat, during a heat wave, for the better part of the week. The only time we shot on land was the first day, when Katherena invited Ko'ona Cochrane, a local community educator, to bless the production with a traditional pipe ceremony. A group of women from the Red Robe Drumming Society  (top)  were also on hand to honour those who'd gone missing from the local community. To be in invited in by these amazing women, to witness and participate in their ceremony and to hear them name some of the missing women in their song, was so humbling and moving. We were all so grateful for their generosity."
In addition to shooting on various river locations within the city, the crew travelled to the St. Andrews Lock and Dam and as far as Lake Winnipeg, navigating the powerful and unpredictable waters of the Red River. "We were often working in challenging circumstances," says Smith. "We collectively acknowledged that nothing about making this film should be easy, and we joked that the river was challenging us, that she had ultimate power over the production. By the end I think we were all believers. I know I was."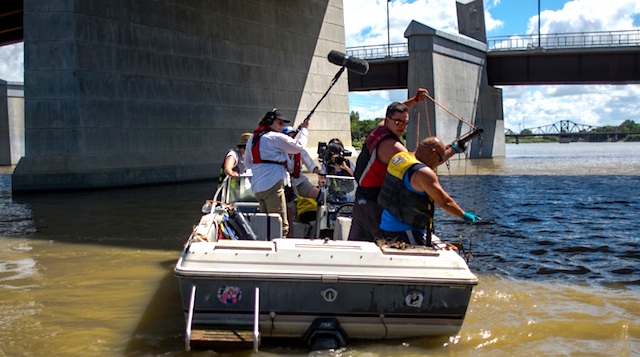 "The issue of missing and murdered Aboriginal people finally seems to be gaining traction in the collective consciousness of Canadians," says Erika MacPherson, noting how Beverly McLaughlin herself, the Chief Justice of our Supreme Court, recently used term "cultural genocide" when talking about Canada's historic relationship to its Aboriginal peoples. "We're all implicated in this tragedy, but Drag the Red shows the healing power of Indigenous community action."
MacPherson has begun editing this river in Winnipeg. The film is being produced by Alicia Smith out of the NFB's NorthWest Studio and is slated for release in Spring 2016.
In 2013 Katherena Vermette won the Governor General's Award for poetry for North End Love Songs, a collection that evokes life along the banks of Red River. Here's one of the poems from that collection.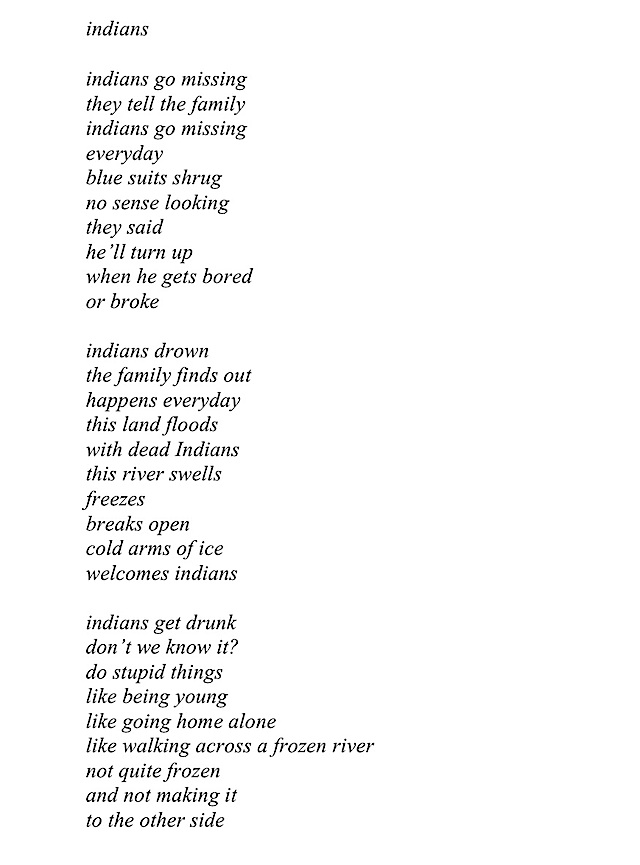 All photography by Chris Friesen.