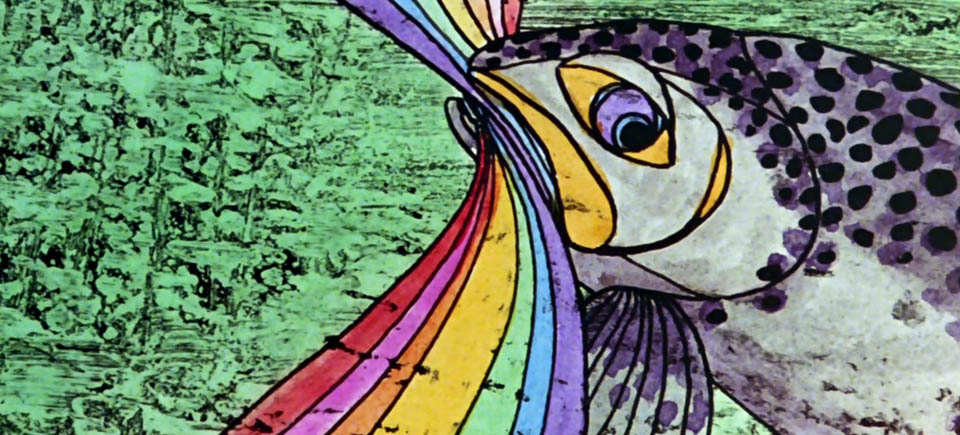 The Real Wet Bandit | Watch The Trout That Stole the Rainbow
I live my life according to two very simple rules. Number one: do not steal. Number two: snitches get stitches. In under 9 minutes, Eva Szasz' beautifully illustrated The Trout That Stole the Rainbow manages to break both.
Rule number one is pretty simple. You shouldn't take what isn't yours. Most people can follow that. But what happens when you really want something that isn't yours or that you can't afford? Argghhh, life is hard. Resisting the lure of a life of crime, most people just move on to something else or wait to save their money. However, that's not what happens to our titular trout. Totally mesmerised by the colours of the rainbow (how can you blame her), she decides to snatch it from the sky. As the camera moves over the film's stained glass-like paintings, we are left to ponder whether a life of crime might be the way to go.
If we can be honest for a second, if you steal the rainbow, people will notice. People will probably see you. Stealing the rainbow is the equivalent of stealing someone's shirt while they're wearing it. Charged by an eerie synth score by Roger Gravel, things go from bad to worse for our first offender fish. The Sun, upon waking up, notices the colours have vanished from the world. He shouts for the culprit to speak up.
Which brings me to rule number two. A perch claims that the trout stole the rainbow. I'm sorry… what? Just because the Sun asked, you were willing to betray your aquatic brothers and sisters? You don't know the full story, perch. You just saw your fellow sea-dwelling comrade take something. Maybe the trout had asked for permission. Maybe the trout forgot to return it in time. Maybe the rainbow doesn't belong to the Sun and he's tricking us by making us believe that colours come from light.
Norman McLaren even made a wartime movie about the concept: Keep Your Mouth Shut. The basic gist? Don't gossip. Especially when there are spies everywhere. You don't need to be talking all the time and, in our case, especially when a celestial being suddenly decides that he "owns the colours."
I feel that these two life rules are pretty straightforward and it's a shame that two fishes would stoop so low as to break both. Luckily, this fable ends on a beautiful note that echoes our final destination. If you love something, you have to let it go. Sometimes that means moving on, sometimes that means being punished. In the case of our trout, it's a bittersweet lesson to learn.
The Trout That Stole the Rainbow, Eva Szasz, provided by the National Film Board of Canada