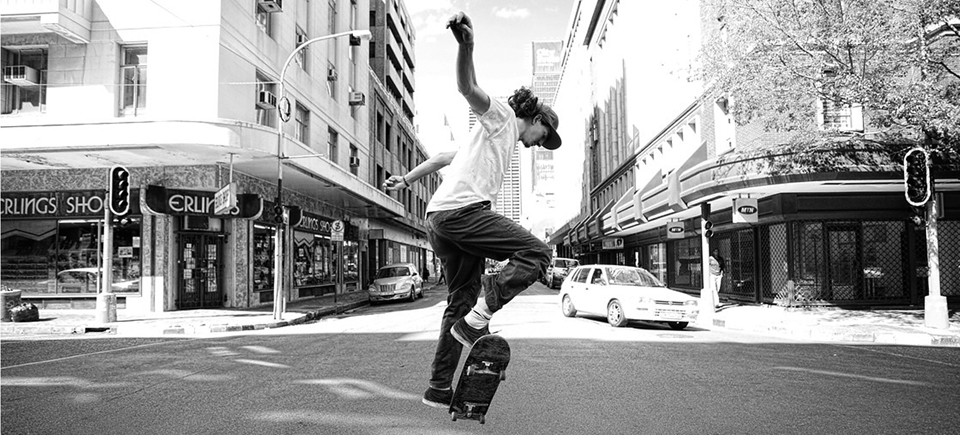 Teaching User Experience and the Politics of Public Space through Skateboarding
Skateboarding has a fascinating and controversial history: it was once (and still is) frowned upon as a misuse and abuse of public space, and it was loosely associated with petty criminality, the insouciance of youth, and a disrespect for social propriety. In the NFB's interactive media project The Devil's Toy Redux, you'll find an engaging and inventive way to introduce students to topics in media form and content, from user experience architecture to contemporary discourses about public urban space… and all of this through the lens of skateboarding!
Read on for some ideas on how to frame The Devil's Toy Redux with your students and encourage thought-provoking discussion about the project.
About The Devil's Toy Redux
The Devil's Toy Redux is an interactive experience featuring 11 films from 14 filmmakers in 11 countries paying tribute to one of the earliest and greatest skateboarding films of all time, Claude Jutra's 1966 film The Devil's Toy. From Singapore to Lyon, Montreal to Johannesburg, the urban landscape and its inhabitants may differ widely, but one thing remains constant: the world is one big skatepark.
Check out the trailer below for a taste of this inventive project, and then experience the whole thing here.
First, a few points about navigating your way around The Devil's Toy Redux site. The project's intro video auto-plays, but you can click anywhere on the screen and you'll arrive at a randomly-chosen city's short film. This trilingual project (English, French, German) offers you the option to change between languages at the bottom of your screen, to the right of the project's "Credits" link.
The video player can be expanded to full-screen by hovering your cursor anywhere. If you pull your cursor away, the video player will shrink back. Along the video time bar at the bottom of each video, you can navigate through the 7 topics into which each film is divided: skaters, boards, places, confrontation, resistance, resignation, and resolve.
Want to know more about the cities and skaters featured in each short film? While any film is playing, you'll see a link at the top of your screen that says "Explore [name of city]". Head over here and you'll discover more info about the filmmakers and an interactive map of the city that allows you to explore all the landscapes featured in each film.
Analyzing new media: topics in user experience
Think of any website you've ever visited, whether it's to shop online, watch videos, or simply find information you're looking for. If you recall being frustrated, feeling confused, or leaving the site without having found what you're looking for, you know you've had a bad user experience. If you recall a seamless experience in which you didn't think much about the site's architecture or layout, then you know you've had a great user experience. A positive user experience shouldn't just be seamless and comfortable, though; it should also be pleasant, and maybe even joyful!
Ask your students to spend at least 30 minutes navigating through The Devil's Toy Redux on their own or with a partner (headphones should be worn, or this activity can be conceived as a homework assignment to be completed outside of class hours). Then, engage students in a discussion of the following elements of user experience:
Site responsiveness: When an action is taken (a click, a hover, a scroll), how does the site respond?
Responsive design: Ask students to play around with the site on their mobile phones or a tablet. What aspects of their experience are different than on desktop? Which aspects are better on one platform over another, and which ones are worse?
Pleasure: What aspects of the experience were the most fun, exciting, beautiful, or gratifying? How and why?
Design: Ask students what they think of the background, colours, fonts, title design, and any other visual or aesthetic elements they can take note of. How does the sound, music, and dialogue work with these visual elements?
Form versus function: Are form and function mutually exclusive, or does the site prioritize both equally? Ask students to identify one way in which they think either aesthetics or usability is sacrificed at the expense of the other.
Brand experience: Ask students to reflect on their impressions of the National Film Board after having used The Devil's Toy Redux site. What are 3 adjectives about the NFB that come to mind?
These are just a few elements of the emerging discipline of online user experience design. Students interested in information architecture, human-computer psychology, critical media studies, or new media production might consider user experience design as a potential career choice. If some of your students express interest in this topic, you can direct them to exploring more of the NFB's online interactive projects here. And this guide for online interactive media creators might give students a useful introduction to what it takes to produce this kind of work.
Skateboarding is not a crime: the role of public space in The Devil's Toy Redux
There are many complex topics that arise in this project, including the effects of violence, the nature of private property, the gendering of social and recreational activities, racial issues in urban centres, and relations between citizens and state authority. You can discuss many of these topics with your students through the lens of public space, particularly in urban centres.
For example, in the Victoriaville film, there is a jarring juxtaposition between sweet, mild music and violent fire imagery. What is the inference here about the ownership, use, and destruction of public space? Does so-called "public" space really belong to "the public"? Who manages, determines, and creates public space?
In the Johannesburg film, a white skateboarder glides through a protest or parade in the streets which includes primarily black people. Ask students what they think of the framing of this co-existence of people in a shared urban space? In particular, this is a great opportunity to introduce students to the history of colonialisn in South Africa and the realities of post-Apartheid life there.
Finally, in the Montreal film, a group of female skateboarders ("skirtboarders") is satirically accused of "infiltrating" the traditionally male-dominated sport. Ask students to consider the movement of women in public spaces (whether at the local skatepark or elsewhere). What are the kinds of experiences women encounter when occupying public spaces? How are these experiences reflected (or overturned) in skateboarding culture, specifically? What is the relationship between gender and public space?
These and related issues can all be explored through close examination of the alternately funny, shocking, critical, and celebratory films that make up The Devil's Toy Redux. And not only are the themes great for sparking endless discussion and debate, but the project itself is a great example of how artists can harness the unique powers of so-called "new" media to make their messages heard in new ways, to new audiences, and upon new platforms in the digital age. Bring this fun and functional project into your classroom now!