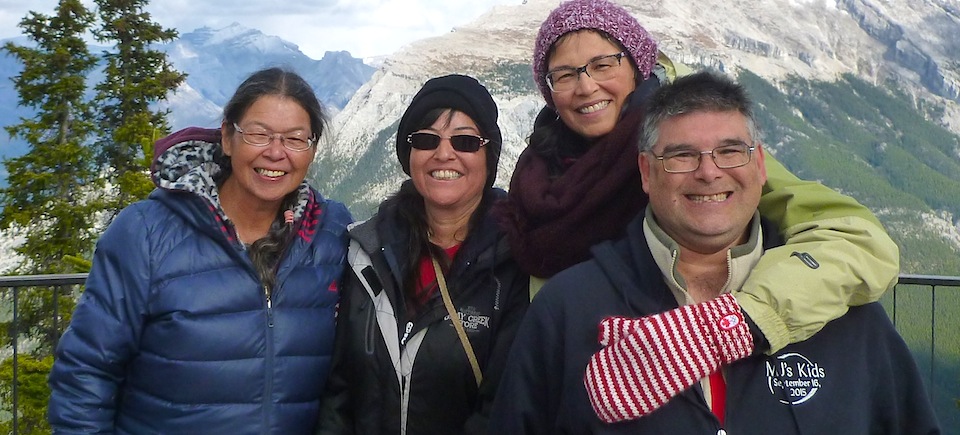 Birth of a Family Confronts Legacy of the Sixties Scoop
It's September 16, 2015, a busy Wednesday afternoon at the Calgary International Airport. A small NFB crew is about to document an extraordinary encounter — a crucial early scene in Birth of a Family, a doc currently in production at the North West Studio.
As incoming passengers stream into the arrival hall, director Tasha Hubbard watches for her key subjects: Betty Ann Adam, Rosalie Yopek, Esther Vandenham and Ben Tjosvold — the four adult children of the late Mary Jane Adam.
They are travelling separately, arriving from different points on the continent. Their plan: to rendezvous at the airport, rent a van, and motor up into the Rockies where they will spend a relaxed week together in the resort town of Banff.
But this is no normal family holiday. Although born to the same mother, they have never before come together as a family unit. All four were caught in the so-called Sixties Scoop, a practice which saw over 20,000 Indigenous babies removed from their birth mothers by provincial child welfare authorities and placed in non-native households, severed from their ancestral culture.
Canada's Truth and Reconciliation Commission, established in 2008 to investigate the far-reaching consequences of residential schooling, would also shed new light on the Sixties Scoop, a practice that intensified as residential schools were being phased out in the 60s and 70s. Although some children landed in supportive and loving households, many others experienced abuse and rupture— and a growing body of Indigenous scholarship now situates both practices within the wider historical context of internal colonialism, whereby Canada's Indigenous peoples were systematically stripped of agency and autonomy, and Indigenous cultures systematically debased.
"The whole painful story of the Sixties Scoop is only beginning to be told," says Hubbard, who herself was born to Indigenous parents but raised in a non-native family. "It's a complex chapter, one that can't be reduced to a single defining narrative. When Betty Ann brought this story to me, I realized that it personalized history in a vivid and original way. Birth of a Family is about loss and disconnect, but it also speaks to the generative and reparative gestures that people like Betty Ann are making to address the damage of the past."
A Daughter's Quest
A seasoned storyteller in her own right, a staff reporter at the Saskatoon Star Phoenix since 1989, Betty Ann Adam (below) was Mary Jane's firstborn, and she is the only one of the four children who re-established contact with their mother before her death. As a key central subject and co-writer on the film, she's been the driving force behind the whole project.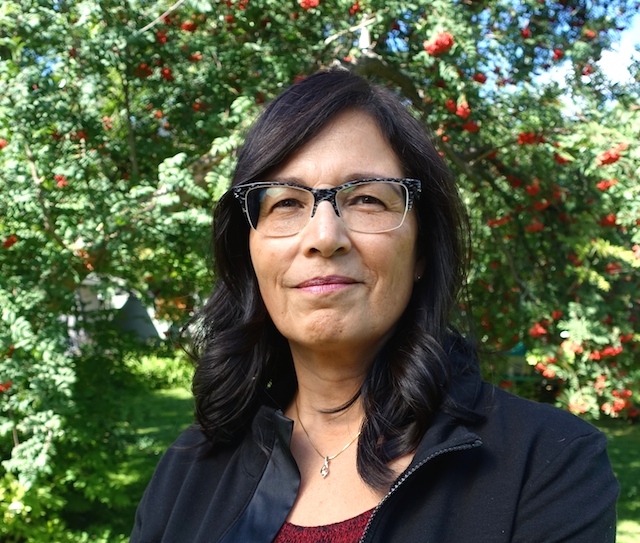 "I grew up knowing very little about my birth mother," says Adam. "I'd only ever heard brief and rather uncomplimentary explanations of why I'd been placed in foster care, and it wasn't until the early 80s that I met some of my Dene cousins and began to establish contact with her home reserve of Fond du Lac."
Her mother had left Fond du Lac, a Dene community in northwest Saskatchewan, many years before, but in 1985, with assistance from a newly discovered cousin, Adam managed to track down an address on Vancouver's Downtown Eastside. She began a long correspondence with her birth mother.
"In that first letter I said something about forgiving her — as if she'd done something wrong. Having grown up in a non-Native foster home, I'd been completely cut off from Indigenous experience, and it was only later that I realized how arrogant that first letter was. Back in 1962, when I was taken from her, there were very few people in Canada who had less agency than a young Indigenous woman — a residential school survivor and single mother, living off reserve, with a drinking problem."
Adam cemented her ties to Fond du Lac — where she got to meet her maternal grandfather in 1986, shortly before his death —but it was not until 1990 that she met Mary Jane in person. Her mother was making a rare visit to her home reserve, her first in 20 years, and agreed to meet Betty Ann in Saskatoon. "It was frightening for both of us," says Adam. "She was slow to reveal all the details of her life, but over the years we did achieve a certain closeness. We continued to write each other, exchanging Christmas cards and so on, and we visited each other several times. My understanding of Indigenous experience, and my own background, would change a lot in those years."
Betty Ann was at her mother's side when she died on June 1, 2006. By this time she'd met her sister Rosalie and learned of two other siblings, Esther and Ben — all of whom had been taken from Mary Jane at birth. It was only a few months later that the Canadian government announced the Indian Residential Schools Settlement Agreement (IRSSA), finally acknowledging the harm inflicted by residential schooling, and included in the agreement was the Common Experience Payment, offering survivors a measure of financial compensation for the trauma they'd endured. Betty Ann came up with a novel plan: she would apply for her mother's payment, holding it in trust with the aim of someday uniting all four of her mother's children.
"At a certain point it became imperative to find my siblings, but the whole process took years," says Adam. "First I had to become the administrator for my mother's estate, which was a complicated process, and then Rosalie and I had to find Ben and Esther. And that proved incredibly difficult and frustrating, with one bureaucratic obstacle after another. The same authorities that had torn us apart kept preventing us from getting together." In 2012 they finally found Ben, living in Edmonton, but it wasn't until 2014, with help from a private investigator from the provincial post-adoption registry, that they located Esther in California. Betty Ann's dream of reconstructing her birth family was taking form.
It was the journalist and broadcaster Marie Wilson, one of three presiding commissioners on the Truth and Reconciliation Commission, who would prompt Betty Ann to pursue the idea of a film. "It was 2015, the Truth and Reconciliation Commission was winding down, and Marie was in Saskatoon on a speaking engagement," says Adam. "After her speech, which was so inspiring, I got in line to say hello and gave her a quick account of my plans. She immediately asked: So who's documenting this? I knew I'd be writing about it someday — but then I thought, maybe it could also be a film."
Betty Ann proposed the idea to her siblings, and they came onboard. "I have no film experience, but was familiar with Tasha's work, and I knew she had a similar background. So I approached her, initially with the idea of getting some general advice on how to finance and produce a film." When the NFB came onboard, suggesting that Tasha direct the project, Adam was delighted. "I trust her completely. Right from the start, she took great care to consult my siblings, to make sure that everyone was comfortable with the idea and the process."
Seven Days in September
In the lead up to that fateful airport encounter, Hubbard filmed one-on-one interviews with each of the four siblings in their home environments. "I wanted to get a sense of their hopes, their expectations and apprehensions, as they approached the Calgary meeting," says Hubbard, "and at the same time I wanted to give everyone a chance to get to know me and to discuss the project."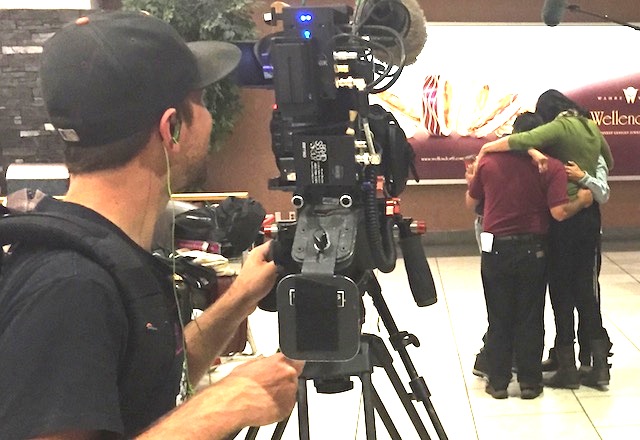 The main shoot, seven days in September, focussed on their week in Banff, observing the four as they negotiated their first days in each other's company. "I worked closely with Betty Ann and Bonnie Thompson to establish parameters for the Banff shoot," says Hubbard, pictured below. "I was impressed by the family's generosity and courage in letting us in during this sensitive time. Everyone agreed to wear an individual mic for the full week, for example. But we were determined to steer clear of anything that smacked of reality TV or sensationalism."
"I found myself consciously pulling back at certain moments," she says. "At one point one of the cameramen wanted to move in closer, to capture an emotional exchange, but I stopped him. So I often opted for a wide frame — partly to show our subjects within the context of this beautiful place, but also to give them space. On their last night together, they threw a collective birthday party to celebrate all the birthdays they'd not had the chance to celebrate together. It was so moving. We filmed them making the cake, and decorating it together. But we left them alone for that last meal. It was their moment. They invited us back when it came time to blow out the candles."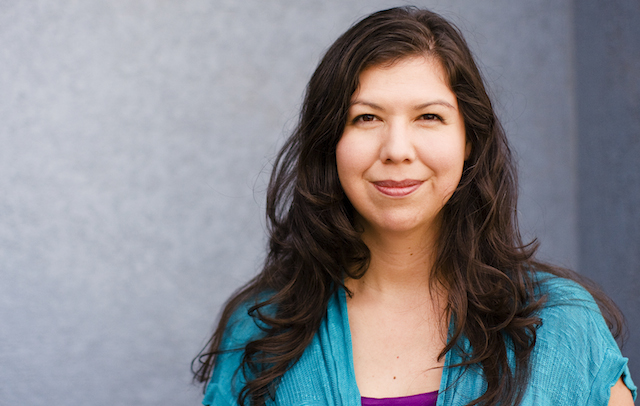 "Confronts our collective past with sensitivity and force"
"This is a powerful and exciting project and we're proud to be involved," says Bonnie Thompson, producing the film at the NFB's North West Studio. "With Birth of a Family, Tasha and Betty Ann are giving us a completely unique perspective on the Sixties Scoop – a film that confronts a painful and unresolved period from our collective past with both sensitivity and force."
Several Indigenous filmmakers are currently working on new projects across the NFB's various production studios, including Metis director Marie Clements who's nearing completion at the BC & Yukon Studio on The Road Forward, a novel documentary musical about a trail-blazing Native newspaper. In the Quebec Atlantic Studio Isabella Weetaluktuk is working with editor Annie Jean on Three Thousand, a cinematic essay that melds animation with archival images of Inuk life. And just released from the North West Studio, Angry Inuk, Alethea Arnaquq-Baril's spirited rebuke to the anti-sealing campaign, won both the Vimeo On Demand Audience Award and the Canadian Documentary Promotion Award at the 2016 edition of Hot Docs.
"There's a new awareness about Indigenous experience, and as Canada's public producer, the NFB has special role to play in making films that contribute to that important public conversation," says Thompson. Birth of a Family is directed by Tasha Hubbard, whose credits include the 2004 NFB release Two Worlds Colliding, and is co-written by Hubbard and Betty Ann Adam. Cinematography is by Allen Leader and Thomas Dudley, and sound was recorded by Per Aspeland and Brad Martin. Production Manager on the Banff shoot was Darin Wilson. Principal photography is complete and Hans Olson has begun editing in Edmonton. Birth of a Family is produced by the North West Studio (Bonnie Thompson, producer; David Christensen, executive producer). It is due to complete in late 2016.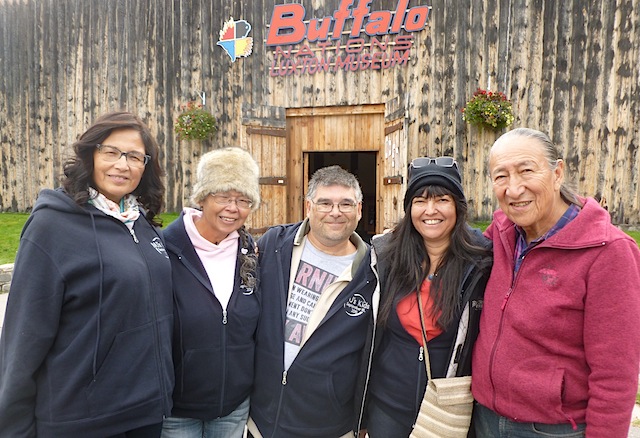 Above: Betty Ann Adam; Esther Vandenham; Ben Tjosvold; Rosalie Yopek – with Helmer Twoyoungmen, Guide at the Buffalo Nations Luxton Museum. Photos courtesy of NFB.