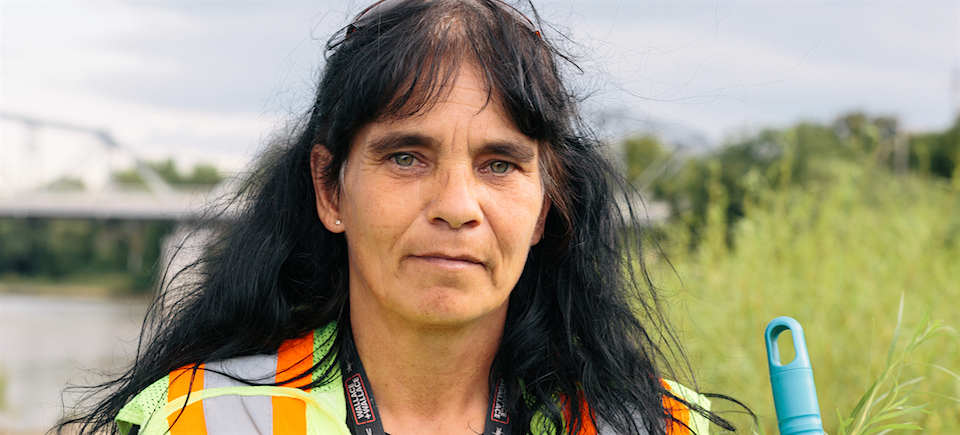 Experimental Instagram Doc Profiles Indigenous Activism
The face of contemporary Indigenous community activism, fuelled by new resolve and focus, is being profiled in an innovative experiment in social media storytelling from the NFB North West Studio.
What Brings Us Here, the first NFB documentary project to use the photo-sharing site Instagram as its principal platform, is helmed by Métis writer Katherena Vermette, winner of the 2013 Governor General Award for poetry for her collection North End Songs, in collaboration with Winnipeg-based producer Alicia Smith.
The project was conceived during the making of this river, a recently released documentary about Drag the Red, a remarkable citizen-driven initiative in Winnipeg's North End that has seized upon a concrete plan to address the crisis of missing and murdered Indigenous people. Frustrated by the perceived indifference of authorities, its volunteer members have taken matters into their own hands and are dredging the waters of the Red River in search of evidence of their missing family members.
"Making this river was such a cathartic and moving experience," says Smith, "but we realized early on that one 20-minute doc could not accommodate all the voices we wanted to hear from. The film needed a companion piece, and a web-based project like What Brings Us Here lets us explore the city's streets and waterways in greater detail, to tell other stories, and to delve deeper into a whole range of related issues."
Simple in form, ambitious in scope
Simple in form but ambitious in scope, the project will house about 70 discreet posts by the time it's complete in late November — a series of photos accompanied by brief captions, presenting a multitude of intersecting narratives about life in the North End, a world that enriches and informs all of Vermette's work.
Working within the pared-down framework of Instagram poses a new set of creative challenges. "It's fascinating. When you're limited to just images and text, the audience will fill in the spaces. You get to address issues in a quieter, more reflective way. Katherena and I spend lots of time deliberating on each image we post. What story does it tell? How should we frame it? What additional information does the viewer need to understand it fully?"
The project focuses on the activities of Drag the Red and the Bear Clan Patrol — two grass-roots initiatives that are generating a welcome sense of agency and cohesion in one of the country's most disadvantaged urban communities. More Indigenous people have gone missing in Winnipeg than in any other Canadian city, and the epicentre of the crisis has been the North End.
"The Bear Clan gives us access to hidden aspects of neighbourhood life"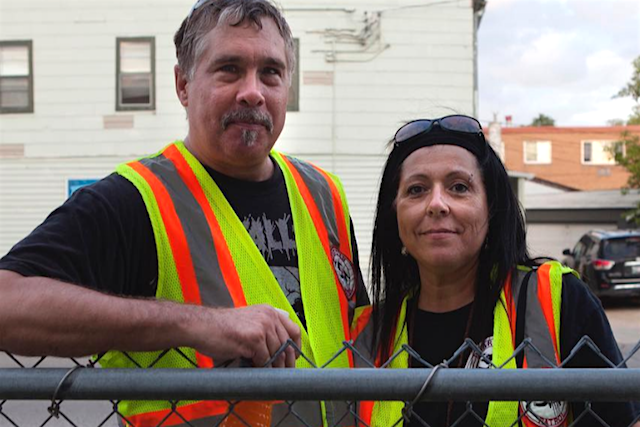 Pictured above: Shane and Debbie Yaworski, volunteers with Bear Clan Patrol, photo by Karen Asher.
"The Bear Clan has been an invaluable partner," says Smith. "Katherena and I have been collaborating closely with them, deciding what visuals to post and how to frame them — not just to show due diligence but because it advances and enriches the project. They are anchored in the North End, and working with them gives us access to more hidden aspects of neighbourhood life. All that extra detail generates new empathy and understanding." 
Revived in 2014 by James Favel and other concerned citizens, who were acting largely in response to the death of local teenager Tina Fontaine, the Bear Clan now undertakes regular patrols of the North End with the broad aim of enhancing public security and building community cohesion.
"I thought I knew the North End but my first outing with the patrol was an eye-opener," says Smith. "The clan is not engaged in policing in any way. We were just walking, but that simple presence seems to make all the difference. Kids run up and say hi, and women working the street engage in conversation. James often knows the situation in individual houses, the issues people are facing, and the patrol offers help — extra food or other items. Their aims seem simple, but they achieve so much. They really get the idea of community."
The participation of Drag the Red in the project brings the question of missing family members into sharper and more detailed relief. "With a lot of people that Katherena interviewed, there was a sense that the police had been indifferent to the issue," says Smith. "It comes up again and again — that the police didn't really care about missing Indigenous people. Their lives didn't really matter."
Bernadette Smith, a Drag the Red activist featured in What Brings Us Here, last saw her sister Claudette Osbourne in July 2008. She puts it this way: "When we reported her missing, the police didn't investigate for ten days. We were basically told 'she'll show up'. My sister was an Aboriginal woman, she had a drug addiction, and she had a criminal record. We think all of these things played a role in the way her case was handled."
Companion documentary screens at Winnipeg Art Gallery
The project's documentary companion this river, written and directed by Vermette in partnership with Erika MacPherson, premiered at Montreal's Présence Autochtone Festival where it won the Coup de Coeur Jury Award, and screened on October 20 at imagineNATIVE Film + Media Arts Festival. It had its hometown premiere on October 5 at the Winnipeg Art Gallery, an event presented by Jaimie Isaac, the gallery's Aboriginal Curatorial Resident. It was followed by a panel discussion moderated by Rosanna Dearchild, host of CBC-Radio's Unreserved.

Photo: Josh Dookhie.
"It was such a great evening, with this wonderful cross-section of the community," says Alicia. "To look out into the room and see everyone there — members of the Bear Clan, people from Drag the Red, Indigenous elders, people from the arts and film communities, academics — I felt we had accomplished what we set out to do with the evening, which was to have a conversation among many groups. And it wasn't always comfortable, but as co-director Erika MacPherson often says to me, it's not supposed to be comfortable."
What Brings Us Here features the work of photographers Karen Asher, Mark Reimer and Janine Kropla. The audience engagement strategy was created by Kyla Roma; the Instragram site is moderated by Alyson Shane, and the Facebook site is managed by Ko'ona Cochrane. What Brings Us Here and this river are both productions of the NFB NorthWest Studio.
The NFB is one of the world's leading producers of Indigenous-directed media and among upcoming releases are Birth of a Family, in which Tasha Hubbard parses the legacy of the Sixties Scoop, a practice that removed over 20,000 Indigenous babies from their birth mothers, and The Road Forward, a documentary musical directed by Marie Clements that celebrates the vibrant but little-known history of First Nations activism in BC.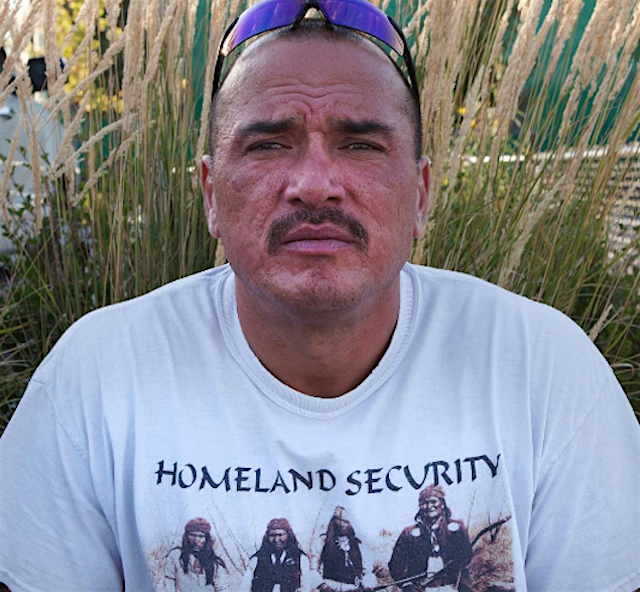 Pictured above: Melvin Pangman, volunteer with Drag the Red, photo by Karen Asher.
Header image: Kim Kostiuk, volunteer with Drag the Red and the Bear Clan Patrol, photo by Janine Kropla.