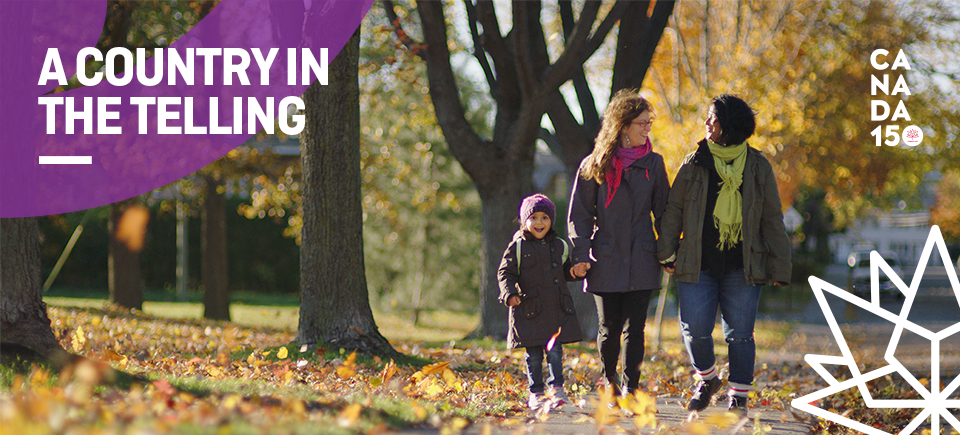 Canada 150 – A Country in the Telling
The National Film Board of Canada (NFB) is announcing three cross-country projects that mark our collective journey as a nation for #Canada150, the 150th anniversary of Confederation:
Aabiziingwashi (#WideAwake): Indigenous Cinema on Tour – Canada seen through Indigenous eyes
Special Online Programming – Exploring who we are as Canadians through four different lenses
#Legacies150 – What the past has left us. And what the future holds.
The NFB's initiatives will showcase our country's spectacular diversity and wide-ranging points of view. They'll foster dialogue and encourage understanding. And, together, they'll help to tell our story as a nation, from the experiences of Indigenous peoples who have been here for millennia to the ever-shifting social and cultural demographics of today.
Anthem , , provided by the National Film Board of Canada
"What better way to celebrate who we are than through the stories we tell? The NFB's Canada 150 activities will be an invitation to all Canadians to see where we've been and how far we've come, and to reflect, together, on where we go from here. We're hard at work on events that will travel across the country and live online―a national celebration of film and digital media, with memorable experiences for all Canadians," said Claude Joli-Coeur, Government Film Commissioner and Chairperson of the National Film Board of Canada.
In addition, the NFB is sharing works from its legendary collection and collaborating with partners across Canada on 150th-anniversary activities.
Aabiziingwashi (#WideAwake): Indigenous Cinema on Tour
Canada seen through Indigenous eyes
Starting January 16 and running throughout 2017, Canadians from coast to coast to coast will have a series of unique opportunities to see our country through Indigenous eyes.
Aabiziingwashi (#WideAwake): Indigenous Cinema on Tour is a cross-country screening series showcasing groundbreaking films by Indigenous directors produced by the NFB. Special guests will be on hand at several events for post-screening discussions. The series engages with many key themes in Indigenous Canadian cinema—colonization, resistance, cultural resurgence—and aims to build understanding and connection between Indigenous and non-Indigenous Canadians.
New titles that will be at the heart of this initiative include We Can't Make the Same Mistake Twice, legendary filmmaker Alanis Obomsawin's latest feature documentary, which follows a landmark court case challenging the systemic underfunding of child and family welfare services provided to First Nations children on reserves; Angry Inuk, Alethea Arnaquq-Baril's multi-award-winning feature about the impacts of anti-seal hunting campaigns on Inuit communities; The Road Forward, Marie Clements' feature musical documentary on Indigenous activism in BC; and Birth of a Family, Tasha Hubbard's intimate portrait of the impact of the Sixties Scoop, told through the story of four siblings separated in early childhood who are meeting for the very first time. The screening series will also feature a number of signature titles from the NFB's collection of over 250 works by Indigenous directors.
Aabiziingwashi* (#WideAwake): Indigenous Cinema on Tour will be presented in collaboration with APTN, TIFF, the imagineNATIVE Film + Media Arts Festival and partners across the country.
*The title Aabiziingwashi (an Anishinaabe word that describes the state of being wide awake or unable to sleep) recognizes the fact that language is one of the three pillars of reconciliation, the other two being land and governance/sovereignty. The title was coined by one of the NFB's tour partners, Jesse Wente, Director of Film Programmes at TIFF Bell Lightbox. He chose an Anishinaabemowin word for the title to recognize the Dish with One Spoon territory where TIFF is situated, a historical gathering place for many nations. The NFB will be adapting the word into different Indigenous languages as the tour travels across Canada.
Special Online Programming
1 nation. 4 lenses.
Canada 150 – Special programming on NFB.ca (Trailer), , provided by the National Film Board of Canada
In this special program on NFB.ca, the NFB is curating films from its legendary collection that explore who we are as Canadians through four different lenses: what we seek, what we fight for, what we protect and what we call home.e
Launching in February 2017, this NFB.ca programming brings together new and classic NFB works to explore Canada as a place rich with images, stories and possibilities. A vast and varied land, blessed with spectacular beauty and natural splendor. A place we're proud to call home, with unique communities large and small.
This special programming will celebrate the stories and experiences that make up the Canadian family. Our past. Our future, together. The values and perspectives that make us unique among nations.
#Legacies150
What the past has left us. And what the future holds.
Legacies 150 (Trailer), , provided by the National Film Board of Canada
Launching in June, #Legacies150 is a series of 14 interactive photo essays featuring Canadians from all walks of life who share personal reflections on our common journey—on what we've received from our past, our land and our ancestors—and the legacies we aspire to leave for future generations.
Combining original photography, responsive design and stunning soundscapes, #Legacies150 is a collaboration between accomplished creatives, showcasing the collective talents of a rich mix of photographers, filmmakers, poets, musicians, and writers from across the country.
Contributors include comedian and actress Mary Walsh, Governor General's Literary Award-winning author France Daigle, poet and artist Natasha Kanapé Fontaine, photographer Yannick Grandmont, filmmaker Helene Klodawsky, multidisciplinary artist Walter Kaheró:ton Scott, and one of Canada's most legendary photographers, George Hunter. The range of styles, perspectives, and practices they represent is a fitting embodiment of the varied creative endowment of Canada writ large.
These stories won't just live online: the NFB will also be collaborating with key partners to create displays and installations in major venues and events, with details announced soon.
The media partner for #Legacies150 is Postmedia.
Partner projects
The NFB is also collaborating with a range of public and private partners to support their own Canada 150 projects. Public partners include the Canadian Museum of Nature, and events with Indigenous organizations such as the Nunatsiavut Government's Illusuak Cultural Centre and Wapikoni.