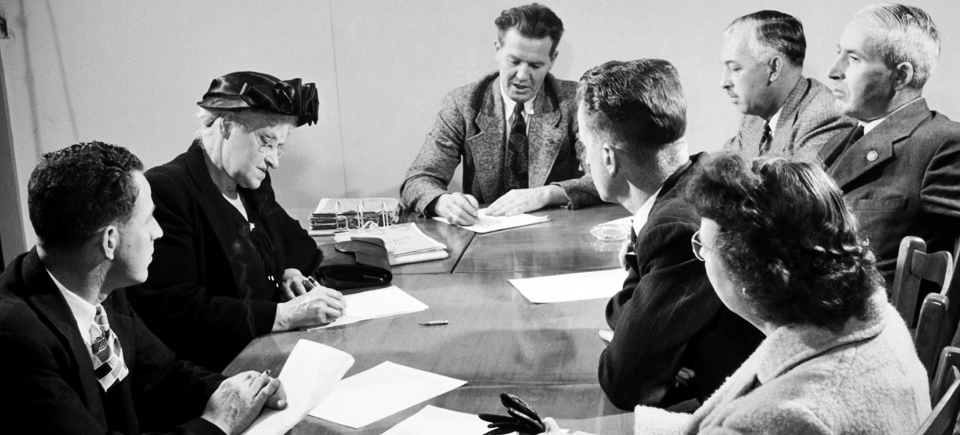 NFB Staff Picks | Watch the Best of 2016 on NFB.ca
Our social media team has a little year-end tradition we're quite fond of: the NFB Staff Picks.
With all that happens over the course of a year, the Staff Picks are a welcome opportunity to reflect on what we most enjoyed watching and sharing with our community.
This year again, the rules were pretty straightforward: to be considered, a title had to have been added to our viewing site, NFB.ca, in 2016, and be available for free viewing.
Here are our picks. What were yours?
Albert Ohayon, English Collection curator 
Man: The Polluter, Don Arioli, Hugh Foulds, Chuck Jones, Wolf Koenig, Kaj Pindal, Frank Nissen, Pino Van Lamsweerde, Milan Blazekovic, Zlatko Bourek, Nedeljko Dragic, Boris Kolar, Aleksandar Marks, Vladimir Jutrisa, Dusan Vukotic & Ante Zaninovic, provided by the National Film Board of Canada
"My choice for staff pick is Man the Polluter an animated feature film co-produced with Zagreb film of Yugoslavia in 1973. It shows man's ridiculous solutions to the problem of pollution. Consisting of 14 segments it includes thought-provoking and shocking moments as well as a good dose of humour."
Marc St-Pierre, French Collection curator
Shyness, Les Drew, provided by the National Film Board of Canada
"A hilarious parody of the Frankenstein story, written and directed by animator Les Drew. A must-watch for the entire family this holiday season."
Émilie Nguyen, French community manager
Mindfork, Catherine Dubeau, provided by the National Film Board of Canada
""Excuuuuuse me"! Take a minute and a half to watch this little gem produced by the young and talented Catherine Dubeau as part of our Hothouse apprenticeship. A sublime, funny, twisted and delightful visual descent into madness that brings to mind the esthetics of cartoonist Charles Burns. To watch absolutely.
Stéphanie Nguyen, Relationship marketing analyst
Mabel, Teresa MacInnes, provided by the National Film Board of Canada
"*Cuteness Alert* At 90 years old, Mabel became a viral sensation and it's no surprise why. Take a lesson from this fierce lady –the first one to launch her business in Hubbards NS– on how to live longer and happier: cherish your friendships, do what you love and stay active. This celebration of the elderly, weaving delightful animation and old photos (check it out at 4:10) is simply endearing. ?"
Kathryn Ruscito, English community manager
Mobilize, Caroline Monnet, provided by the National Film Board of Canada
"Mobilize is a rollercoaster ride. Clocking in at only 3 minutes, the film punches like a film ten times it's length. Director Caroline Monet went through the NFB archives and edited together footage from films past to tell a refreshingly modern portrait of motion and movement and strength. There's an urgency to the film that sucks you in, and I can guarantee you'll end up humming along to Tanya Tagag's incredible throat-singing."à
Catherine Perreault, French web writer
Max in the Morning, David Bairstow, provided by the National Film Board of Canada
"Max Ferguson (1924-2013) was a Canadian radio personality best known for his long-running shows on CBC: Rawhide and The Max Ferguson Show. As an "amateur" radio host myself, I can only be impressed by this "radio satirist," who lines up voices, punch lines and cigarettes like there's no tomorrow. In this 1965 short documentary, you can see him in action as he ad-libs his way through the morning news. A must-watch.
Joseph Elfassi, Freelance French web writer
Griefwalker, Tim Wilson, provided by the National Film Board of Canada
"He's a White man, but Stephen Jenkinson, AKA the Angel of Death, has found meaning in diverse First Nations teachings, helping people overcome grief or their own fear of dying by making them understand, accept and cherish one sacred principle: death is a fundamental part of life."
Carolyne Weldon, English Web Writer
Red Path, Thérèse Ottawa, provided by the National Film Board of Canada
I loved everything about Red Path, a tightly-wound 15-min doc about a young Indigenous man in search of his roots. The story, the main character, the photography, and most of all the message: the path of Indigenous traditions and spirituality is the path forward.