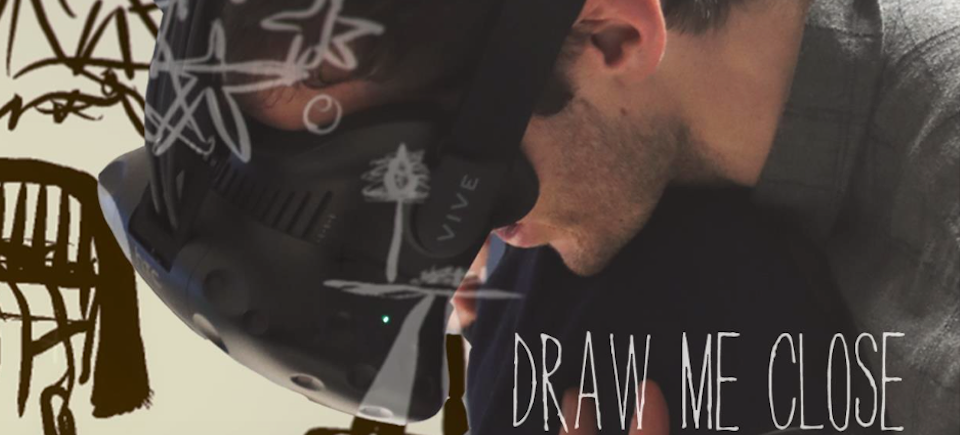 NFB & UK's National Theatre Collaborate on VR Doc
Among the productions premiering in the 2017 edition of Storyscapes – the Tribeca Festival's showcase of new immersive media – is Draw Me Close, a striking hybrid of creative non-fiction VR and live performance from Jordan Tannahill, one of the most inventive voices in contemporary Canadian theatre.
It's the first production to emerge from a novel trans-Atlantic collaboration between the NFB and National Theatre in the UK – a partnership forged by David Oppenheim, a producer at the NFB Ontario Studio, and Toby Coffey, the director of the National Theatre's newly established Immersive Storytelling Studio.
"We were both attending the Sheffield Doc/Fest two years ago," says Oppenheim, "and even before we met, I noticed Toby's job title – Head of Digital Development at the National Theatre. I was immediately intrigued to learn more about how they were incorporating digital and interactive into live theatre. Our studio had just started to experiment with VR, and as it turned out Toby was integrating documentary practices into the immersive work underway in his new unit. So the timing was right."
One of world's preeminent performing arts venues, the National Theatre has done pioneering work in documentary-based theatre. In 2011 they mounted London Road, an ingenious verbatim musical play in which playwright Alecky Blythe crafts a script exclusively from the real words of real people — offering audiences a compassionate new perspective on a notorious British crime case. More recently they scored a hit with Wonder.land, a VR theatrical experience inspired by Alice in Wonderland.
"By combining the creative strengths of our respective organizations, I hope we can expand the possibilities of VR storytelling and play a part in building a new vocabulary," says Oppenheim. "Certain kinds of theatre can be incredibly immersive and theatre artists have a unique approach to world building, so it's been fascinating to cross-pollinate, and to see what happens within our creative documentary practice."
Four Artists Explore the VR toolbox 
The three-week creative lab took place in October and December 2016, and brought together four artists working in various theatre disciplines — two Canadians, Mitchell Cushman and Jordan Tannahill, and two UK artists, Amy Hodge and Jo Tyabji. An introductory week in Toronto, at the Ontario Studio's old home on John Street, was followed by a stint at the Immersive Storytelling Studio in London, where the artists developed four very distinct VR prototypes from their original concepts.
While Tyabji's piece Signature Strike (working title) explores drone warfare from dramatically divergent perspectives, Cushman's TomorrowLoveVR immerses users within a gender-fluid experience of intimacy and loss, and Amy Hodge's Once a Man Twice a Child draws upon verbatim testimony from people living with Alzheimer's to go inside the disease.
Tannahill's Draw Me Close, the most autobiographical of the four prototypes, is inspired by his relationship to his mother, who was recently diagnosed with terminal cancer, and is crafted as vivid childhood memoir. "His humanistic approach to the use of technology combined with incredible storytelling skills have exceeded many people's expectations about what storytelling in VR could be," says Toby Coffey.
"Jordan's piece had that 'rough magic' that theatre people talk about," says Oppenheim. "It immediately felt like a complete emotional experience, like the coherent first chapter of something bigger." Ingrid Kopp, the Director of Interactive at the Tribeca Film Institute and the curator of the Storyscapes, was similarly impressed — and the first chapter of Draw Me Close gets its world premiere in April at the Tribeca Festival in New York City.
Jordan Tannahill: "Interdisciplinary posterchild"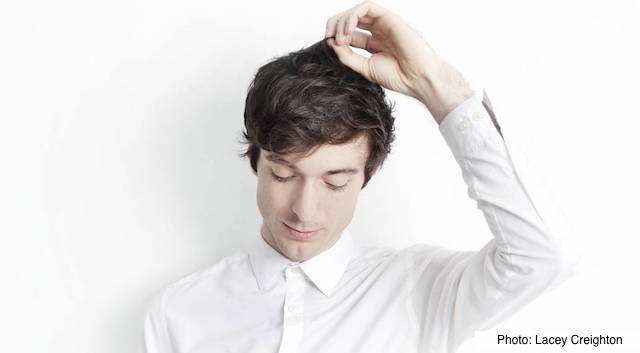 The Globe and Mail has called him "the posterchild of a new generation for whom 'interdisciplinary' is not a buzzword but a way of life." At 28 Tannahill has emerged as a confident and far-ranging writer, performer and director who is able to work across a range of artistic disciplines.
In 2014 he won the Governor General's Award for English-language drama with Age of Minority: Three Solo Plays, and in 2015 he won both the Dora Mavor Moore and Carol Bolt Awards for Concord Floral, an adaptation of Boccacccio's Decameron. Along the way he's found time to attend film school, perform with the Toronto Dance Theatre, and run a multimedia performance and exhibition space called Videofag out of a former barbershop in Toronto's Kensington Market. His book Theatre of the Unimpressed: In Search of Vital Drama, published in 2015, has already made it onto the curriculum of North American Universities. Among his many current projects is a feature film adaptation of his play Botticelli in the Fire, to be directed by wunderkind Stephen Dunn.
Infused with imaginative multidisciplinary mojo, Tannahill's work is frequently grounded in documentary practice. Post Eden, one of his first plays, was a disquieting reflection on suburbia, and he began the creative process by conducting field interviews with residents of Richmond Hill – going on to design a production that featured split-screen projections, live performance, and a surrealistic talking dog.
"VR is new terrain for me but in many ways Draw Me Close has been a return to form," says Tannahill. "I've always been interested in the interplay between the fictive and non-fictive, between what is mediated and what is live, what is literal and what is sub-textural."
While future incarnations may incorporate an audience or multiple users – and Tannahill is already envisioning scenarios that bring the piece into theatre settings – this first iteration of Draw Me Close is conceived as an installation-based headset experience, albeit one that employs a range of theatrical strategies.
The set is simple and evocative – the exterior of a suburban home similar to the one where Jordan grew up. You don the Vive headset and take a moment to get your virtual bearings. The title appears and then dissolves, followed by other visual details, all rendered in sparse black-on-white animation. The scripted narration begins, voiced by Jordan himself. He leads you up the front path and into his world. Sensors on your hands allow you to open the door. You enter into a virtual rendering of his childhood home where you're approached by a live actor. His mother. Your story with her begins…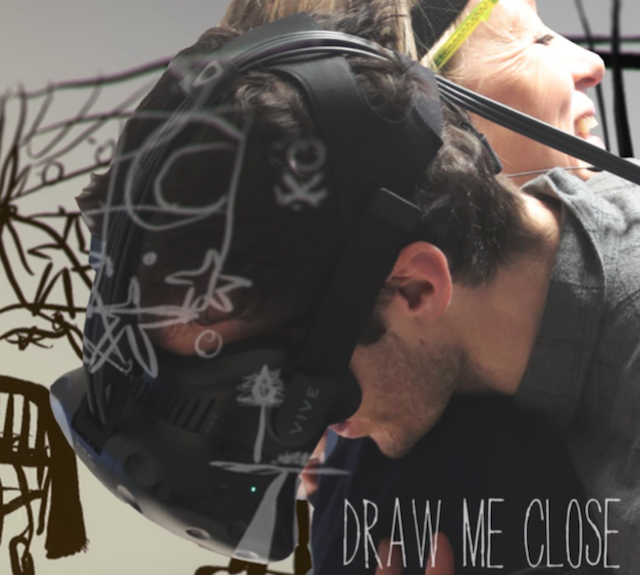 "VR is still in the realm of proto-spectacle."
"I sometimes feel that VR negates the body – all those headsets floating in space – but theatre is all about corporality," says Tannahill. "And I'm always looking for a good story – compelling characters and a compelling journey. A lot of the VR is still in the realm of proto-spectacle, almost like the Lumière brothers and Muybridge's horse. We're still waiting for the master storytellers and authors to bring their visions to the medium."
Early on, when asked what kind of documentary story he wanted to address, Tannahill had only one response. "There's no other story that weighs more heavily on my mind right now than my relationship with my mother – a story that's still in the process of unfolding – and Draw Me Close has been an extraordinary opportunity for me to reckon with all of those challenging and ultimately unknowable questions around mortality."
Tannahill was recently among the guest speakers at the Vancouver edition of the CreativeMornings lecture series – and gave this fascinating talk on the ethics of creating art from documentary-type content.
https://www.youtube.com/watch?v=0JQ_ZeWHbVI
Oppenheim, whose credits include the Webby award-winning Universe Within, the final chapter of the multi-year, multimedia NFB interactive project Highrise, and fellow NFB producer Justine Pimlott are currently working with Toby Coffey and Johanna Nicholls at the National Theatre to scale up the Tribeca iteration of Draw Me Close into an hour-long experience in immersive storytelling, one that engages larger audiences in a social VR event. The other three prototypes from the October lab are also in development.
"All four artists are interested in going beyond the individual headset experience, in creating a hybrid physical and virtual experience, some with a live component," says Oppenheim. "How we bring VR stories into a social, multiple-user environment will also be one of the questions guiding our work as we move forward."
Anita Lee, executive producer of the NFB Ontario Studio, embraced the creative process of the project from the get-go. "We're very excited to be sharing Draw Me Close with audiences for the first time," she says. "So much thought and experimentation has gone into the project and I think people will be truly transported by its emotional power and authenticity."
Draw Me Close, a collaboration between the NFB and National Theatre, is produced by David Oppenheim and Toby Coffey, and co-produced by Justine Pimlott and Johanna Nicholls. Original animation is by Canadian illustrator Teva Harrison. The 16th annual Tribeca Film Festival takes place from April 19 to 30 in New York City. Storyscapes, the festival's showcase of interactive and VR work, is now in its fifth year.
Paper Wheat: Early NFB fusions of film & theatre 
NFB filmmakers have collaborated with theatre artists several times over the years. In 1977 a Saskatoon-based theatre collective produced the Paper Wheat, an influential agitprop play on the Saskatchewan Wheat Board that toured extensively across the Prairies, and in 1979 NFB director Albert Kish worked with the troupe to make a film of the same name. Film scholar Chris Meir, one of the contributors to the anthology Challenge for Change: Activist Documentary at the National Film Board of Canada, notes how "the film itself adapts the formal and political concerns of the play, while also documenting an important moment in Canada's and Saskatchewan's cultural history in its attempt to make a positive intervention in the life of the nation and the province." Paper Wheat was one of the last productions to come out of the Challenge for Change program.
Paper Wheat , Albert Kish, provided by the National Film Board of Canada