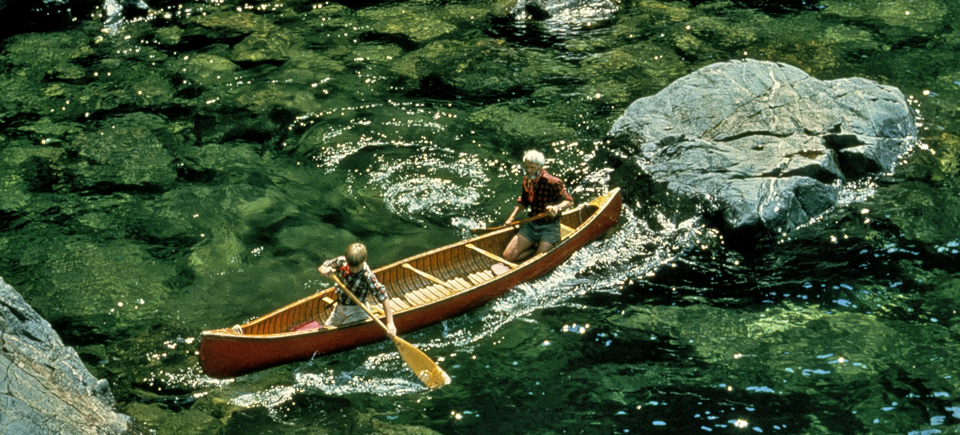 Water is Life | Watch 7 Films About our Most Vital Resource
If aliens are watching this, they are for sure scratching their "heads."
The first thing we humans look for when discovering new solar systems and planets is H2o, water.
We realize that without water, there's no life for us. None.
Yet, right here, on our own blue planet, we pollute and squander the finite amount of water we do have without a second thought.
Canada is home to one fifth of the world's freshwater. As spring returns, gently melting and warming thousands of lakes, rivers, streams and wetlands for us all to enjoy this summer, let's take a moment to celebrate the simple water we so easily take for granted.
Here are 7 NFB films to get you started:
Paddle to the Sea (1966), by Bill Mason
Paddle to the Sea, Song of the Paddle, Waterwalker… Most of Bill Mason's films unfold on or around water and are marked by a deep reverence for waterways and water cycles. In truth, this entire list could have been nothing but Bill Mason films. Here, the great naturalist and filmmaker retells the time-honoured tale of an Indigenous boy who sends his wooden carving of a man and his canoe downstream. A classic among classics.
Paddle to the Sea , Bill Mason, provided by the National Film Board of Canada
Water Dwellers (1963), by Gordon Sparling
Rowing downstream is certainly merry, but how about living on water all the time? Welcome to the floating communities of Simoom Sound, in the Central Coast region of British Columbia, where loggers live rent-free in floating houses. Check out this unusual gang and their unusual lifestyle, which apparently persists today, according to the many interesting comments left on this recent post about the film.
The Water Dwellers, Gordon Sparling, provided by the National Film Board of Canada
Deep Threat (1977), by Zlatko Grgić
From the Croatian filmmaker who brought us Hot Stuff (and the wonderful Professor Baltazar series) comes this 7-minute short on the senseless havoc humans are unleashing on the oceans and the myriad creatures who live there… Deep.
Care for more fishy films? Try Refreshingly Fishy | 4 Underwater Shorts to Beat the Heat
Deep Threat, Zlatko Grgic, provided by the National Film Board of Canada
St. Lawrence: Stairway to the Sea (1982), by Jacques-Yves Cousteau and Jacques Gagné
Jacques Cousteau, ladies and gentlemen! In this spectacular film, the patron saint of all things aquatic takes us on a journey up the St. Lawrence River to the Great Lakes on board his specially equipped vessel, the Calypso. Come for the shipwreck, stay for the underwater caribou chase!
St. Lawrence: Stairway to the Sea, Jacques-Yves Cousteau & Jacques Gagné, provided by the National Film Board of Canada
M.C. Escher: Sky and Water 1 (1998), by Gayle Thomas
From the woman behind Quilt, a viral little film animating traditional quilting patterns, comes this  on one of M.C. Escher's most iconic woodcut prints: "Sky and Water 1." With her unique whimsical style, animator Gayle Thomas breathes new life into the Dutch artist's famous study of interlocking fish and birds.
M.C. Escher: Sky and Water 1, Gayle Thomas, provided by the National Film Board of Canada
Journey of the Blob (1989), by Bill Maylone
Where do all the toxic things humans produce go? This short film about environmental responsibility and the water cycle follows a boy in his quest to dispose of a green blog he has concocted. What will happen if he dumps it into a stream? Where does water come from and where does it go? Good questions, kid… Those interested in water treatment issues should also check out Crapshoot: The Gamble with Our Wastes.
Journey of the Blob, Bill Maylone, provided by the National Film Board of Canada
This River (2016), by Erika MacPherson and Katherena Vermette
If water gives, water can also take away. In Winnipeg, a volunteer-run initiative called Drag the Red has been dredging the waters and combing the banks of the Red River, looking for the bodies of missing aboriginal women… or at least clues. Volunteer activist Kyle Kematch and Métis writer Katherena Vermette, who have both survived the heartbreak of searching for a loved one who has disappeared, invite us on board to share their story.
This River, Erika MacPherson & Katherena Vermette, provided by the National Film Board of Canada
See also:
Water Protectors: From Fort Good Hope to Standing Rock
The Water Dwellers: Inside Central B.C.'s Floating Villages
Waterwalker: Bill Mason's Masterpiece
Photo Friday | Salmon Fishing on the Fraser in 1949
Photo Friday | High Tide in Newfoundland
* Header image: Path of the Paddle: Solo Basic (1977), by Bill Mason