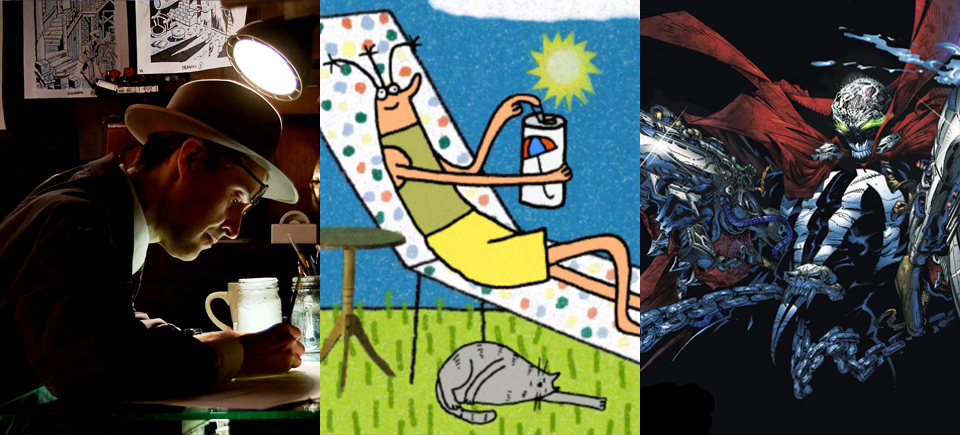 Watch 6 Films About Comics and Their Creators
Comic strips and comic books are universal art forms, and give their creators a direct line to wide, wide audiences. Some comics are serials, some are satirical, some offer insight, and some just want to make you laugh.
This week, we're looking a variety of comic strips and their creators who have been the subject of one of our films. From political cartoonists to the creator of a world-famous superhero, I think we've got something for just about everyone.
Seth's Dominion
If I had to describe this film in one word, it would be charming. There is something so captivating about Seth, and watching him move through his daily routine is awe-inspiring. The discipline, the routine, the work – he's incredibly talented and prolific and the way he transforms his inner life into such observant and witty stories is simply genius.
Seth's Dominion, Luc Chamberland, provided by the National Film Board of Canada
Laughter in my Soul
Comic strips are an accessible art form, making them a perfect medium for bridging divides. A great example of this is Jacob Maydanyk's creation, Shteef Tabachniuk, an endearing goof who became a folk hero to Ukranian immigrants in Canada. Maydanyk, an immigrant himself, was part of the first wave of Ukranians who arrived in Canada between 1896 and 1914.
Laughter in My Soul, Halya Kuchmij, provided by the National Film Board of Canada
The Persistent Peddler
This earlier work by Claude Cloutier (Carface, Sleeping Betty) presents a look at the patterns that define the buyer-seller relationship, using characters from his hit comic strip, La Légende des Jean-Guy, which was first featured in Croc, a Quebec humour magazine.
The Persistent Peddler, Claude Cloutier, provided by the National Film Board of Canada
The Death of Kao-Kuk
Based on Seth's original comic strip, Luc Chamberland brings the story of astronaut Kao-Kuk to the screen in this animated short. Kao-Kuk has just returned from a dangerous mission, only to discover even more danger awaiting him on the space station. Is this the end for our hero?
The Death of Kao-Kuk, Luc Chamberland, provided by the National Film Board of Canada
The Devil You Know
Sometimes, the artist behind the comic strip makes as big a name for himself as the characters he creates. Such is the case with Todd McFarlane, a man who has become a legend to his fans and who turns out to be one of the most fascinating and innovative creators in his field. This feature doc does a great job of showing the contrast between the public persona and the private individual.
The Devil You Know: Inside the Mind of Todd McFarlane, Kenton Vaughan, provided by the National Film Board of Canada
Understanding the Law: The Worm
Diane Obomsawin, aka Obom, is a Quebec author, illustrator and animator with a large and devoted audience. In this short, she puts her talents to work demystifying aspects of the law through the story of Mrs. Popcorn, who, when she finds a worm in her soda, takes the company to court for negligence.
Understanding the Law: The Worm, Diane Obomsawin, provided by the National Film Board of Canada