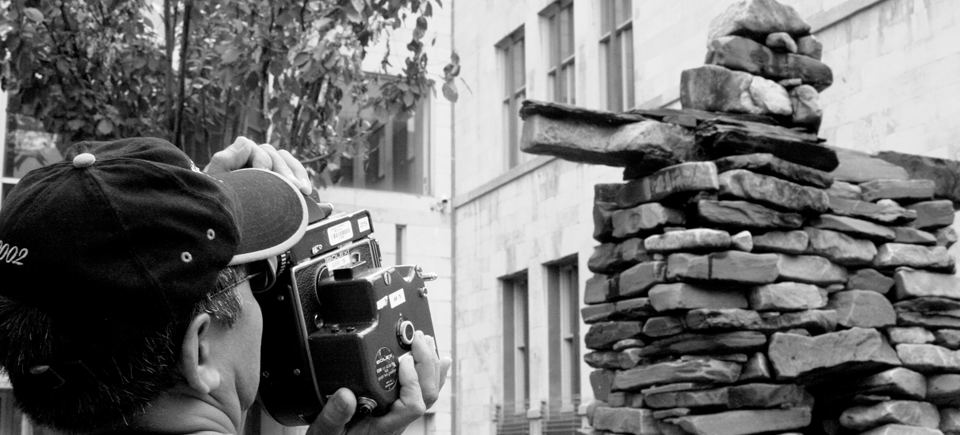 NSFC – Not Safe For Classrooms
The NFB is known for its vast collection of documentary and animated films. Topics covered range across the spectrum of issues that matter to Canadians. Our films are used in schools, in training, in museums, and in presentations around the world. For the most part, they're meant to inform, enlighten, and engage. But… we've also got some films in our collection that serve completely different purposes.
Within our vast treasure trove of films, you'll find a nice little sub-genre of subversive films. And while they're definitely meant to inform, they don't exactly do it in the way we're used to seeing in classrooms.
Inukshop
Wander through the tourist section of any major Canadian city and you'll see souvenir shops filled with knickknacks and tchotchkes meant to symbolize Canadian living and culture. You may see a few objects, find them pretty, and pick them up for your friends and family back home. The thing is, very little thought is put into what those objects might signify or represent to the culture from which they came. There's a fine line between appreciating objects from another culture and straight-out cultural appropriation. It's a difficult conversation, and one that filmmaker Jobie Weetaluktuk begins in this perfectly-crafted short from the Vistas series.
Vistas: InukShop , Jobie Weetaluktuk, provided by the National Film Board of Canada
Strange Invaders
This one's for all the parents out there. Who among us has not felt like their kid was an alien from another planet, sent here with the sole purpose of driving us insane? Just me? Oh. But seriously – this film is the perfect antidote to all the picture-perfect lives we see on social media, to all the stories of over-achieving children, and parents with blissfully-fulfilled lives. It's the exact opposite of what we expect to see when watching a film about a growing family, which is why it belongs in our collection of subversive films… and why it's so damn good.
Strange Invaders, Cordell Barker, provided by the National Film Board of Canada
Naked Island – Sext Apes
I could have featured the entire Naked Island series in this post and been done with it. Talk about a brilliant series – 14 super-short films designed to subvert the status quo. If there's an art to creating subversive films, and I believe there is, then these animators have got it covered. Sext Tapes is one of my favourites – what kind of world are we living in when our phones are having more sex than we are?  It's a powerful film that demonstrates you can pack a lot of punch into 30 seconds.
Naked Island – Sext Apes, Laurence Vallières, provided by the National Film Board of Canada
Sexy Laundry
Take everything you think you know about senior citizens having sex and then watch this film. Not quite what you expected, huh? I love everything about this film, from the clay model animation right down to the dialogue. Although I have to admit, there seems to be an age line for this film – those under a certain age don't see the genius, but I guess it's because they just haven't gotten there yet.
Sexy Laundry, Izabela Plucinska, provided by the National Film Board of Canada
Bydlo
Patrick Bouchard has made a name for himself with his gritty, macabre animation style. The Brainwashers, Subservience – both creepy and distinct, but neither come close to the subversive nature of this film. In this film, Bouchard has essentially crafted our own demise, a nightmarish world in which man is his own slave driver. It's difficult to watch, and not for everyone, but Bouchard's Bydlo is definitely a masterpiece.
Bydlo, Patrick Bouchard, provided by the National Film Board of Canada