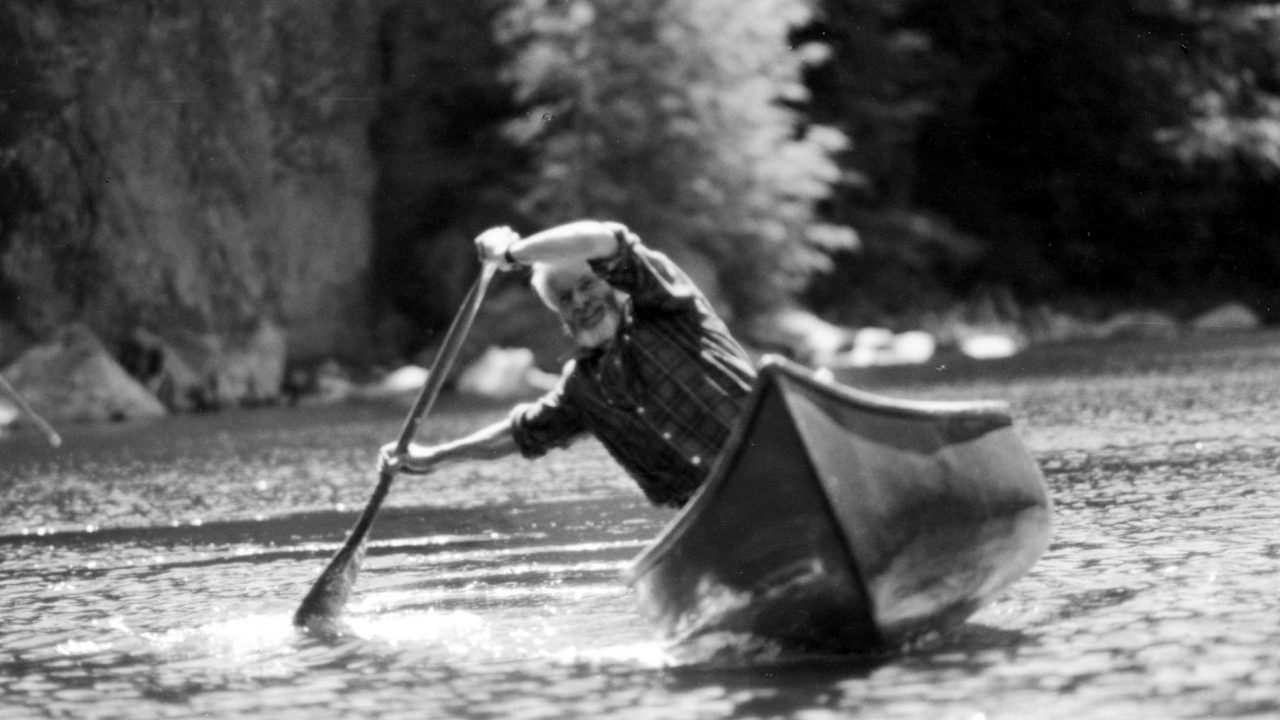 Dive into 5 Films about Water Sports
The rain subsides, the weather gets warm, and all we want to do is find the nearest body of water. Summer is the perfect time for water sports, and there are oh-so-many to enjoy. Personally, my favourite is the floaty chair, preferably one that comes with a rope that I can attach to the dock. Bonus points for a cupholder.
Thankfully, not everyone thinks like me. There are plenty of people who enjoy getting out on the water to sail, canoe, waterski, and swim. Even if you can't get to a lake, pond, or ocean, you can usually get out to a community pool.
Here are 5 films that celebrate water sports. And whether you enjoy partaking, or you're an armchair enthusiast, you're sure to enjoy them.
Path of the Paddle
Summer wouldn't be summer without Bill Mason in a canoe. My husband would delight in telling you how much of a canoeist I'm not. In fact, I'm not too adept at water sports in general, but that's never stopped me from being mesmerized by this film.
I guess I'm what you'd call and armchair canoeist. I could spend hours sitting on the couch watching Bill Mason paddle. With great pleasure. Everything this man does is just so enjoyable.
As Mason says, canoeing is the perfect way to explore the last remaining bits of nature. I've spent enough time in a canoe (with my husband paddling) to recognize the truth in this; there's really nothing quite like being on a calm, quiet lake, surrounded by trees and mountains while watching the loons dive and surface.
So, if you've ever wanted to learn how to paddle a canoe solo, or maybe just brush up on your skills, this is the film for you. And if you like it, there are 3 more that follow: Doubles Basic, Solo Whitewater, and Doubles Whitewater.
Path of the Paddle: Solo Basic, Bill Mason, provided by the National Film Board of Canada
Singlehanders
Since we started off with solo water sports, I figured we'd continue with that theme for this film. Singlehanded racing is so named because each boat is sailed by only one person, no crew.
It's one thing when you think about paddling a canoe all alone, but a sailboat? I don't know. My brother-in-law, who's a sailor, always said "Sailing is 90% boredom, 10% sheer terror." I tend to agree, and it's in that 10% that I'd hate to be alone.
In this film, two Canadians, Bob Lush and Mike Birch, compete in the 1980 Observer Singlehanded Transatlantic Race. Birch is a professional sailor, competing at top levels. Lush, on the other hand, only recently discovered sailing and has risked everything to pursue it. But as different as these two men are, out on the water, they're both after the same thing.
Singlehanders, Shelagh Mackenzie & Kent Nason, provided by the National Film Board of Canada
Eaude
Let's just pause for a minute here – literally – and enjoy a poetic take on the art of diving.
Eaude, Thea Pratt, provided by the National Film Board of Canada
The Big Swim
This film from 1964 takes water sports to a whole new level as it gives us an inside look at Canada's top swimmers in training. These are the folks getting ready for the '64 Olympic Games, under direction of their coach.
Shot in black and white with very little dialogue but a strong soundtrack, the film has a poetic quality to it. We watch men and women train, spending hours of time and effort in the pool and on the diving boards. The reaction of the two boys sitting on the balcony watching the high divers is hysterical.
Even though the film is only 9 minutes long, it gives you a strong sense of the dedication and stamina required to be an Olympic athlete.
The Big Swim, Gilles Carle, provided by the National Film Board of Canada
Summer is for Kids
Okay. I admit it. This film is a cheat. It's not exactly about water sports, and it's a little problematic in its tacit approval of violence as a means to friendship. And I've also got some issues with Austin's bathing suit. But I'm still including it, because it's about one boy's longing to be in the water, and the obstacles he overcomes to get there.
Plus, there's a solid portion around the mid-mark that's very water focused.
The film is about young Roger, who longs to go to camp for summer vacation, and manages to get himself into just enough trouble that he succeeds. Once he arrives, his desire to get into the lake is overwhelming, but he can't swim.
Learning to swim at camp is a rite of passage, and together with the scenes of canoeing and long hikes, this film is sure to summon all the feels.
Summer Is For Kids, Stanley Jackson, provided by the National Film Board of Canada