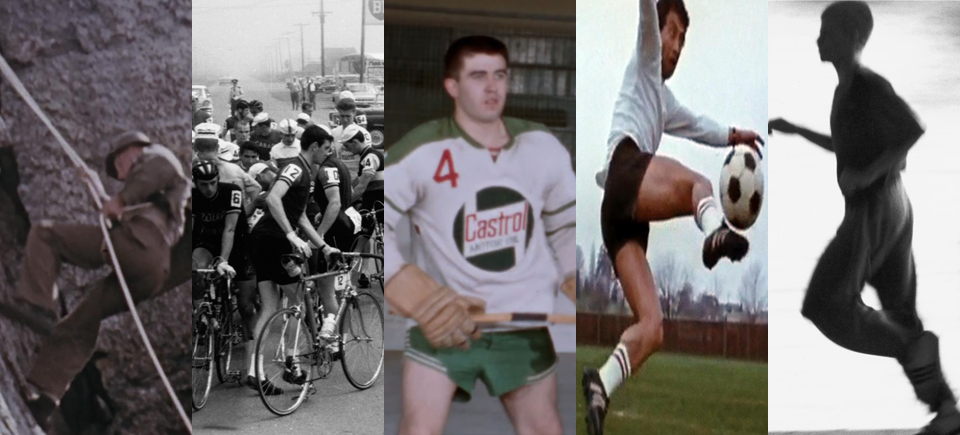 Vintage Sports Docs for the Armchair Athlete
I am a huge sports fan.
My passions are baseball and soccer, but I've been known to enjoy other sports. And as a cinephile, nothing beats discovering a vintage sports documentary. So with that in mind, I'm devoting today's blog post to several of the classic sports films we've produced over the years. Some of these sports don't get a lot of attention in the media, but that's ok: that's what the NFB is for.
Lacrosse (1965)
Did you know that 95 percent of all lacrosse sticks are made in Cornwall, Ontario? It's true (at least it was in 1965), and they're all manufactured by Mohawk craftsmen. Thanks to this film we also learn that field lacrosse is very popular in England and Australia, but that in Canada we play what's known as box lacrosse (in the same enclosures as hockey). And oh yes—I also love those Castrol jerseys!
Lacrosse, Douglas Jackson, provided by the National Film Board of Canada
Soccer (1974)
When this film was made, British Columbia was the hotbed of soccer in Canada. The doc shows us the beautiful game being played by men, women and children throughout the province. I particularly enjoyed the scenes in which the women play their hearts out. Unfortunately, we see far too many games being played with cleats on AstroTurf! My knees and ankles hurt just watching them. Ugh!
Soccer, Shelah Reljic, provided by the National Film Board of Canada
British Empire and Commonwealth Games (1954)
This Canada Carries On entry gives a summary of the sporting events at the 5th Commonwealth Games in Vancouver, which included track and field, swimming, weightlifting and fencing. Twenty-four nations participated and several world records were broken. The most exhilarating moment occurs when both John Landy and Roger Bannister break the four-minute mile—the first time two runners achieved that milestone in the same race.
British Empire and Commonwealth Games , Jack Olsen, provided by the National Film Board of Canada
Singlehanders (1982)
I thoroughly enjoyed this film about two Canadians participating in a trans-Atlantic boating race. The catch is they cross the Atlantic alone on their boats! We follow experienced sailor Mike Birch, who has won this race in the past, and Bob Lush, who is sailing on a small boat with limited means. Lush is on the seas for 39 days, enduring bad weather and being tossed around his cabin. He even runs out of cigarettes midway through the race. An exciting documentary on a sport that we rarely get to see on television.
Singlehanders, Shelagh Mackenzie & Kent Nason, provided by the National Film Board of Canada
60 Cycles (1965)
The 1964 "Tour du St. Laurent" is the subject of this short documentary by Jean-Claude Labrecque (who later co-directed Games of the XXI Olympiad). We see some spectacular footage of this 2,400-km bicycle race, including shots of the cyclists racing in a torrential downpour and several accidents. All this is set to what suspiciously sounds like "Green Onions" by Booker T. and the M.G.s and "Pipeline" by the Ventures. A true 1960s film if I ever saw one.
60 Cycles, Jean-Claude Labrecque, provided by the National Film Board of Canada
Runner (1962)
A beautiful black-and-white classic by Don Owen (Nobody Waved Goodbye) that features Commonwealth Games champion Bruce Kidd in training and in competition. The film includes some amazing 1960s jazz music and spectacular cinematography. Where else will you see runners wearing stylish hats while training? (No, not baseball caps—stylish hats!)
Runner, Don Owen, provided by the National Film Board of Canada
Cliff Hangers (1950)
Another entry in the Canada Carries On series, this film features very funny narration by Lorne Greene and amazing footage of the Alpine Club of Canada on one of their climbs in the Rockies. We are told that the most important pieces of equipment are rope and an ice axe (which is handy if you want to open up a can of tomato juice). The film was shot in glorious (?) Ansco Color.
Cliff Hangers, , provided by the National Film Board of Canada
Craving more vintage sports docs? Check out my blog post on our four baseball films here. Still want more? How about Shooting Stars, about the Edmonton Grads women's basketball team; Golden Gloves, about boxing in 1961; Judoka, featuring scenes shot at the Tokyo Olympics; or Hard Rider, on rodeo star Kenny McLean.
Enjoy the films.