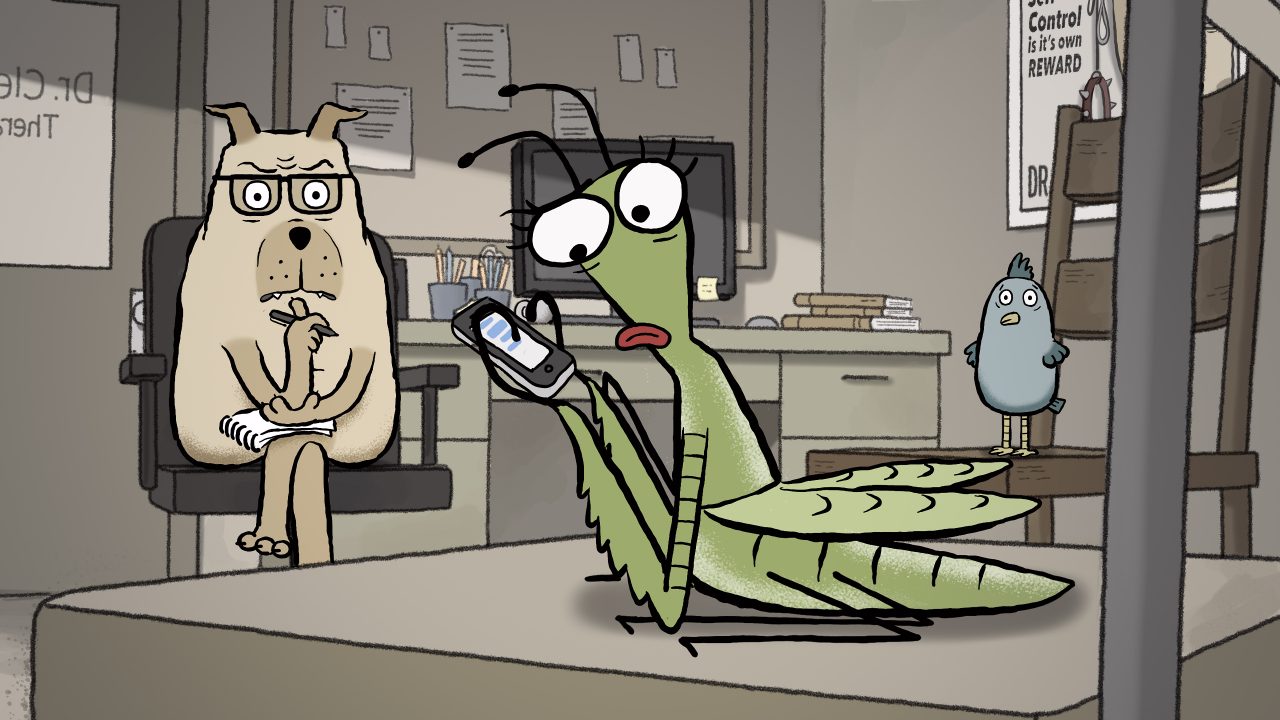 Saturday's Playlist : The NFB at TIFF
It's TIFF Time again. The 2018 edition of the Toronto International Film Festival runs from September 7 – 17, and this year we've got 3 films appearing.
The NFB at TIFF 2018
With What is Democracy?, Astra Taylor (Examined Life) brings another timely philosophical doc to TIFF. She takes us from ancient Athens' experiment in self-government to medieval capitalism in Italy; from modern-day Greece and its financial collapse to the mounting refugee crisis in the US. All in search of the meaning of democracy.
What is Democracy?, Astra Taylor, provided by the National Film Board of Canada
Animation filmmaker Patrick Bouchard brings us The Subject, in which he dissects his own body – literally – in search of the memories, emotions, and fears that drive his work. It's a film heavy in introspection, engaging viewers in a uniquely visceral experience.
The Subject, Patrick Bouchard, provided by the National Film Board of Canada
And last but certainly not least, animation darlings Alison Snowden and David Fine finally return to the NFB family with Animal Behaviour, their latest animated short about a motley crew of beasts in group therapy – led by a dog named Dr. Clement. It's a witty, poignant, and laugh-out-loud film sure to delight audiences.
Animal Behaviour, David Fine & Alison Snowden, provided by the National Film Board of Canada
Previous NFB films at TIFF
In the spirit of the festival, this week we've lined up some films that have screened at TIFF in the past. This is just a small selection, but we hope you'll enjoy it.
The Spine
Chris Landreth is a filmmaker who's had several films at TIFF, including Ryan, his Oscar-winning short about acclaimed animator Ryan Larkin, and Subconscious Password, his surreal romp through the subconscious mind in search of a long-lost acquaintance's name.
With The Spine, Landreth brings us a dark and disturbing tale about a couple stuck in a self-destructive spiral after 26 years of marriage. It's a film about relationships and redemption, and it's brought to us in Landreth's signature style.
There is a look to Landreth's films that allow you to pick them out of a crowd with ease. His visual aesthetic, his use of digital imagery, his sense of humour – they shine through no matter what the film or its subject matter. He has become a master at integrating the form into the content, and it works beautifully in this film, with characters whose visual appearance serves as metaphors for their souls.
The Spine, Chris Landreth, provided by the National Film Board of Canada
Westray
Paul Cowan is another filmmaker who's no stranger to TIFF. His film, Democracy on Trial: The Morgentaler Affair, from 1984 also appeared at the festival.
This film, from 2001, is a tribute to the Westray coal mine disaster that killed 26 men in Nova Scotia in May 1992. By focusing on the lives of three widows and three surviving miners, Cowan avoids producing a sensationalist film and provides us with a moving, intimate account of the lives affected. Cowan is a genius at finding the humanity in a story, and he does it again here.
As with other of his films, he doesn't shy away from using re-enactments. Sometimes that's an iffy way to go, but not for Cowan, and in this doc, it really works. It puts a human face on the disaster and brings us right into the heart of the story.
Westray , Paul Cowan, provided by the National Film Board of Canada
The Hat
Michèle Cournoyer's 6-minute powerhouse of a film will blow you away. Not for the faint at heart, it's an animated journey through a lifetime of painful memories. It screened at TIFF in 1999.
Done in her signature black ink drawings, Cournoyer uses spare images shown in rapid succession to take us through an intimate and gut-wrenching experience. Scenes of physical and sexual abuse morph into each other, with the recurring appearance of a hat. It is unrelenting, visceral, and a masterpiece of a film.
Cournoyer made a return trip to TIFF with a later film, Accordion, in 2004. That film explored the connection between love, sex, and technology.
The Hat, Michèle Cournoyer, provided by the National Film Board of Canada
Project Grizzly
Peter Lynch's feature doc about Troy James Hurtubise and his famous bear-proof suit was at TIFF in 1996. We have featured and written about this film so many times, there's little left to say about it.
Hurtubise died a little over a year ago in a head-on collision with a truck on the highway. His story sadly reminds me a little of Ryan Larkin's, in the sense that he was an artist/inventor who was completely sidelined by mental illness.
This is a man who was a cult figure, with fans like Quentin Tarantino. He was a fearless inventor, but he also had another side. For years he struggled with depression and mental illness. After the success of this film, things just kind of went downhill for him. He was last in the public eye a few years back, trying to raise funds for a sequel.
If you haven't seen the film, it's worth the watch. Characters like this don't come along often.
Project Grizzly , Peter Lynch, provided by the National Film Board of Canada
On Instagram This Week