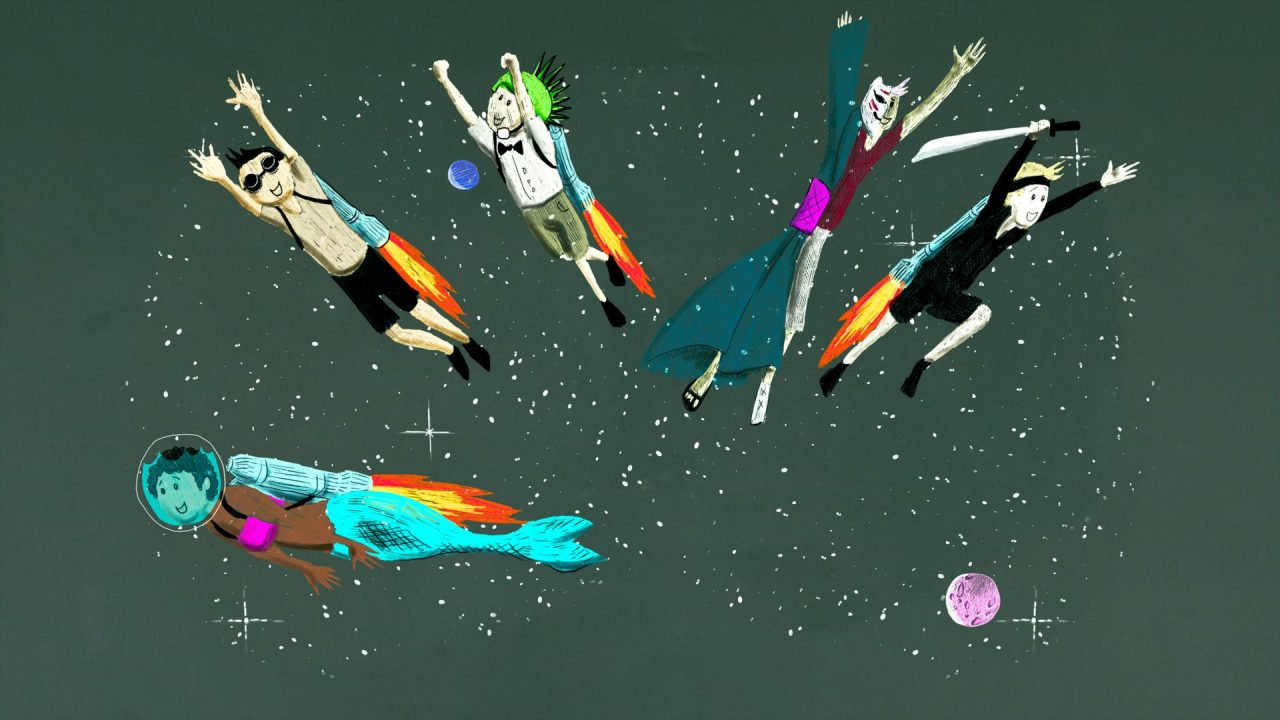 The Beauty of Transgender Lived Experiences
"I love mermaids. They are part of two worlds they are part of the ocean world and the human world. And, sometimes, they have to decide which world they want to live in. I can kind of relate to that."
This statement, spoken by Tru, introduces us to one of the young people sharing her story in Christina Willings' documentary Beauty.  Tru relates how she sometimes feels pulled in different directions with regard to her identity. Most of us hold assumptions and ideas about what gender is and the role it should play in people's lives. We may understand our gender, but to truly know someone else's gender journey as it relates to their identity and/or expression, we must hear from them.
Beauty, Christina Willings, provided by the National Film Board of Canada
Beauty follows five gender-diverse young people whose stories give viewers the unique opportunity to listen to and learn how young people experience the world when their gender does not conform to society's expectations. These stories are timely in the education sector, because many schools are trying to actively promote inclusive and safer spaces for students and staff. We need to hear the voices of lived experiences so that we can recognize where our challenges and strengths lie.
There are various ways that Beauty can be employed in discussions about gender diversity in the classroom. Below is a list of topics to explore with students.
Transgender and Gender-Creative People Have Positive Stories to Tell
As transgender and gender-diverse people have fought for rights, recognition, and respect, many of the prominent narratives about them in contemporary culture emphasize their anger or humiliation at the marginalization or oppression they've faced. Yet, transgender and gender-diverse people have beautiful life experiences to share and many are positive. Several of the brave young people in Beauty spoke about how their families supported them, about their dating partners and about their modes of self-expression. They are living full lives with relationships, interests, talents, friends and supportive adults.
Questions for the classroom:
What is a positive story you've heard about transgender or gender-diverse people?
How can you affirm someone else's gender identity or gender expression? (Affirmation can be in the form of words, statements, actions, etc.)
Transphobia
Transphobia is real. In Beauty, Bex states, "I don't like to talk about it in public because it could be dangerous for me." In Egale Canada's Every Class in Every School: Final Report on the First National Climate Survey on Homophobia, Biphobia and Transphobia in Canadian Schools (2011), trans-identified students report high levels of verbal, physical and sexual harassment on a daily basis at school. The youth in the film shared how they were verbally harassed when they ran in single-gendered sports teams and how they experienced sexual harassment in the washroom at school.
Questions for the classroom:
What challenges do you believe transgender or gender-diverse students would experience in your school?
In what ways can students and staff intervene to make their schools safer?
Policies and Spaces
Beauty presents an opportunity for students to reflect on how they, and their school, could proactively educate their peers and develop wiser school polices relating to gender. For example, schools continue to have a lot of work to do in single-gendered spaces such as washrooms and physical-education change rooms. This issue is highlighted in the film when Fox tells us that, "I had to be escorted to the washroom because they could not believe I was either gender. It was disgusting to me." In addition to Fox's comment, Bex states, "I don't like going to the girls' washroom. I hate it…. Because I am a boy." Students might consider the necessity of providing safe access to washrooms for all people. This is a complex issue that speaks about people's feelings of comfort and safety. Often the discussion is more in depth than about just having an all-gender washroom in a school, as that is not always enough to ensure the experience is private, accessible, safe and comfortable.
Questions for the classroom:
What policies exist to protect gender identity and gender-expression rights for people in Canada and in your respective province?
How do policies help people feel safe in your school? What else needs to be done?
Families
Having supportive and affirming family members significantly contributes to better mental-health and well-being outcomes for transgender and gender-creative youth, as indicated in Being Safe, Being Me in Ontario: Results of the Canadian Trans Youth Health Survey (2014). Each youth in Beauty introduces us to their families, and students can consider how families impact their own development.
Questions for the classroom:
How does having a supportive family help individuals who may be different from others? What makes you think this is important?
Can you share any stories of supportive families?
Medical-Transition Options
The gender-creative youth in this film also share thoughts on medical-transition options, such as puberty blockers and cross-sex hormones, and how these tools allow them to be their true and authentic selves and affirm their gender identities and expressions.
Questions for the classroom:
Why do you think people are often curious about medical-transition stories from transgender and gender-diverse people?
Many transgender and gender-diverse people do not want to talk about their medical transition with others. How can people respect other people's boundaries and privacy? What questions do you believe are inappropriate to ask?
Coping
Most of the youth in Beauty speak about how they find ways to cope with being different or experiencing transphobia. They talk about self-expression through art, fighting for trans rights in the Catholic School Board or making movies with their dolls to capture what "real" endings should look like. Coping is a life lesson we all must learn, and for some, increased adversity makes learning to find coping strategies even more important.
Questions for the classroom:
Why is learning to cope with difficulties or adversity so important?
What positive coping methods have you seen others use?
What good coping methods have you used in the past?
As changes are made to our curriculum and educators work hard to create safer spaces for students of all gender identities and expressions in the classroom, we need more tools to have sensitive conversations. Beauty has created a space for lived experience to be shared, and we can teach our students to listen, empathize and appreciate the beauty that lies within these narratives. This film can be used in the classroom to introduce gender identity through the powerful stories of youth, as opposed to hearing from professionals or researchers who speak about them.
We can make our society a safer and more inclusive place for transgender, gender-fluid and gender-creative people if we learn to listen to them and take action based on what they tell us.
Gaela Mintz has worked as a Social Worker in the Gender-Based Violence Prevention Office at the Toronto District School Board for the last eight years. She recently opened a full-time private practice providing individual and family psychotherapy services to children, youth, adults and families. For more information you can check out her website.
Pour lire cet article en français, cliquez ici.
Discover more Educational blog posts | Watch educational films on NFB Education | Subscribe to the NFB Education Newsletter | Follow NFB Education on Facebook | Follow NFB Education on Twitter | Follow NFB Education on Pinterest