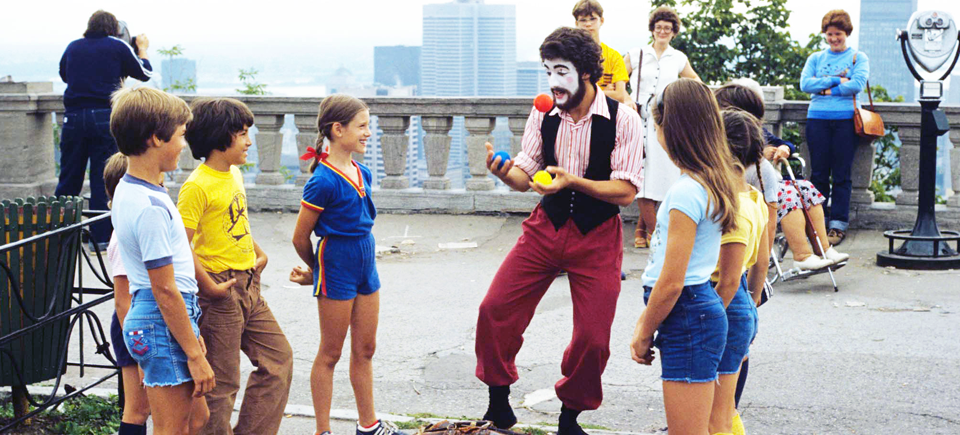 Gather Round and Watch 5 Films for the Whole Family
Last year we created a special NFB.ca channel that offered 33 films for the entire family, just in time for the holidays. We've revamped the offer this year, adding several fun films that are great for kids of all ages (including those of us who are still young at heart). The selection of classic titles once again includes charming animation, short live-action fiction and several Christmas-themed films. And just as I did last year, I'm highlighting a few of the films you won't want to miss.
The Juggler is a delightful live-action short whose titular character loses his yellow ball in the middle of a performance. The film follows him as he attempts to retrieve it. He meets several interesting people along the way, including some impatient tennis players, a helpful cyclist and a mysterious woman. All ends well when a few kids come to the rescue, in this lovely film without words that's sure to bring a smile to your face. Make it a double header with The Ride, which features a crazy chase on toboggan, skis and snowmobile.
The Juggler, Thomas Vamos, provided by the National Film Board of Canada
There are more zany adventures in The Hungry Squid, in which young Dorothy is constantly losing her homework because various animals keep eating it! Poor Dorothy has hair that never behaves, absentee parents and now trouble with those animals. This hilarious tale from John Weldon is a sort of "The Boy Who Cried Wolf" on steroids — and guaranteed to make you laugh. In The Girl Who Hated Books, another film featuring a young female protagonist, Meena tries to figure out what to do when all sorts of characters from famous stories escape the pages of their books and wreak havoc in her house.
The Hungry Squid, John Weldon, provided by the National Film Board of Canada
What do you do when the wall of your house suddenly slides open to make way for a subway stop? Faced with this dilemma, a young boy named Jonathan decides to go to city hall to fix the problem, but there he's confronted with the giant super computer that supposedly manages the entire city. Based on a book by Robert Munsch, Blackberry Subway Jam is a cute animated film that shows us how things are not always what they seem. If you're interested in another story about machines running amuck, check out The Underground Movie, in which Doctor Phillip Square builds a contraption that can dig straight through to the centre of the earth!!
Blackberry Subway Jam, Robert Doucet, provided by the National Film Board of Canada
All Cathy and her brother John want for Christmas is a pony; however, dad is of the opinion that there's already way too much to do on the farm. Cathy and John have saved up just about enough money to buy The Pony from their neighbour, but what will they tell mom and dad? Better hide "Pancho" in the barn while making sure he stays warm and has enough food and water. Of course, everything ends well, and just in time for Christmas. I smiled throughout this lovely film, which will make you nostalgic for the good old days before the advent of video games and smartphones. If you're a fan of this type of short Christmas film, take a look at Anne Wheeler's Teach Me to Dance, a tale of friendship between two young girls who want to perform a Ukrainian dance at a Christmas show, much to the chagrin of one of their fathers. Fortunately, friendship wins out in the end.
The Pony, Lawrence Cherry, provided by the National Film Board of Canada
Sea Dream is an endearing animated short about the power of escaping into your imagination when you're having a bad day. This one is great for the younger kids, as is The Animal Movie, which follows a little boy who goes on various adventures with a bunch of different animals.
Sea Dream, Ellen Besen, provided by the National Film Board of Canada
The entire offer is available here. So, gather the kids together, grab a cup of hot chocolate, and enjoy!