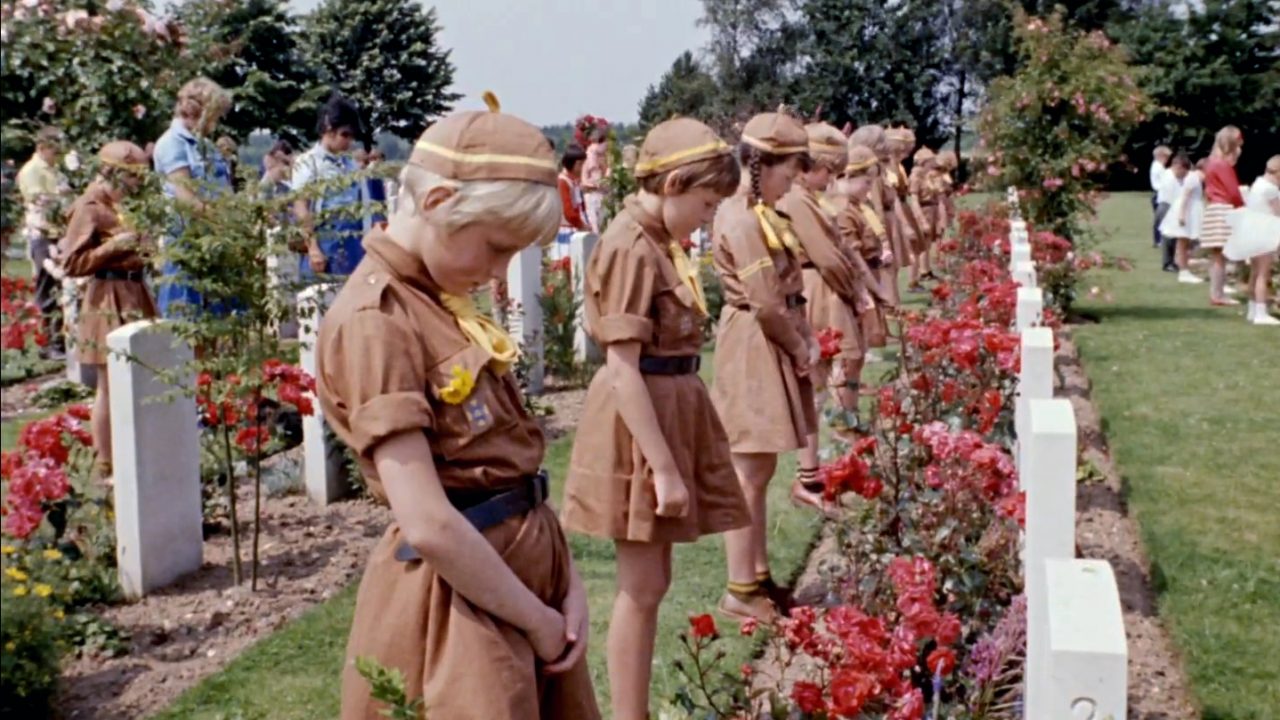 An Eloquent Tribute to the Canadian War Dead | Curator's Perspective
One of the most powerful films I
'
ve ever seen is Donald Brittain's 
Fields of Sacrifice
, a documentary he made in 1963
about
the 
Canadian 
soldiers 
who were killed during
 the two 
w
orld 
w
ars.
I always include it in Remembrance Day programming on NFB.ca because it's an exceptional film, but more importantly, it's a film I want people to discover. My blog post today delves deeper into this remarkable doc and how and why it was made.  
When I first heard of Fields of Sacrifice, I admit that my initial reaction was one of reticence. A film about the war dead must be handled delicately by the filmmaker. How do you make a film about soldiers making the ultimate sacrifice? I did not need to worry. Donald Brittain was able to pay tribute in his own distinct and sensitive way.
When the Department of Veteran Affairs approached the NFB to make a film about the Canadian war dead of the First and Second World Wars, nobody at the NFB was quite sure how to produce such a film.  Brittain had just finished working on the Canada at War series, for which he had assembled 13 half–hour episodes out of six million feet of war footage he'd combed through. He had also written the narration for the series. He was a natural fit for the project and accepted immediately.
Veteran Affairs was very conscious of the need to ensure Fields of Sacrifice was seen by the greatest number of Canadians possible. They wanted a film with a runtime of approximately 30 minutes that could be shown in schools, public libraries and the like. The NFB suggested also producing a shorter version of about 20 minutes that could be shown in theatres along with feature films. For this reason, it was decided to shoot in 35 mm.
Brittain knew that just showing war cemeteries was not the most visually interesting thing to do. He travelled throughout Europe in the summer of 1962 with cameraman Eugene Boyko, filming the major battlefields as they appeared then, showing the people of the various countries now living their lives normally in peacetime. He planned to contrast these peaceful images with footage of these same places shot during the war. In one stirring sequence, he showed an abandoned RAF airbase now overgrown with weeds. Instead of crosscutting with images of the war, he simply contrasted these 1960s images with a soundtrack of pilots scrambling to intercept German bombers. He also juxtaposed sounds of battle with shots of tourists visiting the same places 20 years later.
THE BEST WWI FILMS YOU'LL SEE THIS REMEMBRANCE DAY
 The visuals are impressive (the sequence of the Dutch children laying flowers on the graves of the soldiers comes to mind), but the narration written by Brittain is sublime. It eloquently tells the story of the 100,000 soldiers who made the sacrifice. Actor Douglas Rain (the voice of HAL in 2001: A Space Odyssey) was chosen to give life to Brittain's words. Eldon Rathburn contributed a respectful, sombre score.
When the film was finished, Columbia Pictures agreed to distribute it in Canada. The world premiere took place in Ottawa on October 23, 1963, with Governor General Georges Vanier and 600 distinguished guests present (Vanier called the film "magnificent"). While a 20-minute version had been made specifically for theatres, theatre owners were so impressed with the complete 38-minute version that many of them booked it instead.
Reviewers praised Fields of Sacrifice, calling it a triumph. The Winnipeg Tribune said it was "(a) work of art, handled… with delicacy and taste belonging to a master." Veterans were also very impressed with the film, as were audiences. It played across the country for over two years, accompanying several feature films but most often the NFB's Drylanders. Throughout the year 1964, the film was also shown several times a day at the Imperial War Museum in London, to excellent response.
Fields of Sacrifice, Donald Brittain, provided by the National Film Board of Canada
On Remembrance Day in 1965, it was broadcast on the full CBC network and on Radio-Canada. It won several awards, including Canadian Film Awards.
I invite you to watch this beautiful, thoughtful tribute to our war dead. It is rightly considered Brittain's first masterpiece. I leave you with the sentence that ends the film, written in Brittain's eloquent style: "… and they were joined in violent death by other Canadians—until there were a hundred thousand memories of the two world wars over the fields of sacrifice."
May their sacrifice never be forgotten.