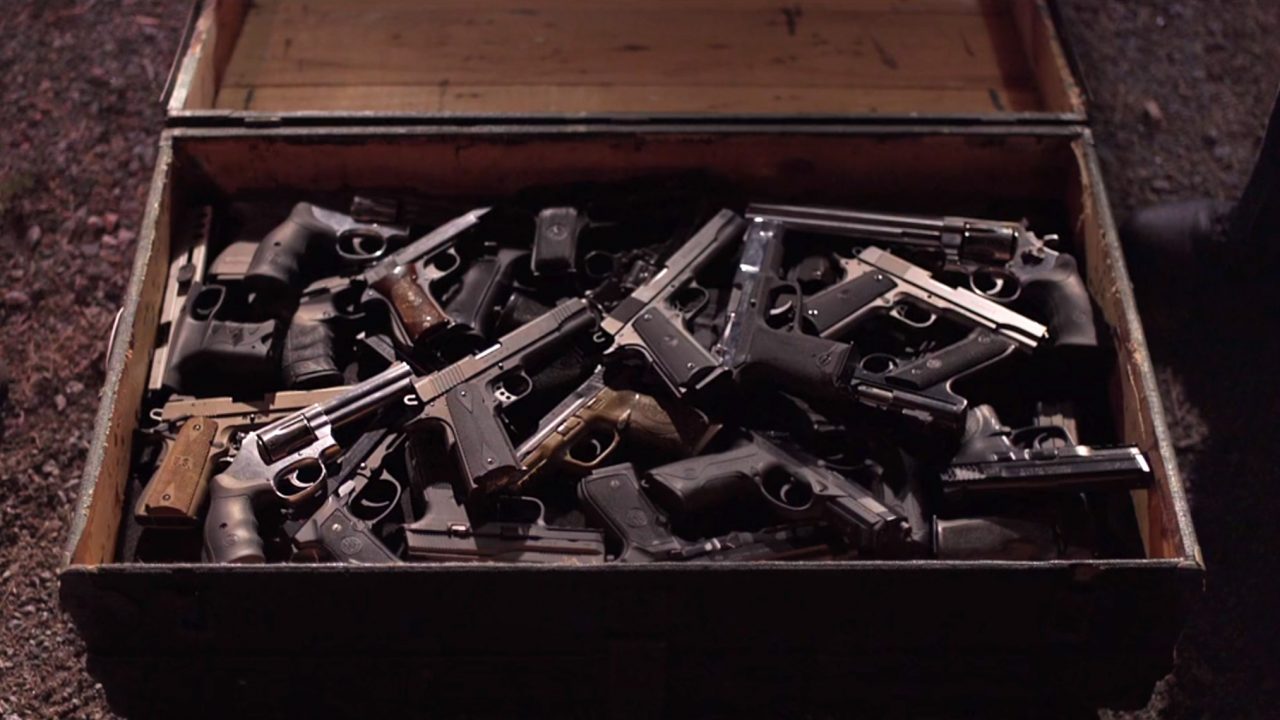 Gun Killers: A Reckoning for Illegal Firearms
As the gun control debate rages amid frequent senseless tragedies in both the US and Canada—and especially after the recent mass shooting rampage in Nova Scotia in which a man used illegal guns to kill 22 people—the subject of this film appears to me even more timely and relevant.
Jason Young is an award-winning filmmaker. He has written and directed films for the NFB, CBC and the Canada Council for the Arts. His film Gun Killers was nominated for Best Short Documentary at the 2020 Canadian Screen Awards and was recently presented online at the 2020 Hot Docs International Film Festival.
The documentary focuses on John and Nancy Little, a retired blacksmithing couple who live a seemingly quiet and peaceful life in rural Nova Scotia, yet, without publicity, they also carry out the violent work of destroying illegal guns for the police.
Beyond the Aesthetic
Glowing red-hot guns emerge from a fiery forge, and pounding hammers smash them on an anvil. The images are visually powerful, but their value goes beyond the aesthetic. Destroying seized illicit weapons and showing that destruction publicly is viewed by the United Nations as an essential confidence-building measure for civil society. In Kenya, for instance, the government periodically burns huge piles of confiscated small arms in front of villagers who have been directly affected by gun violence. In Brazil, they sometimes use a steamroller to flatten illegal guns in an operation carried out on city streets for the general public to see.
When I learned that viewing the destruction of illegal weapons has a positive psychological effect on victims of gun violence, I realized that I had to make this film.
In Canada, under the law, illegal guns confiscated by police must be destroyed­—but it has always been done out of public view, in secret. Documenting the destruction of weapons and disseminating that imagery to the public was the central aim of this project.
Our society as a whole has been victimized by gun violence. My hope is that this anti-gun film will be of use not only to those immediately affected by the recent gun violence in Nova Scotia, but also to the larger public across Canada and abroad.
A Doc/Art Hybrid
With this project, I wanted to explore the serious issue of gun control in a more abstract and artistic way than the documentary genre usually allows. I have always been interested in the juxtaposition and interplay of images with unexpected sounds as a means of evoking new thoughts.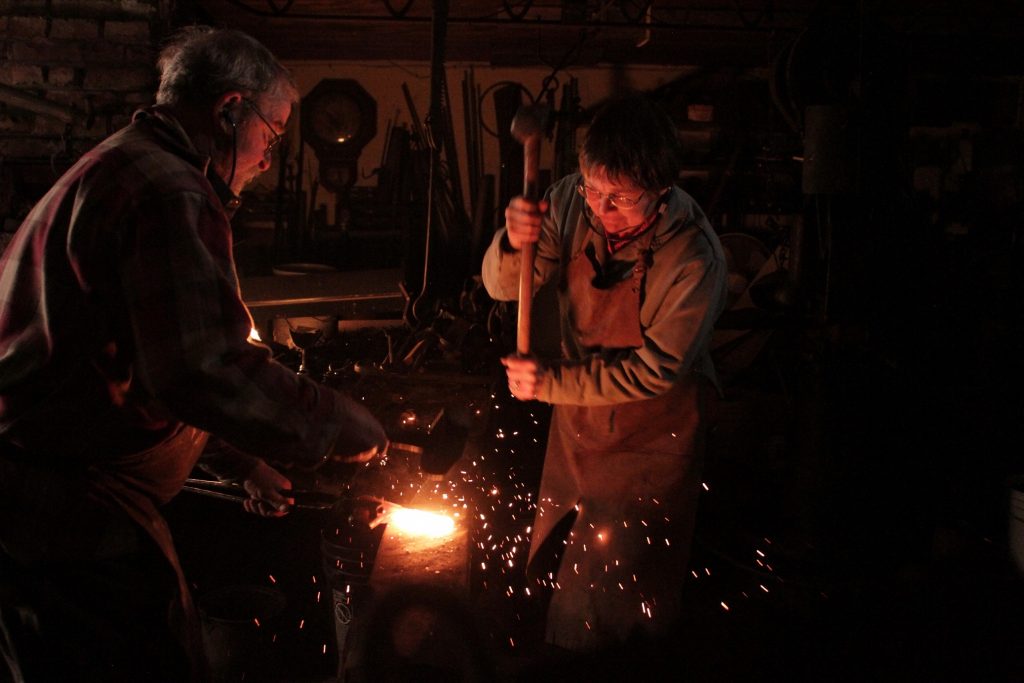 Gun Killers offers a window into an important event, rather than a character-driven story. Scenes depicting the idyllic lifestyle of John and Nancy Little and the calm atmosphere of their oceanside property contrast sharply with violent imagery of this elderly couple flattening illegal guns. While they go about their work inside their blacksmith shop, surreal sounds play over the images—911 calls, police dispatch radio, sirens and chaos. As a gun is hammered flat on the anvil and destroyed, the sounds come to a halt, as do, symbolically, the related crimes.
The purpose of the disjunctive, dynamic interplay between sound and image is to make a simple yet important point: destroying illegal guns eliminates their potential use in future crimes and thereby saves lives.
With its highly dramatic presentation and no character dialogue or narration, Gun Killers is a doc/art film that conveys an urgent message. 
John and Nancy
John and Nancy Little are remarkable individuals who have lived together on their secluded shoreline property for 50 years—"always within 200 feet of each other"—growing their own vegetables in expansive gardens and harvesting from the sea. John built a blacksmith shop on a rocky cliff and has spent decades creating metal art and elaborate sound contraptions.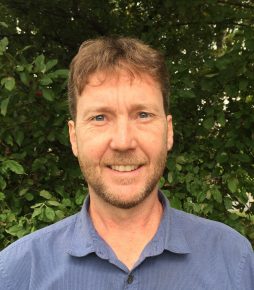 The unique sounds produced by John's one-of–a-kind metal sculptures are an important element of the film. Composer Paul Frehner harnessed their musical potential years ago, recording a full range of sonic effects, from low and guttural to eerie, high-pitched and metallic. It was one of his compositions, Submerged Echoes, that inspired the dark and dramatic vision of this film, and his metal music ultimately became its central driving soundtrack.
Over the years John and Nancy's lives have intersected with many people who have sought out their creative skills. Their ability to work with hammers and hot steel has led to projects with artists, actors, musicians, photographers, and filmmakers—and ultimately to their most surprising collaboration: with the local police.
According to John and Nancy, the task of secretly smashing a stash of over 400 illegal handguns that were taken off the streets of Halifax was "one of the bests gigs we ever had!"
---
WATCH GUN KILLERS
Gun Killers, Jason Young, provided by the National Film Board of Canada