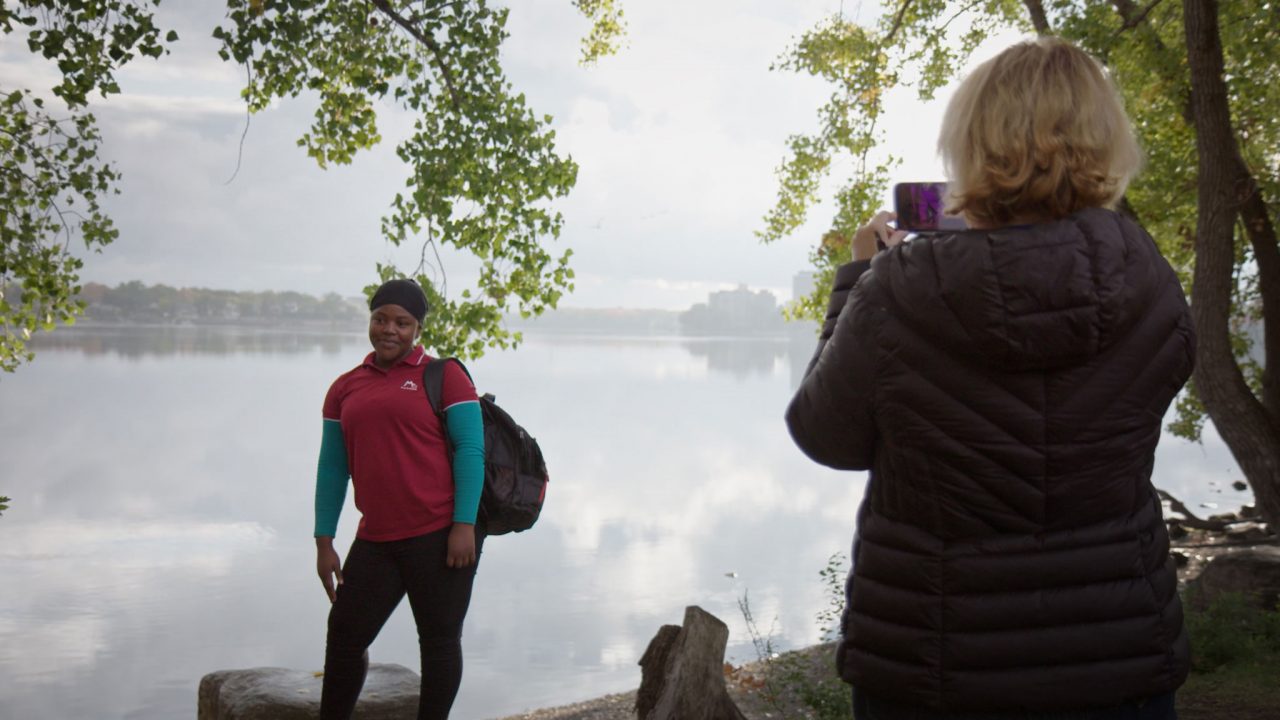 Mini-Lesson for Unspoken Tears (Secondary)
Mini-Lesson for Unspoken Tears (Secondary)
School Subjects:
Art Education: Art
Physical Education: Safety/Leadership
Civics: Human Rights
Health and Personal Development: Problem Solving/Conflict Resolution
Ages: 15-17
Warnings: Viewer discretion is advised, as there is discussion of sexual assault and teen pregnancy that may be triggering for some students and staff. It is important to approach difficult topics with care and sensitivity in the classroom. Teachers should assess how to deal with these difficult topics with their students.  There may be some content in the film that could trigger a past traumatic experience. It is therefore imperative that a list of resources is made available to students easily and confidentially. The presence of a social worker in the classroom is recommended.
Unspoken Tears – Mandjey (Clip), , provided by the National Film Board of Canada
Keywords/ Topics: Empathy, Identity, Culture, Refugee, Belonging, Acceptance, Community, Exclusion
Overarching Question: Why create empathy and compassion for refugees?
Educational Synopsis: This scene in Unspoken Tears features 17-year-old Mandjey, who grew up in a refugee camp in the Ivory Coast and is now attending high school in Quebec. She describes how difficult the transition has been, but with perseverance she's managed to learn how to read, write and speak in French, and is now raising her son as a single mom. By watching the clips of Mandjey and going through the activities in this mini-lesson, students will gain an understanding that identity is made up of many interconnected aspects—such as life experience, family history, heritage and peer groups—and an awareness of how others may feel, while taking steps to help them feel included. (In French with English subtitles.)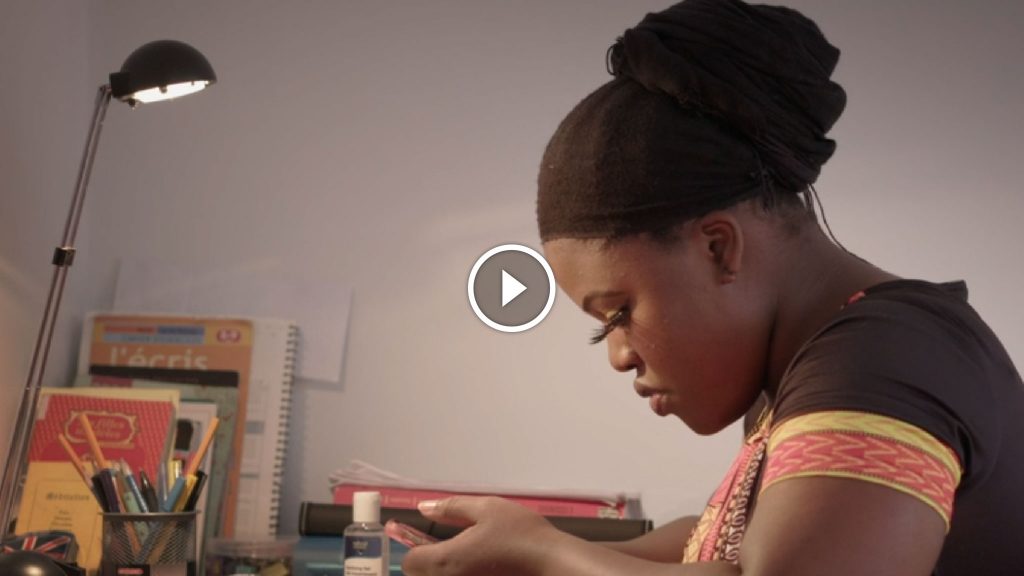 Class Discussion
Define empathy and compassion
To develop empathy, students can be encouraged to become aware of others' feelings and to see situations from alternate points of view. The following questions are for sharing with your students in a classroom discussion.
Questions:
What is empathy? Why is it important to show empathy toward others? What does it mean to "put yourself in someone else's shoes"?
Think of a time when you hurt someone's feelings. Describe what happened. How did you know you hurt the person's feelings? How did you feel about the situation? Did you do anything to make the situation better?
OR depending on your students:
Think of a time when you saw someone else's feelings being hurt. Describe what happened. How did you know that person's feelings were hurt? How did you feel about the situation? Did you do anything to make the situation better?
Context review:
Mandjey describes being born in a refugee camp after her mother fled civil war in Liberia. Have students research why people had to flee Liberia and where many of them went. What role did Canada play in assisting Liberian refugees?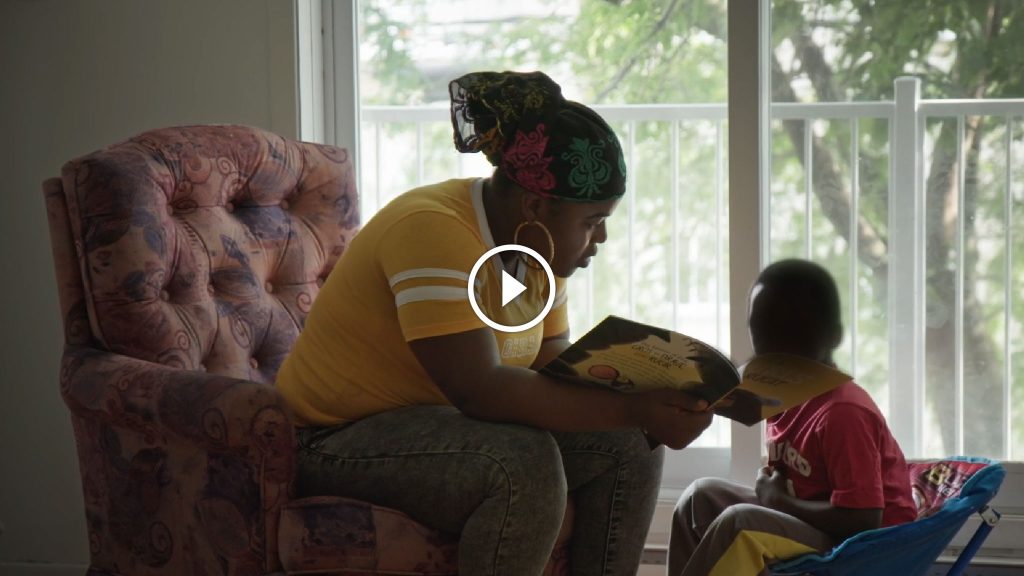 Questions:
What challenges did Mandjey face as a refugee settling in Quebec?
What and who helped her to overcome her challenges?
For the questions below offer students the option to answer about someone else they know, rather than themselves (depending on what the class is like).
Think about a time when you faced a difficult challenge that you thought you might not overcome.
What were you feeling? What were you thinking?
How did overcoming the difficult challenge change you?
What helped you during this situation?
Examples could be anxiety over COVID, the death of a family member, moving, etc.
Create your own personal support network using drawings and/or doodles. Examples might be family, friends, teachers, professionals, places, environments—anything or anyone that makes you feel affirmed and supported.
Summary: Class discussion
Why might your support network change? Students will share their experiences as to reasons why support networks may change and how their support networks need to be updated.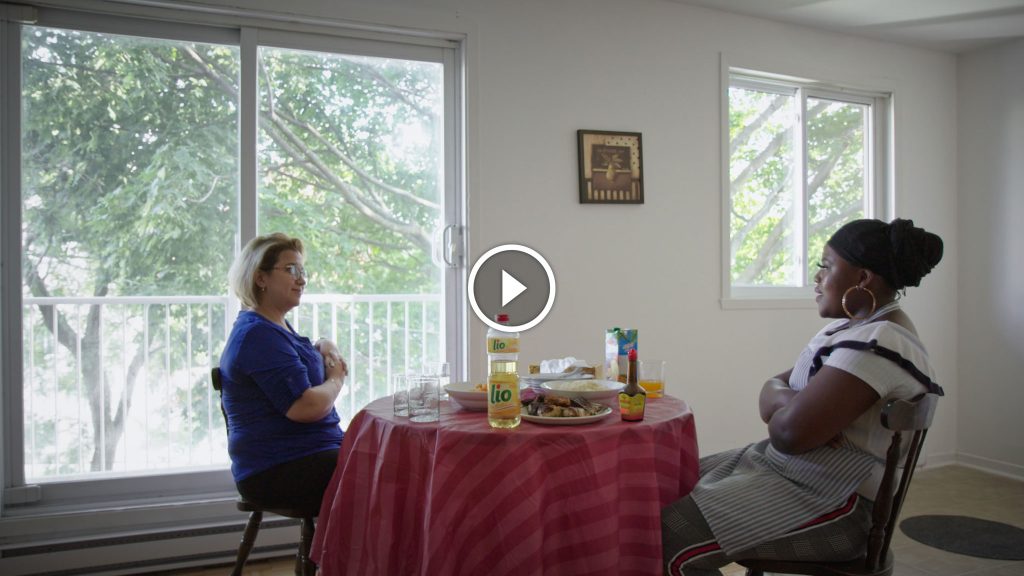 Warning: Mandjey's story involves discussion of teen pregnancy and sexual assault, which may be triggering for some students and staff
Class discussion using the following questions:
Mandjey has faced multiple traumatic circumstances at an early age and had little support from her family and community.
What responsibilities did Mandjey have from an early age?
What did Mandjey want and need the most?
Why do you think others rejected Mandjey?
Why is having a friend and moral support so important for Mandjey?
As a class, define a classroom community.
Place chart paper in four corners of the room. Three charts will contain one of the questions below, with a fourth chart serving as a spot to draw a picture related to belonging.
What are some times/places where you feel that you belong?
What are some times/places where someone may feel that they don't belong?
What are some ways that you can make others feel included and supported?
Divide students into four groups. Each of the groups will start adding their answers to the chart in one of the corners of the room before moving to the next chart, until all students have contributed to each of the charts.
Summary: Class discussion
How do you help others develop a sense of belonging? How do you help others feel supported? Students review what they have written and drawn and discuss what it means to have a sense of belonging and support, and how to develop it for their peers.
Take Action: Creating Community
Students have learned throughout the above exercises that refugees deserve compassion and empathy. The last discussion should deal with the question of what role students can play in developing those qualities themselves and making their community (the school/classroom) more inclusive for refugees. The discussion should be guided towards the topic of making connections. What can students do to foster healthy relationships with students they might have difficulty understanding?
Students will write and submit a proposal to their teacher that supports the need to create a school club that facilitates developing a social circle, empathy and a sense of belonging. This proposal could be as simple as forming an inclusive board-game club. A club provides the opportunity for students to discuss and indulge in personal interests in a way that lets them find common ground with peers.
Melanie Miki, B.A. (U of R), B.Ed. (UVic), M.Ed. (SFU), M.Ed. (UBC)
Melanie Miki is an experienced counsellor and special education teacher for the Surrey School District. Melanie is also an instructor and course writer for Queen's University. She enjoys sharing her experiences of the outdoors and appreciation for the arts when teaching students about the world around them.
Pour lire cet article en français, cliquez ici.
Discover more Mini-Lessons | Watch educational films on NFB Education | Watch educational playlists on NFB Education | Follow NFB Education on Facebook | Follow NFB Education on Pinterest | Subscribe to the NFB Education Newsletter