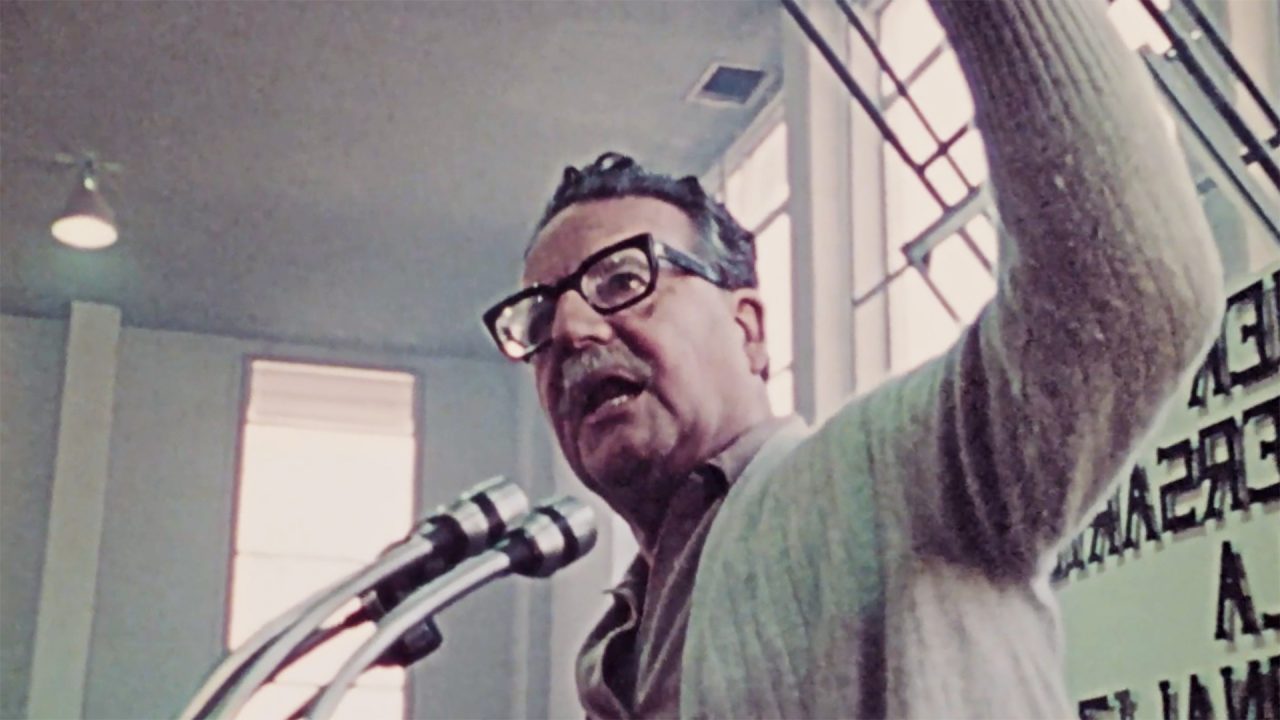 The Chilean Coup as Seen by NFB Filmmakers | Curator's Perspective
Most North Americans associate the date of September 11 with the tragic events that took place in New York in 2001. But there's another horrific and historically significant incident that also occurred on September 11, 50 years ago this month: the military coup in Chile and the death of Salvador Allende.
"General Augusto Pinochet, Commander-in-Chief of the Chilean Army, backed by the CIA and the US government, brutally overthrew the government of democratically elected President Salvador Allende,"[i] my colleague Marc St-Pierre, the French collection curator, noted in a blog post he wrote 10 years ago.
To mark the solemn 50th anniversary of Allende's overthrow, this edition of Curator's Perspective is dedicated to revisiting Chile's coup d'état through the eyes of various NFB filmmakers. To begin with, I invite you to watch Chile, Obstinate Memory (1997) by Patricio Guzmán—truly a living legend of documentary cinema. One of the best docs ever produced by the NFB, the film is about the director's return to his motherland for the first time after 23 years of exile.
Chile, Obstinate Memory, Patricio Guzman, provided by the National Film Board of Canada
A Chilean Testimony Recorded by Quebecois Filmmakers
Salvador Allende Gossens was the world's first democratically elected socialist president. Chile's sociopolitical development, based on Allende's idea of Unidad Popular (Popular Unity), attracted the attention of several governments, politicians and ordinary people who hoped that more equal societies could flourish around the globe.
It also attracted two NFB filmmakers, Maurice Bulbulian and Michel Gauthier, who travelled to South America in 1972 to draw parallels between the exploitation of miners and mineral wealth in Quebec and in Chile. The result of their trip was two films, Richesse des autres (1973-available only in French) and Salvador Allende Gossens: A Testimony (1974-made available to the public on this 50th-anniversary occasion). The latter is a rare and unique portrait of Chile's president, in which Allende explains the sociopolitical and financial reforms he envisaged for his country, e.g., the nationalization of the copper industry (iconic Quebec political figures René Lévesque, Théo Gagné and Joseph Gosselin also appear in the film).
Salvador Allende Gossens: A Testimony, Maurice Bulbulian & Michel Gauthier, provided by the National Film Board of Canada
Chilean Filmmakers Exiled in Canada
"In the bloody dictatorship that followed Allende's overthrow, president supporters, left-wing activists and opponents of the dictatorship were kidnapped, tortured and murdered,"[ii] St-Pierre notes in his blog post—although many also managed to escape, becoming political refugees in locations all around the world.
About 7,000 Chileans were permitted to enter Canada as refugees from Chile.[iii] Among those forced to flee their country were Marilú Mallet, Jorge Fajardo and Rodrigo González, who would become the first Latin American-born filmmakers to direct a film in Canada. They teamed up to make Il n'y a pas d'oubli (1975), which is not available in English in its entirety (the title could be translated into something like, "There Is No Oblivion"). The film is composed of three parts, each of which was directed by one of these Chilean filmmakers. The only part that's available in English is the last one, Steel Blues, by Jorge Fajardo, about a university professor and left-wing activist who seeks work in a Montreal steel mill. Fajardo's film is one of my personal favourites, although it's also one of the most distressing in our collection.
Steel Blues, Jorge Fajardo, provided by the National Film Board of Canada
La Cueca Sola: A Portrait of Chilean Women
Of these three Chilean filmmakers, only Marilú Mallet continued to make films for the NFB. Throughout a career spanning 50 years, she's directed more than a dozen films, five of which were produced by the NFB: Lentemente (1974), Les Borges (1978), Child of the Andes (1985), Chère Amérique (1990) and La Cueca Sola (2003). Today regarded as one of the first and most important female directors from Chile, Mallet has created most of her body of work in exile.
La Cueca Sola (also made available on nfb.ca to commemorate the coup) reflects on the experiences of five women during the dictatorship that followed Allende's death, when thousands of men disappeared. "Donde estan? (Where are they?)," ask the women, referring to the men they partnered with to perform a traditional Chilean courtship dance called la cueca. Though the women suffered under the dictatorship, they emerged as heroes under the democracy that eventually followed. As Marc St-Pierre observed, La Cueca Sola is "[a] strong, moving film which, through the fate of five women, makes us feel what the Chilean people experienced during and after the dictatorship."[iv]
La Cueca Sola, Marilú Mallet, provided by the National Film Board of Canada
Varying Perspectives on Tragic Events
The exact number of victims of Chile's dictatorship has never been established, but estimates are that about 130,000 people were detained, 28,000 were arrested, imprisoned and tortured, and at least 3,000 people were killed.[v] Among them were Jorge Müller Silva (Guzmán's cameraman for his documentary trilogy and landmark film, The Battle of Chile: The Struggle of an Unarmed People [1975–1979], which chronicled the political tension in Chile and the coup itself), as well as other iconic figures of Chilean arts and culture, like folk singer Victor Jara and, quite probably,[vi] poet and politician Pablo Neruda, winner of the Nobel Prize for Literature.
Moreover, there are still ongoing debates about the sequence of events during the coup and after, as well as evidence of crimes that has been intentionally erased or lost forever, like the disappearance of thousands of tortured bodies. This has opened up a space for directors to continue to make films about Chile's dictatorship. For instance, The Dark Side of the White Lady (2006; also available now on nfb.ca) by Patricio Henríquez, "seeks to untangle the web of lies surrounding the Chilean navy's training vessel, The Esmeralda. Heralded as a symbol of national pride, a dark secret lies behind the facade of the ship the Chileans call La Dama Blanca (The White Lady): Following the 1973 coup d'état, it was used as a floating prison. Thirty years later, the victims of the dictatorship are demanding justice. The Dark Side of the White Lady is a fascinating journey to uncover the truth."[vii]
The Dark Side of the White Lady, Patricio Henríquez, provided by the National Film Board of Canada
To commemorate the 50th anniversary of Chile's September 11, several events are taking place in various cities around the world, from Santiago de Chile to Vancouver, from Sydney to New York City. Some NFB films will be featured at these events and hopefully some of you will have an opportunity to attend. We also invite you to visit the nfb.ca channel The NFB Abroad: Latin America on Screen, which includes NFB films directed across Latin America, with a special focus on the films discussed in this blog post.
---
[i] "11 septembre 1973" (2013) by Marc St-Pierre: https://blogue.onf.ca/blogue/2013/09/11/11-septembre-1973-coup-d-etat-chili/
[ii] Ibid
[iii] https://pier21.ca/research/immigration-history/canadas-response-chilean-crisis
[iv]  St-Pierre, "11 septembre 1973"
[v] https://archive.globalpolicy.org/intljustice/wanted/2006/1027chargedgold.htm
[vi] https://www.science.org/content/article/pablo-neruda-was-poisoned-death-new-forensic-report-suggests
[vii] From the NFB film description: https://www.nfb.ca/film/dark_side_of_the_white_lady/
Header Image: Salvador Allende Gossens: A Testimony (1974) by Maurice Bulbulian and Michel Gauthier