Mi'gmaq artist Phyllis Grant talks about Waseteg, premiering tomorrow at the Atlantic Film Festival
News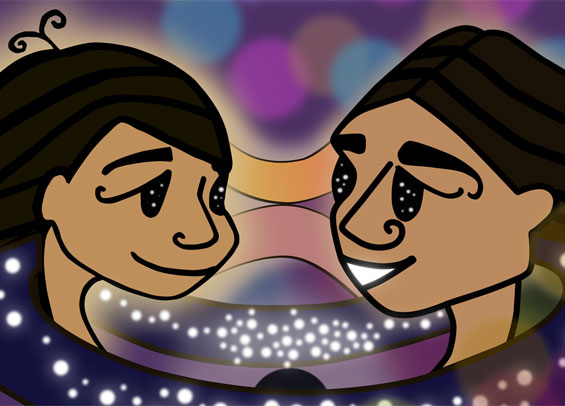 I told you recently about 4 NFB productions that were selected at the Atlantic Film Festival. Among them was Waseteg, Phyllis Grant's animated short film about a Mig'maq girl and her search for happiness.
In advance of the AFF screening (Waseteg premieres tomorrow, Wednesday Sept. 22 at 10 am at the Oxford Theatre in Halifax), I spoke with Phyllis on the phone from her home in the Pabineau First Nations Reserve, near Bathurst, New Brunswick. We talked about her work, what inspires her, and the power of rainbows.
Carolyne Weldon: Where did the idea to make the story of Waseteg into a film come from?
Phyllis Grant: Waseteg means "Light from the Dawn". The idea to tell this story came at a time where I was noticing a real enlightenment in my community. Out of a time of hardship and poverty, I saw a community moving forward, a group of people being happy and healthy and well. Making the film was very therapeutic. It led to a lot of growing up on my side, in my own life. Moving this way, toward the light, it creates a ripple effect throughout the whole world at that moment.
CW: Is the story of Waseteg based on a traditional tale? If so, to what extent did you personalize it?
PG: My father was a Mi'gmaq elder. Growing up, in the community, there were so many stories. Many stories overlapped, too. The stories would incorporate bits of one, pieces of another. The stories are meant to both teach and entertain. They contain a lesson that is relevant at that moment. Guided by intuition, the elders weave stories together based on what the community needs to hear. The story of Waseteg is also made of many stories. It's a story I wanted to share visually. Obviously it's hard to say much in 5 minutes, or to say deep things, but that's all part of the challenge.
CW: Who narrates your film?
PG: Alanis Obomsawin narrates my film. I'd met her once before she recorded the narration for Waseteg. It was [producer] Annette Clark who introduced us. She was such a pro. She worked 4-5 hours without a break, straight through. She even helped me with the French adaptation, which she also narrated. She would look at certain passages, ask me what I meant and go back to French text to alter it. It is such an honour for me to have her narrate my film. She's a personal hero, and a hero to the Mi'gmaq people.
CW: What is the signification of the beech leaf necklace? It seemed like a strong symbol, in your film.
PG: Ah the beech leaf necklace… it has several meanings. First it's a way for Waseteg to celebrate herself. It has a very simple girly aspect. It also means the comfort we feel in nature. Back in the old days, Mi'gmaq people used to stuff pillows and mattresses with beech leaves. It was a clean leaf, and it made a pretty rustling sound. Also, the leaf necklace is a representation of our relationship to nature. Beech leaves stay in the trees all winter, they are strong, not brittle, and they make a lovely sound when they rustle in the wind.
CW: Describe your drawing/animation style.
PG: I would describe my style as picture book, or storyboarding. It focuses on blocks, colour, shapes. Strong images that stay in your mind. The images are not moving per se, but there is lots of movement in them, small movements. I mean, I don't consider myself a full-blown animator. I'm a visual artist. But I am always exploring ways to share my art. I move with whom moves with me.
CW: Something that struck me about your film is the happy ending. I was thinking the two sisters would be terribly jealous of Waseteg's happiness, you know, like Cinderella's stepsisters…
PG: I think it was natural for the sisters to be happy for Waseteg and vice-versa. It says something about the beauty of nature… that it can prevail on pettiness, jealousy and envy. Maybe if we were connected with the beauty of nature we wouldn't be so quick to hurt each other.
CW: The film is dedicated to your grandmother. Has she seen the film?
PG: No, I've never met her. Yet I feel her everyday. You know, our ancestors had to work so hard. I feel that sometime, their dedication is forgotten, that it's slipping away. But now I have her spirit on record. "This film is dedicated to my grandmother." The NFB has always been such a great force for that, recording history.
CW: Waseteg is premiering at the Atlantic Film Festival soon, what's next for you?
PG: I'll wait and see what comes to me. Right now I'm working on a book. It's a book about rainbow medicine. I see it as coming directly out of Waseteg, the "light from the dawn." A rainbow is extremely moving. It contains all of creation. When we are attuned to it, it has the power to heal us.
*     *     *
Phyllis Grant will be attending the premiere with her friends and family on Wednesday Sept. 22, 10 am, at the Oxford Theatre in Halifax. If you see her, please say hi.