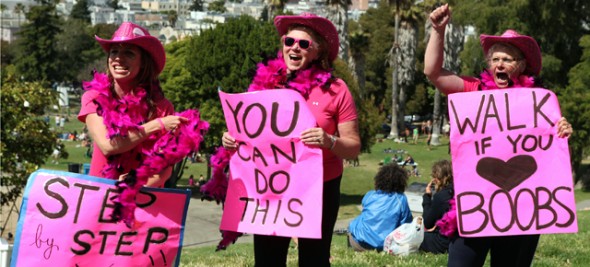 Catch Léa Pool's Pink Ribbons, Inc. in a theatre near you starting February 3rd, 2012
Films
News
After premiering at TIFF, where it was named one of the TOP 10 films, Léa Pool's much anticipated film on the "industry of breast cancer", Pink Ribbons, Inc., opens in Canadian theatres February 3, 2012.
The feature documentary, which early reviews called "eloquent", "stunning", "alarming" and "incendiary", shows how the devastating reality of breast cancer has been hijacked by a shiny, pink story of success, as incarnated by the ubiquitous pink ribbon. This is the kind of doc that takes no prisoners. According to Variety, Pink Ribbons, Inc. no less than "resoundingly pops the shiny pink balloon of the breast cancer movement".
Anyone living and breathing on the American continent today has at one time or another been in touch with pink paraphernalia branded for the fight against breast cancer. Socks, travel mugs, face wash, umbrellas… even well-loved hockey players have ostensibly embraced the cause. Day in and day out, countless women and men walk, bike, climb and shop for the cure. Millions of dollars are raised in the name of breast cancer every year. But where does this money go, the documentary asks, and what does it actually achieve?
Interweaving chilling interviews with authors, activists, researchers, patients and marketers with footage of all-pink-everything breast cancer fundraisers, Léa Pool explores the history of breast cancer treatment, the rise of breast cancer campaigns in the media and the ever-increasing role of big business in fundraising campaigns.
The picture, it turns out, is not prettier in pink, and as @Lifepixels warned on Twitter, you might not be able to […] "look at the Pink Ribbon symbols & campaigns quite the same again after seeing @thenfb doc "Pink Ribbons, Inc".
The film opens across Canada next week, February 3, 2012. Please see below for the complete listing of cities and theatres. Don't miss it.
—
"If you have ever taken part in a Pink Ribbon campaign… watch Pink Ribbons, Inc." – Cendrine Marrouat, Winnipeg Examiner
"Pink Ribbons Inc. is a must see if you've ever donated to breast cancer research or you're female." – @lisalmacdonald
"there are plenty of women who'll want to see it. And they'll be seeing red, not pink." – John Anderson, Variety
"@thenfb's Pink Ribbons, Inc is a must-see film" – @AlisonGJ
—
Watch a clip from the film and interviews with Pink Ribbons, Inc.'s director and producer here.
Add a Pink Ribbons, Inc. sidebar banner to your blog here
—
For a complete list of theatres, please visit CinemaClock.