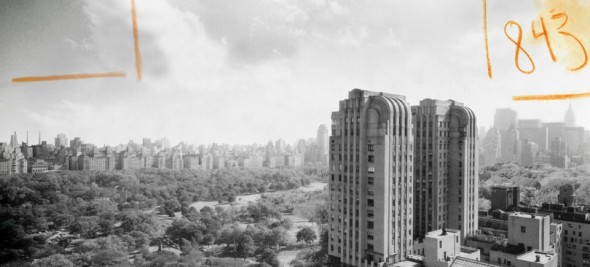 The world around us: watch 7 films about architecture and the built environment
Films
What does our built environment say about us, our civilization, our history, and our relations with our fellow citizens? A variety of NFB docs have attempted to address these questions over the years, whether through animation, historical documentary, biography, or even the nascent field of interactive digital storytelling (what's that, you ask? Explore our interactive docs to learn more about this new form of telling stories).
A is for Architecture (1960)
Highrise (2011-2014)
High Steel (1965)
Let's start at the very beginning
A is for Architecture is an animated chronological history of Western architecture from ancient Greece to today. The entrancing narration will capture you from the start: "buildings tell a story… [they] reveal something of the spirit of their time."
The film features a snappy, mid-century jazz soundtrack—very West Side Story—and cannot help but make you think. In the presence of an old building, say the ruins of ancient Rome ("scale and splendour to suit an age when man himself is glorified,") or England's Crystal Palace ("iron and glass… a triumph of engineers rather than architects,"), do you ever wonder about the fact that these ancient edifices "reflect the struggles and the dreams of other men", other communities, other generations not our own?
A is for Architecture offers a thorough, colourful, and charming tour through the grandeur of ancient Greece, the Byzantine tradition throughout Christian Europe and Muslim Asia, the middle ages with their walled up castles and locked-down cities, the luxury of Louis XIV's France, the awe-inspiring atmosphere of gothic churches, the hope, progress, and speed of the early industrial modern era, and finally the sophistication of the urban skyscrapers of the mid-20th century.
"What do we build?" asks the film. "How will the story read when our time has passed?"
A Is for Architecture by Gerald Budner & by Robert Verrall, National Film Board of Canada
Living high in the clouds
The NFB's most recent project about architecture and people's experience of it is the critically-acclaimed Highrise project. Filmmaker Katerina Cizek set out in this ongoing multi-year, multi-media project to find out as much as possible about the ubiquitous yet often maligned highrise. Who lives in highrises? What are the dominant community issues at play in these vertical communities? What are the needs, wishes, problems, experiences, and stories of the people who make up these urban towers all over the world, from Sao Paolo to Toronto?
You can start your Highrise experience with Out My Window, an interactive documentary in which highrise residents from around the world share their views on our urban planet. Then, move on to One Millionth Tower, an open-source documentary in which architects, animators, and the residents who live in highrises re-imagine the spaces they occupy in order to improve the community's experience.
Last year, Cizek and NFB Senior Producer Gerry Flahive gave a talk at the Massachussetts Institute of Technology's Open Documentary Lab titled "The People Formerly Known as Subjects: Documentary Collaboration in the 21st Century", and you can watch the talk here:
Video courtesy of the
MIT Video website
.  
Finally, in the most recent installment of the Highrise project, the NFB collaborated with the New York Times via their Op-Docs initiative to create A Short History of the Highrise. Through rarely seen archival photos, an interactive storybook is created that explores centuries of the history of vertical living (the doc is narrated by musicians Feist and Cold Specks).
Working with steel on dizzying heights
You know that famous black and white photo of skyscraper construction workers pausing for lunch on a ledge? Well, there's an entire documentary full of those kinds of dizzying, spectacular shots. The Mohawk of Kahnawake have always been known for their expertise in working with metals, and many members of the community were hired to work on large industrial projects, like for example the steel frames of Manhattan skyscrapers. High Steel documents this work and these workers, sometimes with dizzying shots of beams being dropped onto the sky-high corners of incomplete buildings under construction.
Take a look… hope you're not afraid of heights!
High Steel by Don Owen, National Film Board of Canada
Our narrator, a Mohawk man from Kahnawake working in Manhattan, relates the history of First Nations people's participation in industrial architectural labour, like for example in the Quebec Bridge construction of 1907. "That's a job we Indians never forget," he says. "For Indians, it was a first big chance to prove themselves as iron-workers." But on August the 29th, 1907 in the early afternoon, 36 workers were killed, almost the entire wage-earning population of Kahnawake at the time. Some men were trapped under the steel and drowned when the river's tide returned in the evening.
Awful stories of industrial accidents like these, and particularly ones in which marginalized labourers are employed, remind us that the buildings we occupy and the built environments in which we walk, dwell, shop, dine, and enjoy our lives can sometimes come at a cost, both environmental and human.
Toronto: past and present
A few months ago, I wrote about the funny, informative, and fantastically charming little film Turn of the Century. One could almost say the film has a bit of a sequel in Toronto Boom Town, a short doc from the 1950s about the contrast between the sedate Toronto of the turn of the century and the thriving, expanding metropolis of 1951. Toronto is a "mighty stimulating place!" booms our narrator proudly. We are told that a hypothetical visitor enjoys "the neon glamour of Toronto after dark." We also learn that Toronto boasts 12 adjacent suburban communities which some planners would like to see absorbed to make "the vast city of the future" (and here we are today, with the occasionally problematic concept of the GTA).
Toronto Boom Town by Leslie McFarlane, National Film Board of Canada
Urban growth, however, isn't all "more, more, more!" In fact, then-mayor of Toronto Hiram E. McCallum warned that post-war expansion may mean the city is "in danger of being strangled." Shots of the planning and construction of the first subway make one nostalgic for the days when Toronto invested in public transit infrastructure. Take a trip to the past, Torontonians! You'll see the birth and expansion of the urban centre we now know as the largest in Canada and the fourth-largest in North America, surpassing even Chicago in population in 2013.
Radiant City: no spoilers here
I hope you've enjoyed our tour through the NFB's offering of films and interactive projects about architecture, urban space, and the people who occupy them. I'll end off by recommending you watch the thoughtful, funny, and strange little film Radiant City. I won't say much other than the fact that Gary Burns, Canada's king of surreal comedy, turns an outing into the 'burbs into an incredibly entertaining and vivid account of what life is like for the people who call these immaculately manicured houses and neighbourhoods home.
Radiant City by Jim Brown & by Gary Burns, National Film Board of Canada
Hope you'll enjoy watching these films about architecture—and let them give you something you to think about next time you're out and about! All it takes it a look up and around to realize that our built environment is at the very heart of who we are.