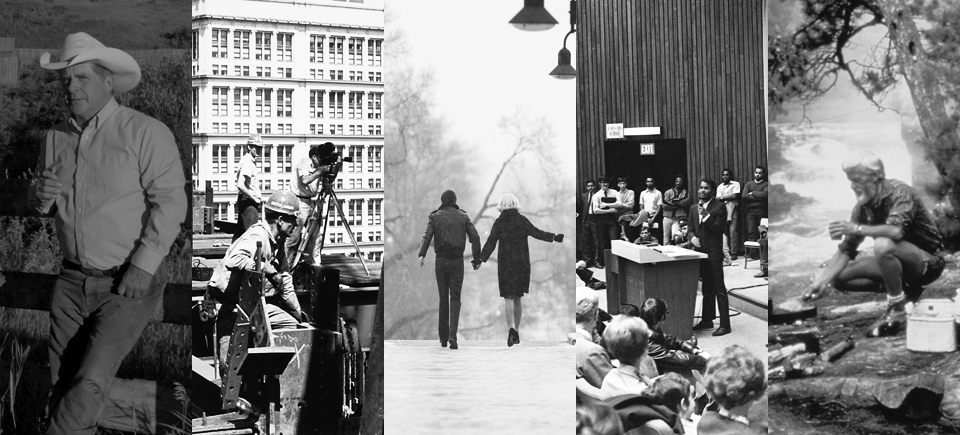 The Award for Best Cinematography Goes To…
Awards season continues with a look at the NFB's contenders for Best Cinematography in a documentary film. Once again, we tried to present you with a mix of classic and newer films in a variety of shooting styles. This category's contenders rock. It's a true testament to the incredible talent we've seen pass through our doors.
So, sit back, relax, and enjoy some truly spectacular movie-making.
High Steel
Cinematographer John Spotton created a visual masterpiece with this 13-minute doc about Mohawk steel workers in the Manhattan construction industry. Join Harold Macomber, of Kahnawake, as he erects skyscrapers with his fellow construction workers. They're practically fearless and perfectly in sync, orchestrating a strange ballet high up in the sky. There's a shot at roughly the 6-minute mark of 3 men erecting a corner beam that is simply breathtaking.
High Steel, Don Owen, provided by the National Film Board of Canada
Waterwalker
Come on. You knew this category couldn't exist without at least one nomination for a Bill Mason film. The man was a genius at creating beauty, and his work in filmmaking was no exception. Together with cinematographer Ken Buck, Mason created this lush world immersed in the glory of nature. Go along with him and his trusty canoe as he paddles and paints his way across Lake Superior.
Waterwalker, Bill Mason, provided by the National Film Board of Canada
The Grasslands Project – A Rancher's View
It's a shame that Scott Parker's stunning doc about rancher Miles Anderson, his cattle, and the issues he's having with the Grasslands National Park is only 8 minutes long. Each shot is carefully composed and framed, leaving us with image after image of incredible vistas and prairie scenes. This is a film that breathes through its images – it takes its time, allowing you to enjoy the visual beauty.
The Grasslands Project – A Rancher's View, Scott Parker, provided by the National Film Board of Canada
Stories We Tell
It was pretty obvious that this film would make another appearance in this awards series. Iris Ng's work on Sarah Polley's doc about the mysteries of her family history is exquisite. The decision to use a mix of cameras adds texture and depth to the film, allowing us to move effortlessly from the past to the present and back again. Remember – these awards are purely subjective, and I think this film is just a work of art.
Stories We Tell, Sarah Polley, provided by the National Film Board of Canada
Ninth Floor
Mina Shum brought DOP John Price along for the ride when she made her first foray into documentary filmmaking, and it was a great choice. This 2015 doc about the infamous Sir George Williams Riot is shot like a feature film, with long, sweeping shots and artistic compositions throughout. It adds dimension to the film, bringing the audience along as it delves into the complicated history of Canadian race relations.
Ninth Floor, Mina Shum, provided by the National Film Board of Canada