Q&A with Producer Tom Berry, Part 1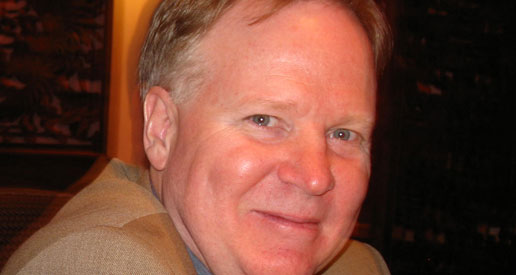 Tom Berry formed Allegro Films in 1984 and it became one of the largest Canadian producers of feature films. In the '90s, Allegro was merged with a publicly traded company, Coscient Group, now part of Quebecor. Berry has produced and executive produced more than 40 feature-length films. In 2001, he founded Montreal-based Premiere Bobine, which is active in the production, development, financing and distribution of feature films for television, video and theatrical release.
Berry is also a past Chairman of the Canadian Film and Television Production Association and received the Jack Chisholm Award for Entrepreneurial Excellence for lifetime achievement in the film and television industry.
***

These days, Tom Berry is going by the title Entertainment Executive but for many years he was a producer, both here in Canada and in the US (Los Angeles). He prefers his new title, because, as he says, "It really fits."
His job is to supply programs to a group of buyers. He does this in a variety of ways, from coming up with a great idea and taking it into production to simply acquiring a package of films that are sitting in someone's "library." But his background is in writing, directing and producing and thanks to the several years I worked as his personal slave, he was more than happy to sit down and chat with me.
JM: How did you get into the film industry?
TB: I started out as a teenager determined to be a novelist. So I wrote a novel and a publisher in Toronto read it and was nice enough to explain the business to me. After his explanation, I realized that I wasn't going to become enormously rich and irresistible to women after my first novel. It was going to be a long slog and I really didn't like sitting alone in a room all that much. I wanted to do something collaborative, so I went to film school.
I've always enjoyed the technical aspect of filmmaking, and thought I'd be a cameraman or a cinematographer. But once I went to film school I realized that the default craft is writing, because all you need is a pen and paper. So I was writing a lot and I gave my work to other people to produce, but they kept screwing it up. So I decided to produce my own work.
JM: How did you get your first break?
TB: I had a number of lucky breaks. And a number of gift horses I looked in the mouth. I had some wonderful opportunities that I totally messed up.
In my opinion, going to a good film school was really important. It puts you in a group of very determined people who are going where you're going and it gives you the start of a network.
One of the first things I did was make a documentary which was much beloved by someone at the NFB. It was in a cinema verité style, a documentary made from real things. All the subjects were speaking French. The visuals were very nice, but I didn't speak French at all.
I had a French woman edit it for me and she explained the story to me at every stage. One of the people I showed it to was Peter Katadotis, who was at the Board at the time. He said, "Okay. I've got a job for you. Go make some community films in French."
"Peter," I said, "I don't understand French."
"Well, however you made that one, do it again."
So I did. And while hanging around at the NFB, making tons of illicit photocopies, I managed to get the resources and equipment to start making my own movies.
JM: Can you talk about the role of a producer?
TB: The producer is the one who finds the project, gets the financing together, hires the director and puts the wheels into motion.
It's a team sport. And the title of producer is thrown around with wild abandon. In order to be a successful producer, you have to learn more about yourself and have a realistic sense of what it is you can bring to the party. Then you build your career around that.
There are two parts to producing – the visionary/creative part, and the entrepreneurial part. It's a left brain/right brain kind of thing. You need to have a creative vision and know how to handle the day-to-day business-like tasks that arise. You have to know which actor is right for a role, and figure out how to get equipment to clear customs.
It's a big picture position.
[Note: The big picture thing is a lesson I learned from Tom at a very early stage. We were working on a production and one actor wanted a CD player in his trailer, or something trivial like that. I checked the contract and saw that he wasn't promised one. So I went to Tom to ask what I should do. He told me, "You have to weigh the costs. Who cares if it's in the contract or not? It will cost us $100 to go out and buy him a CD player, but how much will it cost us if he gets cranky about being ill-treated and refuses to show up on set tomorrow? Always think about the big picture."]
Coming up: On Monday, I'll publish Part 2 – how projects are developed, the advantages to working in the Canadian film industry and Tom's advice for aspiring filmmakers.